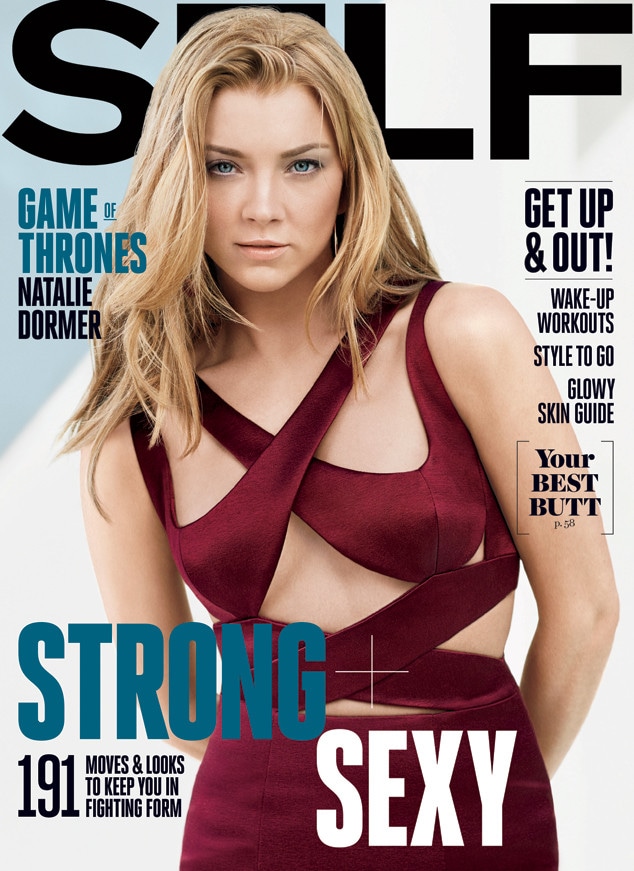 Bjarne Jonasson
How does one describe Natalie Dormer? In a word, badass. 
The Game of Thrones stunner, who is most famous for her role as Margaery Tyrell on the hit HBO series, covers the April issue of Self magazine, looking absolutely stunning as she flaunts her svelte figure in a sexy cut-out dress while also revealing her workout regime and how she stays in shape (spoiler: It's intense). 
"In Mockingjay—Part 2, I'm basically running around in heavy armor while carrying a semiautomatic rifle," the 33-year-old actress, who will reprise her role as Cressida in the forthcoming Francis Lawrence-directed flick, tells the publication. "I don't know how I would have kept up with [costars] Liam Hemsworth or Sam Claflin if I hadn't been in the best cardiovascular shape of my life."
While filming the Hunger Games sequel, Dormer had to report to work every day at 5 a.m., and, after a 12-hour day filming battle scenes, she would then workout for another hour, alternating between running through the streets of Atlanta (where the movie was shooting) or hitting the gym for interval training. 
Sound insane? Well, rest assured, because it does to Dormer, too. 
"I actually look back on it now and think, 'F--king hell, how did I do that?'" the former Tudors star, who was prepping for the April 2014 London Marathon at the time, admits. 
For Dormer, exercise is not just a means to stay fit—it's also a way to build up endurance for her intense shooting schedule. 
"When you work the unnatural hours that actors work, and when you fly as much as we do, you have to pay attention to your body—or else you're a disaster ready to happen," she says. 
In terms of her diet, Dormer is a big fan of juicing, but she also knows the importance of eating balanced meals. 
"When you have early calls, you don't necessarily want to eat first thing in the morning," she shares. "But you have such long days that if you don't, you really fall down from it. So, juicing before and eating later is, for me, a good nutritional compromise."
As for Dormer's go-to workouts? The actress, who doesn't have a trainer, is a big fan of running, yoga and swimming. 
"My yoga mat will always be in my luggage," she reveals. "Yoga is invaluable when you're on long-haul flights a lot. But I do it for my mind as much as my body. Actually, that's true of my relationship with all exercise."