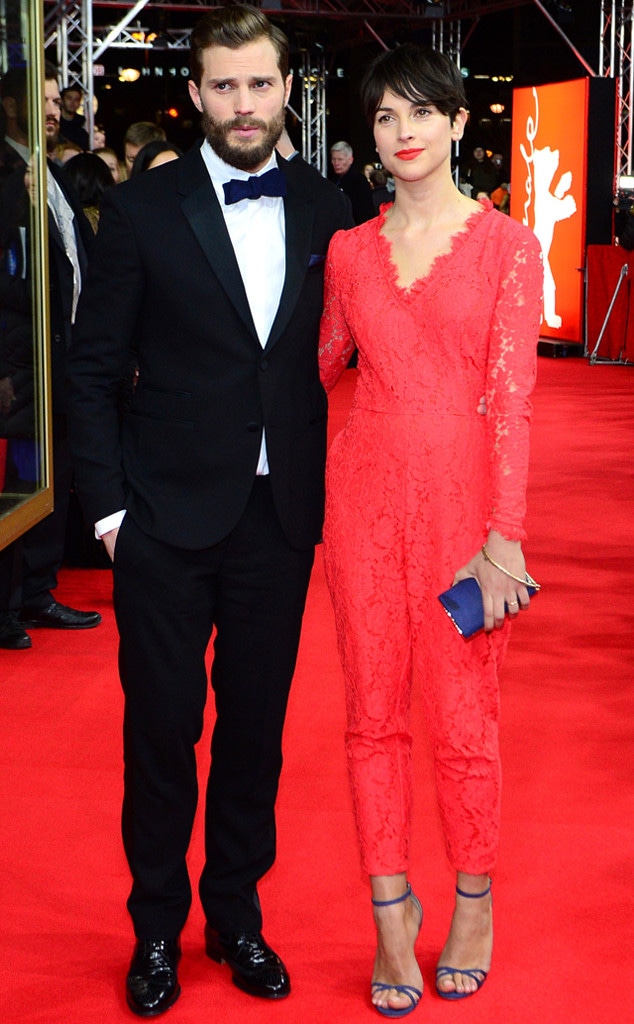 JOHN MACDOUGALL/AFP/Getty Images
Rest assured, Jamie Dornan fans: The Northern Irish hunk is totally down for a Fifty Shades of Grey sequel. 
The 32-year-old actor recently found himself at the center of speculative reports claiming his wife Amelia Warner forbade him to star in the follow-up flick—based on the best-selling trilogy by E.L. James—due to the sexually explicit content. 
Dornan, who plays titular character Christian Grey, as well as co-star Dakota Johnson, who stars as ingénue Anastasia Steele, have both signed a three-picture deal. The first Fifty Shades film was an international success, breaking multiple box office records and raking in $158 million from 51 different markets during its opening weekend. 
"The idea was that we honor the trilogy and do all three," Dornan told the U.K.'s Daily Mail.  
He added in response to the fabricated reports suggesting his wife, whom he wed in April 2013, does not support the trilogy: "Total bollocks! Of course she would have read the scripts well in advance, and she's massively supportive of Fifty Shades."
Phew! Glad we got that cleared up. 
Dornan also addressed the rumors that he and co-star Johnson do not have chemistry in the erotic film (the two have repeatedly talked about their comradery on set and how they put their trust in one another). 
"They wouldn't have shot the film with us if there was a chemistry problem… whatever chemistry means," he said. "You have to jump through a lot of hoops to get a part like this, and they simply wouldn't have cast us."
Universal Pictures and Focus Features
Meanwhile, according to The Hollywood Reporter, both Dornan and Johnson are looking to land sizeable rises for the second Fifty Shades film—namely, a seven-figure bump in their salaries. 
"It was a very basic franchise starter deal," an insider said of Johnson and Dornan's contracts (they were reportedly paid $250,000 for the first Fifty Shades film, plus box office bonuses). "Look at Twilight and Hunger Games, and that's where it is heading."
However, despite the reported negotiations, producer Dana Brunetti told THR he is looking to keep the first film's $40 million budget the same for the sequel.
"That was the great thing about this film—we knew we were going to be able to make stars," he said. "Now it's their opportunity to get paid on other projects. It's been a breakout role for both of them. I'm sure they are getting tons of offers on other things."
(E! and Universal Pictures are both part of the NBCUniversal family.)