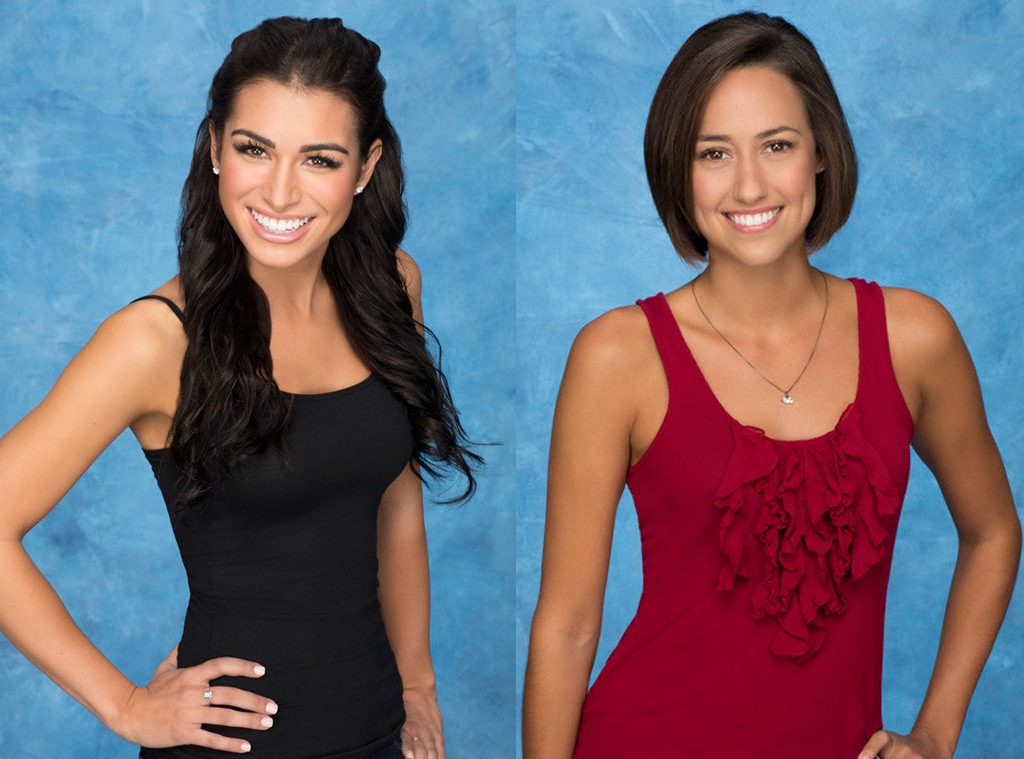 ABC/Craig Sjodin
Pack your bags, we're heading back to paradise.
Now that The Bachelor is over and the next Bachelorettes (Yes, there's going to be two!) have been selected, it's time to turn our focus to last summer's guiltiest TV pleasure: Bachelor in Paradise! Returning for a second season of second chances at love, the hit brings castoffs from both The Bachelor and The Bachelorette together in an exotic location in the name of hookups and heated showdowns. And producers are already starting to pick which former contestants will receive a plane ticket to Paradise, with more than a few of Chris Soules' ladies being eyed.
But which of Farmer Charming's castoffs are definitely interested in joining the season two cast...and which fan-favorite is so not into the idea? And for ladies ready to look for love in front of ABC's cameras once again, we decided to help 'em out and offer our dream pairing from The Bachelorette...
Ready to Grab Their Passport and Suncreen:
Kelsey: The season's most polarizing contestant, the former guidance counselor and widow told E! News she'd be up for a trip to Paradise. "After this long road of the ups and downs of being on The Bachelor, I might need to go on a vacation," she said.
Dream pairing: Kasey Kahl, he who got a tattoo to prove his love and desire to protect Ali Fedotowsky's heart. She then left him on a glacier, which Kelsey can relate to since Chris Soules ditched her in a desert.
Ashley S.: Hide yo' onions and hide yo' pomegranates, Chris Harrison's favorite Bachelor contestant ever is a-comin'! "I suppose I might be there," she told Harrison during the After the Final Rose special, with executive producer Mike Fleiss later confirming that Ashley told him she's do the show.
Dream pairing: Ashley S. deserves a great guy, who is also very calm, so we're going with Graham Bunn. He's dealt with a slightly crazy Ashley before (AshLee Frazier on BIP, who basically had china patterns and their children's name picked up before ever meeting him) and needs to settle down…if only so he can finally retire from Bachelor shows.
Ashley I.: When a fan on Twitter said, "Officially so f—king sick of Arlington. Is bachelor in paradise set there too?" the "Virgin Kardashian" responded "Hear it's in the Badlands." Cheeky reference to her infamous dumping grounds FTW!
Dream pairing: Marquel Martin, the cookie connoisseur from Andi Dorfman's season, who also competed in season one. Although we're not sure who would take longer to get ready for their dates.
Megan: She who infamously thought New Mexico was a country this season (and still might?) retweeted a fan campaigning for her to be on BIP. Fingers crossed it's set in New Mexico this season.
Dream pairing: Cody Sattler, everyone's favorite personal trainer-huggable Hulk, OBVIOUSLY. And just imagine if Michelle Money, his BIP ex, also returned?!
Carly: The cruise ship singer received some flack for trash-talking from the other ladies, but hey, it makes for great TV, right? And she's down to head to Paradise, telling the Dallas Morning News, "I obviously didn't find my soul mate, so I'm still looking for him. I think [the show] absolutely can work and it's been proven to work, so why not?" Becca Tilley is pushing for Carly to join the show, saying she would "be hilarious."
Dream Pairing: For some reason, we could see Carly hittin' it off with Brooks Forester, who was seriously not given a fair shot last season when he arrived, like, 30 minutes before the end. Even Bachelor contestants can't fall in love that fast.
Definitely Not Heading to Paradise:
Becca: "I don't know if I would be a good fit…It's an even more rushed process," Chris Soules' runner-up said. "There are some really great people that have found love on there, but I don't know if it would be something I would be able to find love. If it didn't happen in two months I don't think a shorter amount of time would be right for me."