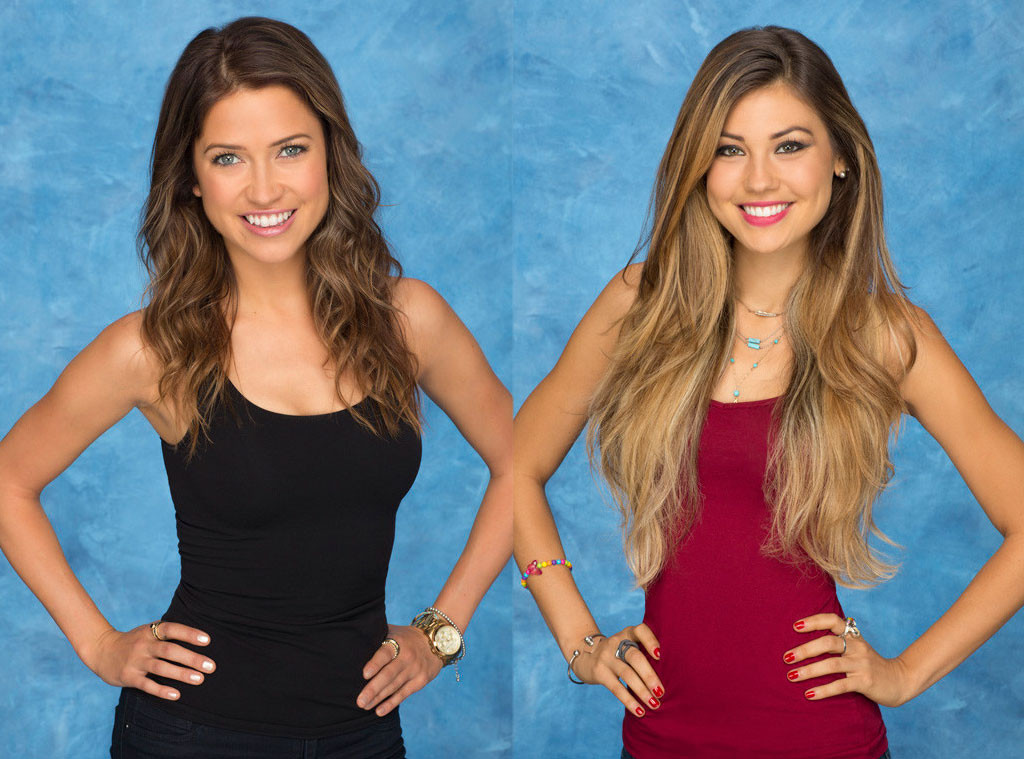 ABC/Craig Sjodin
Welcome to The Bachelorette Thunderdome!
Two eligible bachelorettes enter, only one gets to hand out the roses. The ABC hit franchise is going rogue for season 11, kicking off with not one, but two ladies: Kaitlyn Bristowe and Britt Nilsson, both fan-favorites from Chris Soules' recent season.
Alas, both gorgeous brunettes won't be looking for eternal love on TV all season, as the 25 contestants will get to choose which lady sticks around as the Bachelorette after the first night. Insanity, right?!
"For the first time in Bachelorette history, we're gonna have two Bachelorettes," Chris Harrison announced at the end of the After the Final Rose live special on Monday night. "That's right, it is going to be Britt and Kaitlyn. So the 25 men, on night one, they are going to have the ultimate say on who they think would make the best wife." 
Well, we asked 25 random gentlemen to weigh in on the great Kaitlyn vs. Britt debate, based purely on the photo above. Their enlightening answers are below:
Guy No. 1: Kaitlyn – "Overall cuter and nice eyes."
Guy No. 2: Kaitlyn – "She seems more real. Like a survivor and practical. She's got a watch and hair that wouldn't get in the way if she had to kill somebody to survive."
Guy No. 3: Britt – "I don't really know why other than I think she's more attractive."
Guy No. 4: NEITHER – "I've listened to both."
Guy No. 5: Britt – "She just looks nicer, like she has a zest for life."
Guy No. 6: Kaitlyn – "Based on the picture alone she seems more down to earth and I have no idea why."
Guy No. 7: Kaitlyn – "She looks more real. The other one looks like she'd cheat on me."
Guy No. 8: Britt: "She stands out more."
Guy No. 9: Kaitlyn – "She's hotter."
Guy No. 10: Britt – "Strictly based off looks. She's gorgeous, just so cute."
Guy No. 11: Kaitlyn – "I'd pick Kaitlyn because Britt matched her lipstick, nails and dress and that seems like a recipe for someone who would be too finicky for me. Also Kaitlyn looks like she would go to a Taylor Swift concert with me and Britt looks more like a Chris Brown kinda girl - not my scene."
Guy No. 12: Kaitlyn – "She's cuter."
Guy No. 13: Kaitlyn – "Because I live with a Bachelor super-fan, so I know all about Britt's crazy. It's ripped straight from the pages of the MTV series Double Shot at Love. I've seen one or two episode of this season and she was the funny one you could probably drink beer and laugh at the dumb people at the bar with. Plus, she's not caked in make-up."
Guy No. 14: Kaitlyn –"There is something about Britt that makes you think, beneath the surface, lies a psycho hosebeast. She seems fake and crazy."
Guy No. 15: Britt – "Prettier. Less skinny. Not as basic looking."
Guy No. 16: Kaitlyn – "I like black better" (Editor's note: We asked, "So if Britt chose to wear a black tank top, you might've picked her instead?" Answer: "Probably." Hmm!)
Guy No. 17: Kaitlyn – "She's thicker. The other girl is too skinny."
Guy No. 18: Kaitlyn – "She exudes more vibrancy and intelligence. I mean, the other one looks vibrant and intelligent, too...Kaitlyn just looks more relatable."
Guy No. 19: Kaitlyn – "She's hotter." 
Guy No. 20: Kaitlyn – "She looks more All-American."
Guy. No. 21: Kaitlyn – "She looks a little less trashy."
Guy No. 22: Britt – "Her shirt is brighter and her hair is longer? It would be better if they didn't appear to be twin sisters."
Guy No. 23: Britt – "Her smile looks real, black dress looks like she's faking it."
Guy No. 24: Kaitlyn – "She looks less high-maintenance."
Guy No. 25: Britt – "She just has a better-looking face. Although they kind of look alike."
RESULTS: According to our totally non-scientific poll, the next Bachelorette will be Kaitlyn!
The Bachelorette returns Monday, May 18 on ABC.