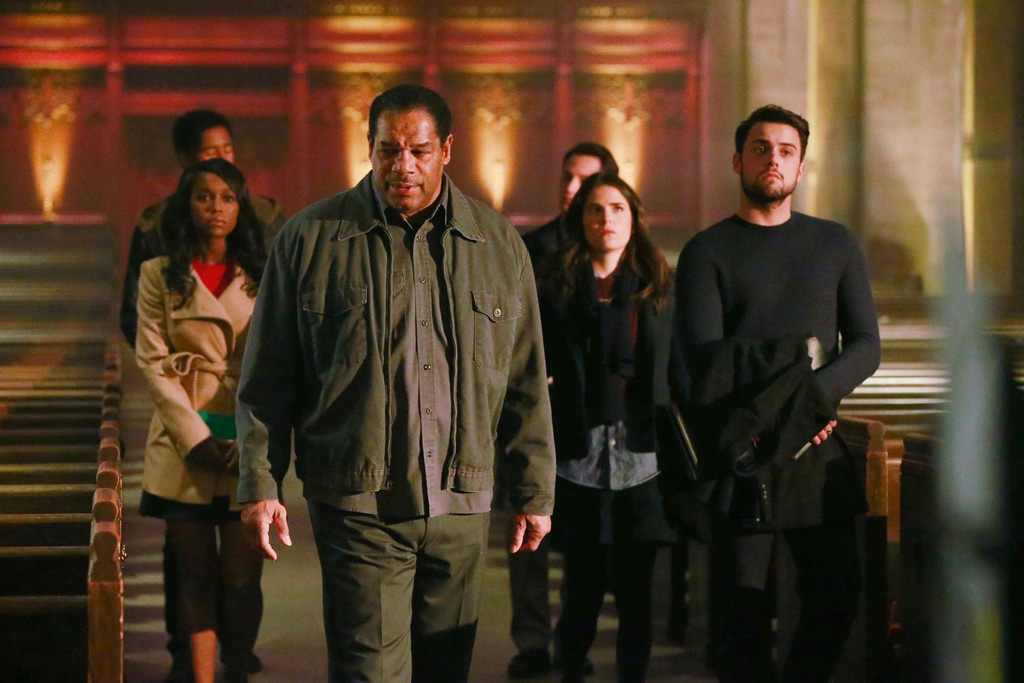 ABC
After an entire season of questions, answers that turn into more questions, and answers that are being called into question, How To Get Away With Murder fans can finally breathe a sigh of relief as tonight's finale will answer the biggest question of all: Who killed Lila Stangard (Megan West)?
In fact, executive producer Pete Nowalk promises E! News that viewers will get to see the entire truth about the night the sorority girl was killed.
"We are going to show the audience in flashback exactly what happened on Lila's murder night," Nowalk reveals. "We're going to see who killed her and we're going to watch that happen along with everything leading up to it. You'll get a lot of answers."
And though Nowalk tries to stay away from fan speculation, he has yet to see anyone accurately theorize what's going down in the finale.
"I try not to read people's theories because I don't want to get upset if someone gets it right," Nowalk says. "If we've done our jobs, some people will get it right and some will get it totally wrong. But I will be extremely impressed if someone guessed the entire story correctly."
Nowalk didn't plan out the ending of the season from the very start...at least, he didn't plan the ending of the finale we'll see tonight until partway through the season.
"The ending changed and evolved as the season went on," Nowalk says. "I had an idea of how the season would end when I first started but that is now completely out the window because it became too expected. I wanted it to end up being unexpected."
Now that Rebecca (Katie Findlay) knows that Wes (Alfred Enoch) suspects her again, everything viewers thought they knew about Lila's murder has been thrown into the air once again. So how will Rebecca react to Wes not trusting her?
"That is a big question in the finale," Nowalk says. "She knows he was at the insane asylum so how is he going to handle that? Is she going to confront him directly? Is she going to spin out and do something self-destructive? I will say this: she's very hurt by the fact that Wes is going behind her back."
While Wes' girlfriend may be a suspect again, at least Annalise (Viola Davis) has her groove back and knows what to do to get Nate (Billy Brown) out of prison after she framed him...or does she?
"Annalise framed Nate in a moment of crisis because she felt like she had to. It was her Sophie's Choice," Nowalk says. "Now she's figuring out what to do, and what's great about Annalise is she's always able to figure out a plan. What's not so great is sometimes the world won't let her plan happen. There are going to be a lot of roadblocks, and the biggest one is will Nate go along with it? Does he even trust her? That's going to be one of the big struggles for her in the finale."
As if Annalise doesn't have enough problems on her plate, Wes, Connor (Jack Falahee), Michaela (Aja Naomi King) and Laurel (Karla Souza) are about to make her life even harder.
"The four of them hand Annalise a really big problem and a big part of the finale will be about how to fix this problem," Nowalk says. "They will want to fix it themselves, and they will then want Annalise to fix it, and it will be up to the entire group and the entire team to figure out what the solution is."
And no matter what you do, make sure you do not miss the final 10 minutes of the super-sized episode.
"Once you see the finale, especially the last 10 minutes, and I encourage everyone to pay close attention to that since a bunch of important stuff happens, there are a lot of questions that arise from a lot of the answers you'll get," Nowalk teases. "Those new questions will then be the focus of season two."
How To Get Away With Murder's two-hour season one finale begins tonight at 9 p.m. on ABC.