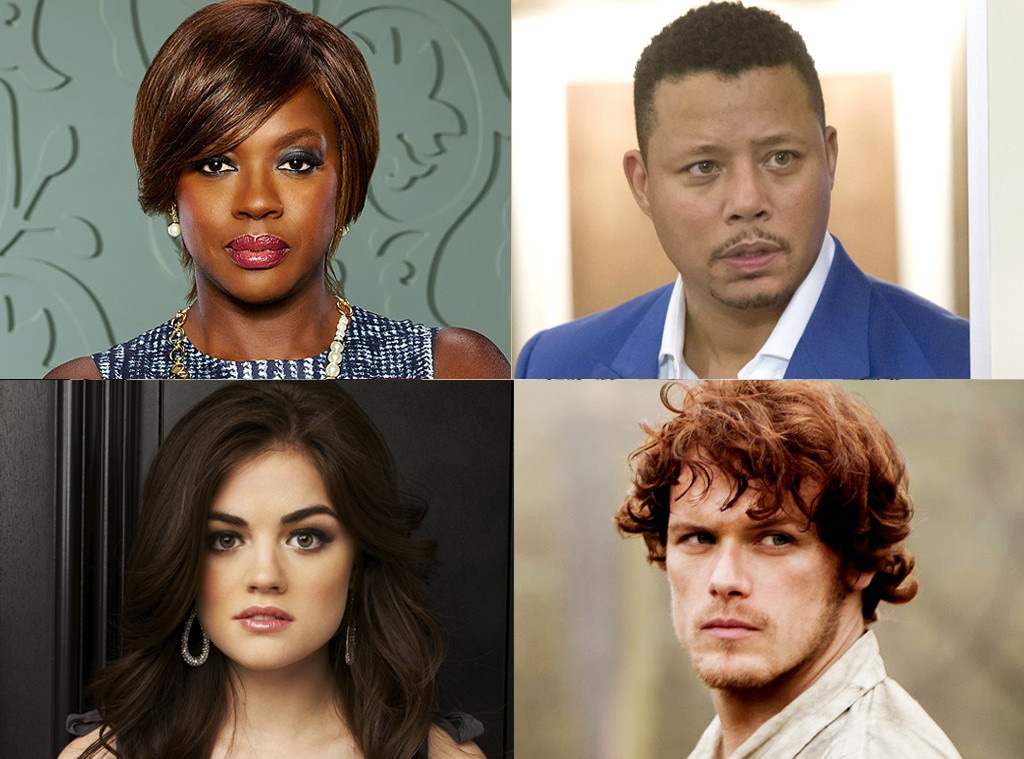 ABC, The CW, Starz, FOX
Anybody else craving some COOKIE?
Yep, Empire has straight-up turned me into a Cookie (Taraji P. Henson) fiend, not unlike a particular cookie-loving blue monster—but with far less self control. I. Just. Can't. Get. Enough. Nom nom nom nom.
So let's start off with scoop on Empire and that other show I can't stop obsessing about after seeing the next three episodes: Outlander! Buckle up, spoiler friends.
Rebecca: Obsessed doesn't even begin to describe me when it comes to Empire. Give me anything!
You thought Lucious' relationship with Jamal was bad? Oh, just wait and see what his relationship with Hakeem looks like towards the end of the season. It might just make someone turn to his mother for support…The final two episodes are gonna be insanely epic and you'll be floored at how the division of power starts shaping up!
Maricela: How about some scoop on Outlander? 4.4 can't get here fast enough!
The subject matter gets DARK, as you book fans know, particularly when it comes to the storyline between Claire, Jamie and Captain Jack Randall—i.e. the worst human being to ever live ever (if he were real). Caitroina Balfe (Claire) tells me of filming the upcoming explicit scenes: "It's a lot, it really is. And it pushes you as an actress and as a person. But I am so lucky that I have two co-stars that I trust implicitly. They are my rock." Aww, so sweet! But seriously, fans: Prepare yourselves. Especially if you aren't aware of what happens in the books. This is not a family friendly show, in case there was annnnny confusion.
Lily: Any New Girl scoop?
Get ready for the return of not one but two of Jess's exes! Both Josh Gad and Justin Long are set to return in an upcoming episode of the Fox comedy. "Josh is awesome! He's just so, so funny," Zooey Deschanel tells us. "And we also have Justin Long coming back as Paul Genzlinger in that same episode. That's a terrific episode." So how do these two blasts from the past return to Jess's present? "Jess and Cece get blowouts and they get so cocky about it so they decide to go out and show off their hair," Deschanel explains. "They get invited to a party at Bear Claw's [Gad] apartment and they wake up the next morning in his apartment, they're crazy hungover, and Jess accidentally leaves her purse there. Their cell phones are dead, their car's been towed, and they have to walk of shame home. They end up running into Paul on their way and it's just hilarious. I think it's one of our best scripts yet." 
Tuniveil: Who is A?!  #PLL
Of course, we can't spill on who Big A is, but we can share with you that the reveal will happen sooner than you think. "I know a lot of people were afraid that they would have to wait until the end of season seven to find out who Big A is, and we made it clear that they don't," Marlene King spills. "You will find out before season seven and the story of Big A." And King reveals fans will get to know a lot about Big A. "I can't wait to share the story. The identity of Big A is really cool, but to me, what I always loved most about Big A is the story of Big A, the motivation, what's behind it all," King says. "I haven't been that excited to share something with the fans since Mona's reveal."
Laura: DYING for anything on Scandal or How to Get Away With Murder? They were both on point last week!
Truth told, I think that may have been my favorite Scandal episode of all time. Sorta reminds me of Buffy's "Hush," i.e. the episode we will be talking about for a long damn time because it was so different and so bomb ass COOL. OK, so now, scoop…I'll take HTGAWM for $500, Alex! This week is the Christmas episode, so you'll get to see a lot of the Keating Five's families…Matt McGorry (Asher) insists that people "will punch themselves in the face" with how good it gets, so maybe wear a catcher's mask for the last few episodes? He's also holding out hope for Bonnie and Asher ("Basher"!) to be a real thing. But Liza Weil is far more skeptical. So basically…They are the same off screen. Minus the douche-baggery. But keeping the dance moves.
surfthewitch I want to know about Supergirl Please!!! #SpoilerChat
Ask and ye shall receive! The first villain Supergirl will go up against is…Lumberjack, an old DC Comics character. He's described as "big and burly," naturally, who even took on Kara's (Melissa Benoist) famous cousin at one point. Look for somebody shadowy to be pulling his strings…
natcfc: anything on the mindy project thanks in advance
Prepare to meet one of the most important people in Danny's life: his priest! Yes, we will finally be meeting Father Francis when a guilt-ridden Danny heads to confession. Ruh-roh, what does he have to confess?! (It has to do with Mindy, obvi.)
MyrcallasEar: What can you tell us about Irish & #Westallen? Any insight into how she handles Barry's relationship with Linda?
Sorry if you're 'shipping Barry and his BFF Iris, because Barry's about to meet someone...and it sounds like this won't be just some random fling! Malese Jow debuts on the CW superhero show tonight as Barry's new love interest Linda Park, and she tells us that she's going to be around for a while. "I think she can be very good for him and we'll see them develop real feelings for each other," Jow says. "We'll see if she has real staying power. I'm not going to lie, it's terrifying coming in between this couple the fans are rooting for! People are very vocal about this, but I feel like Linda can stand a chance. Hopefully the fans will like her and be nice to me!"
Nicole: I'm so glad Jane the Virgin is back! I love this show so much, please tell me you've got some scoop!
Couldn't agree with you more, this show is just the best. And if you thought Rafael's issues with Jane's mother Xo were fraught with tension...wait until you meet his mother! That's right, the CW telenovela is currently looking to cast the part of Elena, a Mediterranean or Italian woman in her 50s. Described as beautiful and elegant, Rafael's mother will be seen both in flashbacks to Rafael's childhood...as well as the present, when she finally reunites with her son "to tell him the reason for her early abandonment--and it's not a pretty story." Yikes!
Christina: This season of The Challenge has been the BEST. Seriously, the greatest. What's coming up?
Can't argue with you there! Each season gets better and better, with the relationships between all the returning players getting more and more complicated as the years and seasons pile up. So far, the years-long grudge between Wes and Johnny Bananas (and their partners Theresa and Nany) has been simmering on a low heat in the house during Battle of the Exes II but all that will change in this week's episode, when one of the two power players enlists another serious competitor in his bid to get the other into the dome. The result makes for one of the tightest and most stressful eliminations ever. A fan-favorite couple will be sent packing...but are they out of the competition for good? It all depends on how they play in Ex-ile, because the celebrating couple in the house may be in for a rude awakening down the line, unaware that eliminated players have the option to come back later in the game for the first time ever! 
Spoiler Chat is new every Tuesday on E! Online. BOOKMARK THIS PAGE so you can always find it!
Be sure to send in questions via Twitter or Facebook. 
And follow @kristindsantos for updates!

—Additional reporting by Tierney Bricker, Chris Harnick and Sydney Bucksbaum