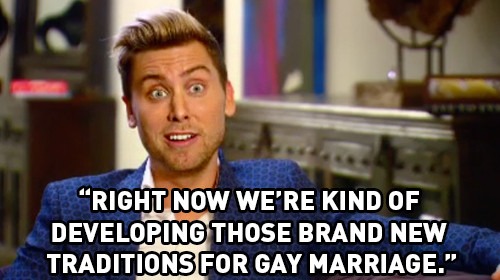 "We now pronounce you husbands!" 
The Lance Loves Michael: The Lance Bass Wedding special was filled with fried food, tears, laughs, disagreements, cute boy band members and much more! 
The couple made history as the first-ever same sex couple to be married on an American television network! The couple consulted friends such as Lisa Vanderpump, JC Chasez, Joey Fatone and Kris Jenner for wedding advice and guidance, but they also heavily leaned on their supportive families. 
Their wedding was very innovative including puppy ring bearers, supermodel flower girls, no groomsmen and joint-bachelor parties! When deciding to go with supermodels for their flower girls over the traditional route, Lance Bass and Michael Turchin immediately knew the four girls they wanted, and one of them was the beautiful Kendall Jenner. However, due to her busy schedule she had a conflict and was unable to participate! 
One of the sweetest parts of their wedding special was their trip to Lance's home state of Mississippi to visit his family for a wonderful wedding party. We saw Lance's extended family and fell in love with their supportive nature and overall happiness for the new addition to their family. 
It was interesting to also meet some of Lance's friends from the south! 
Watch:
Lance Bass Reveals Why He Stayed in the Closet
While adorable, the couple did have a few disagreements on their way to the altar. Lance had a lot of wild ideas, whereas Michael is more practical. So, this led to a few arguments, but nothing too crazy!
For example, Lance wanted the flower girls to have real flowers fastened to their dresses and he wanted their wedding cake to tell their love story! Both sweet ideas, but neither worked out. 
If you blinked at all, you may have missed one of the countless familiar faces! One of our favorite moments in the special was when Lisa Vanderpump helped Lance and Michael with their wedding registry! 
She even made a hilarious confession...
Lance was convinced no one would think to throw either of them a bachelor party since they didn't have an official wedding party. But oh did their friends plan one! Not only did they plan one, they planned it for both guys with a huge, over-the-top, very scandalous evening! 
Lance admitted, "I'm actually really glad we did a joint bachelor party, because I want to have fun with him! Now, if we get pulled away on the side, we're still allowed to look and touch, right?" Michael chimed in, "You have my blessing! It's your bachelor party, just give me your blessing!"
Watch:
Lance and Michael's Bachelor Party Gets Naughty
The wedding special was filled with heart-warming and LOL-worthy moments, but nothing compared to when Lance and Michael exchanged vows at the altar! They each wrote their own vows and read them to each other atop the staircase at the Park Plaza Hotel in front of all their family and friends! 
Michael Segal Photography
Lance and Michael's wedding was beautiful and we wish them all the best! Congratulations!