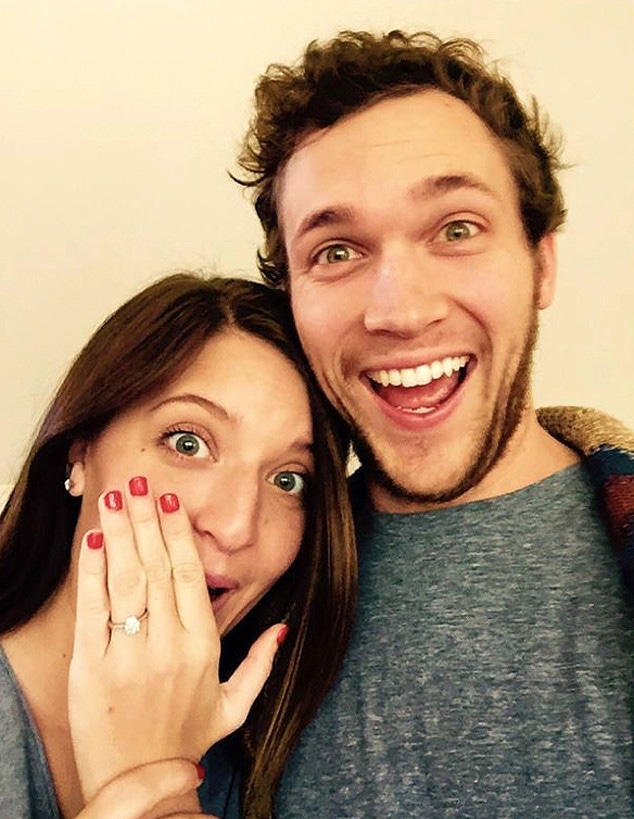 Facebook
Phillip Phillips' life as a single man? Gone, gone, gone!
The American Idol season 11 winner is engaged to his longtime girlfriend Hannah Blackwell, the singer announced on his Facebook and Twitter.
"My best Christmas surprise is happening," he wrote alongside a photo of the happy couple showing off the ring. "We're engaged yall!"
The ring adorning Blackwell's finger appears to be a solitaire diamond on a gold band. Classic and beautiful.
Phillips and Blackwell started dating long before he started his journey on American Idol. The two met while volunteering at a women and children's shelter in 2009.
"He was a little more nervous asking for our 1st date ha," she tweeted about the rocky start to their relationship. "We were so awkward!" 
The Georgia native said after his big American Idol win back in 2012 that Hannah was a huge support system from the very beginning.
"She was so excited for me and she helped me out a lot through this," Phillip gushed. "She's supported me throughout all of this. I love her to death!"
Phillips released his second studio album, Behind the Light, this past May and toured with O.A.R. this summer. His hit single "Gone, Gone, Gone" was used as the send-off song for eliminated American Idol contestants in season 12.
Congrats, you two!