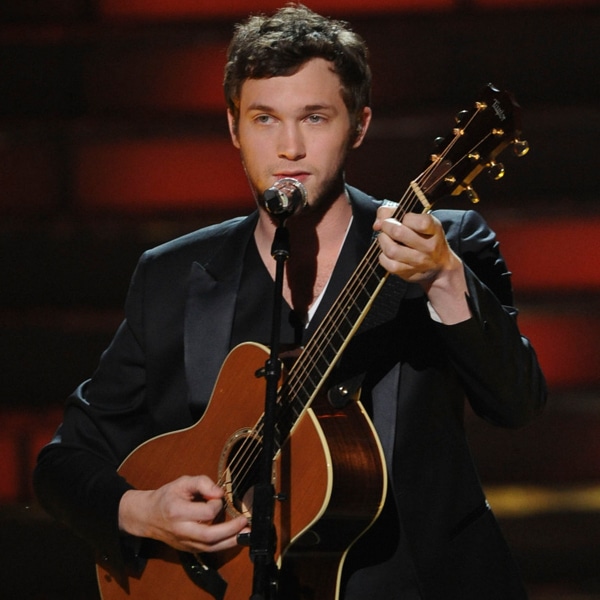 Michael Becker/FOX
So you just won American Idol, what's your next move? 
For season 11 champion Phillip Phillips, it's surgery to reconstruct his kidney after battling kidney stones throughout the season. But could his impending surgery affect his presence on the Fox hit's summer tour? 
We chatted with Phillip about his recent health problems and how he almost exited the show early to get the procedure done. Plus, the heartthrob opens up about his hometown girlfriend!
While Phillip isn't exactly sure where or when he'll be undergoing surgery, he tells us, "It's just my right kidney kind of isn't functioning and I have a stent in to help with that. I just have to get that fixed pretty soon." 
Reports have suggested that Phillip would possibly miss several dates on the American Idol tour this summer, but Phillip assures us, "I'm not really missing anything. I'll be 100 percent by then, so I'm excited! I should be good to go by tour."
So just how bad was Phillip feeling during his run on Idol? 
"I had some bad days and I had some pretty good days. It was rough at times and there were a couple of times I thought about going ahead and getting out and getting the surgery done," Phillip says. "But I had a lot of great doctors and a lot of great people who helped me out through it. I'm blessed to have that. I came close to almost dropping out to get the surgery done, but my doctors helped me out a lot through it."
Someone else who helped Phillip make it through the season while battling his kidney issues was his longtime girlfriend.
"She was so excited for me and she helped me out a lot through this," Phillip gushes. "Hopefully she'll be able to come on tour with me. It'd be cool to have her there. She's supported me throughout all of this. I love her to death!"
Phillip says his girlfriend isn't at all threatened by his many female admirers. "For us, and especially for me, if a girl just votes for me because I'm cute and then gets mad because I have a girlfriend, she didn't like the music. I'm all about the music. I'm not just trying to be this cute guy who's trying to be successful off that."
Finally, Phillip tells us that he hopes Jennifer Lopez returns to the show next season, saying her exit "would be horrible. She knows her stuff. She cares about each one of us. She's a great woman and hopefully she stays."