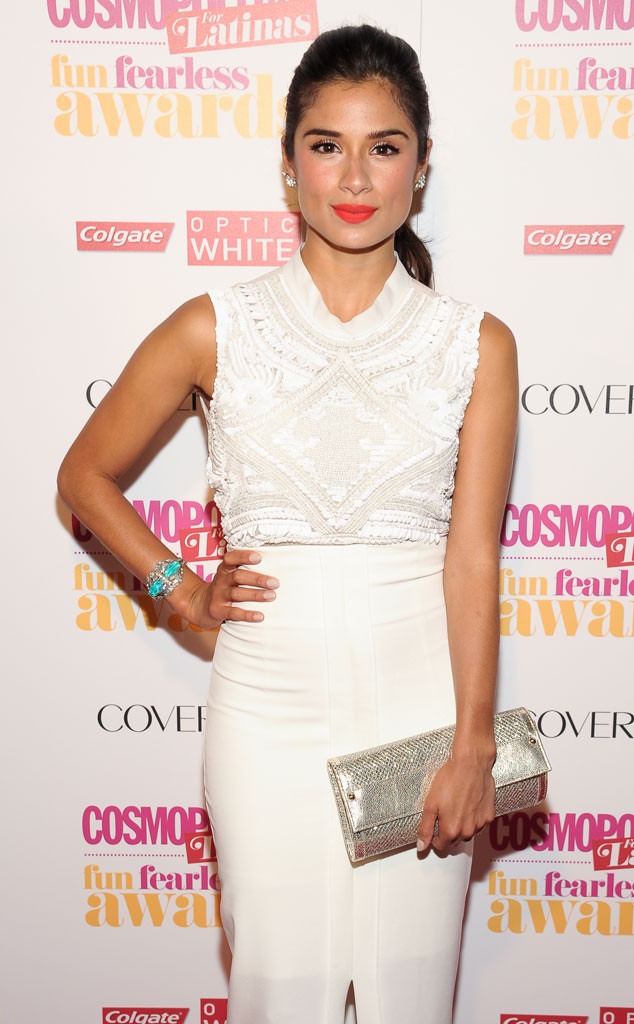 Rommel Demano/Getty Images
Diane Guerrero plays the tough-talkin' Maritza Ramos on Orange Is the New Black, but in real life, she's more vulnerable than you might think.
In an emotional Los Angeles Times op-ed published Saturday, the 28-year-old actress wrote about the painful experience of her parents and older brother being deported back to their native Colombia when she was just 14 years old.
"I came home from school to an empty house. Lights were on and dinner had been started, but my family wasn't there," she recalled. "Neighbors broke the news that my parents had been taken away by immigration officers, and just like that, my stable family life was over."
"Not a single person at any level of government took any note of me," she went on. "No one checked to see if I had a place to live or food to eat, and at 14, I found myself basically on my own."
Diane's parents agreed for her to continue her education at Boston Arts Academy, and while she considers herself "lucky" to have had good friends and the parents of friends who "graciously" took her in, she  still had "a rocky existence."
"I was always insecure about being a nuisance and losing my invitation to stay," she wrote. "And, though I was surrounded by people who cared about me, part of me ached with every accomplishment, because my parents weren't there to share my joy."
On Monday, she spoke about the experience on CNN, breaking down as she talked about the difficulties the separation from her family has caused. "It's tough," she said. "We've been separated for so long, I feel like sometimes we don't know each other."
"I've grown up without them," she said, choking up, "and there's thing about them that are new that I don't recognize, and it hurts. But, I love them so much, and I just hate that they have gone through this. I know that I've been by myself, but I feel like they have lived a very lonely existence themselves."
"Some people don't realize that it is so difficult for people to get documented, to get their papers and to become legal," she said. "My parents tried forever...This system didn't offer relief for them. What I'm asking for is to create or find a solution for families."
As she wrote in her op-ed, "it's not just in the interest of immigrants to fix the system: It's in the interest of all Americans."