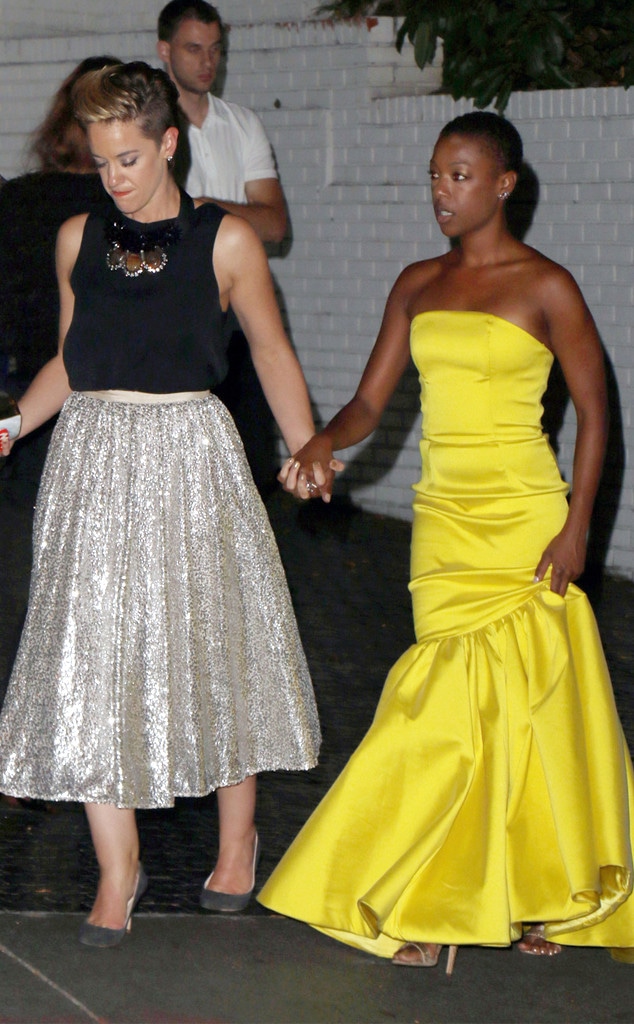 Pacific Coast News
Lauren Morelli, a writer for Orange Is the New Black, and Steve Basilone, her husband of two years, have broken up. Morelli is now reportedly dating one of the Netflix series' female stars, Samira Wiley.
Morelli and Basilone filed for divorce jointly and split amicably, according to court documents obtained by E! News. Morelli came out as gay via a touching essay for Identities.Mic in May 2014. She explained that writing about protagonist Piper Chapman's (Taylor Schilling) relationship with ex-girlfriend Alex Vause (Laura Prepon) helped her to accept her own sexual orientation just months after marrying Basilone.
"I was nervous about the first love scene I'd written for Alex and Piper. I loved writing it, loved watching a tenderness emerge in their relationship where passion always seemed to be the ruling principle, but by that time, I was so deep in my own self-doubt that I constantly felt like a fraud," she wrote. "I was sure it was bleeding into my writing. How could it not? I was married to a man, but I wasn't straight."
It didn't take long for Morelli to accept her truth. "I realized I was gay in fall 2012, one of my first days on the set," the writer recalled. "It wasn't so much one thing, but the sum of many small details: how uncomfortable I felt around groups of lesbians or how I considered myself (shrug) a 'not very sexual person.' When considered alone, these seemed like little quirks that made me me. Wanting to read a book instead of have sex is a perfectly reasonable preference to have, right? But on set, these small moments came into sharp relief, and I found myself answering to an endless stream of cast members who peppered me with questions like a gaggle of kindergarteners curious about their new teacher. 'Are you dating anyone?' 'You're married?' 'To a man?' 'But you used to kiss girls?' 'Do you miss it?' I was finally forced to consider a question that had never, ever occurred to me before: 'Holy s--t, am I gay?'"
Morelli continued, "I am now out to my family, my friends and most of my co-workers on Orange (and now to you, dear reader). Now, when I am in the writers' room or on set, I no longer feel like I am stuck in the middle of two truths. I belong because my own narrative fits in alongside the fictional stories that we are telling on the show: stories of people finding themselves, of difficult paths and of redemption."
Without identifying Wiley, who plays Poussey Washington on Orange Is the New Black, Morelli implied she's happier than ever. "I went through it all on set: I fell in love with a woman, and I watched my life play out on screen...It feels liberating and appropriate to live my life in front of you," the writer gushed.
Morelli and Wiley traveled to Mexico in March and attended the Emmys in August.
"We do not comment on our clients' personal lives," Wiley's rep tells E! News.
—Reporting by Claudia Rosenbaum