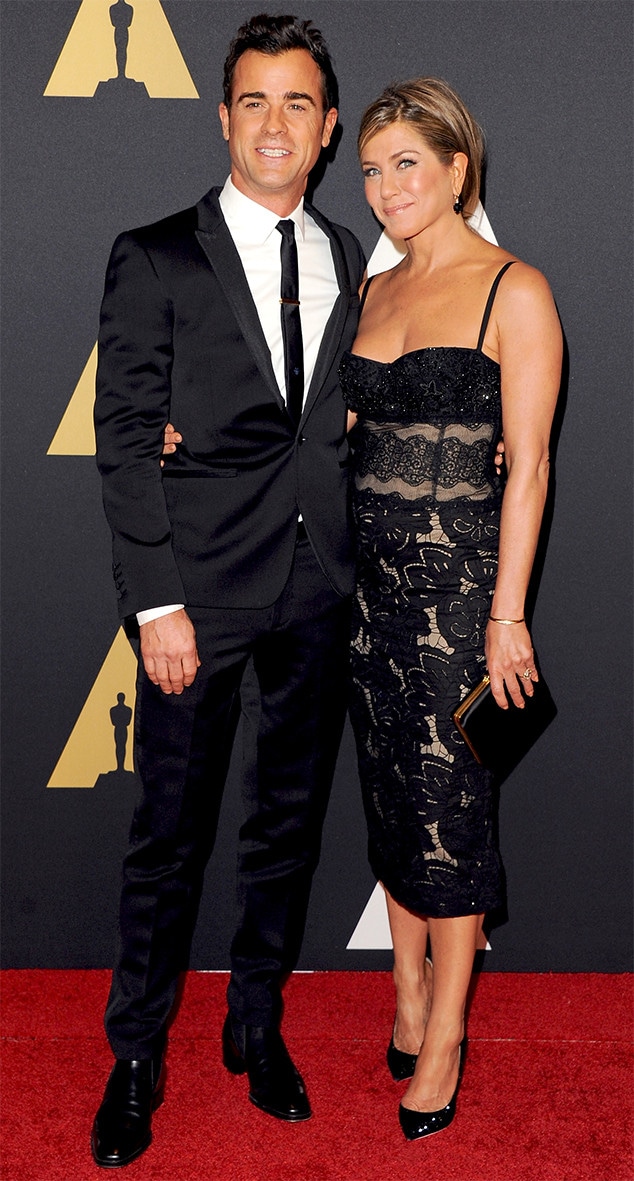 Jon Kopaloff/FilmMagic
Attention, tabloids: Jennifer Aniston is doing just fine. 
"How many times can I be out there in the world, enjoying my life, and yet the narrative is 'Poor, Sorry, Sad in Love Jen'…whatever the stupid headline is," the 45-year-old star, who is happily engaged toJustin Theroux, muses in the latest issue of Harper's Bazaar while flaunting her impeccable figure and flawless hair on the cover. 
Despite the rumors that constantly plague her personal life, Aniston has found peace at age 45 and much of it is thanks to her life with Theroux, whom she met "when he was writing on Tropic Thunder." 
Melvin Sokolsky for Harper's BAZAAR
"It's almost impossible to get bored with one another," she gushes of her handsome man. "We've tried so hard! And even that's interesting because his eyes are so pretty, but we can entertain ourselves and talk about endless things, which is pretty great."
Still, Aniston had to learn how to completely love herself before finding happiness with her perfect match, even taking a break from dating prior to coupling up with Theroux. 
"It really helped me get to a place where I was more comfortable with myself, truly ready for love and for a partner..." she explained. "It was extremely important to my growth as a woman. But if you take the law of attraction, if you only love yourself 70 percent, that's what's going to come back to you. So you fill up that 30 percent, then all of a sudden there's this pure, good love standing right in front of you. Then you realize, 'Oh, this can be easy! It doesn't have to be so hard.'"
Melvin Sokolsky for Harper's BAZAAR
Theroux popped the question back in August 2012, and the pair's long engagement has caused speculation of split, although Aniston continues to laugh off the rumors, telling ABC News last summer that they ''already feel married." 
And if her chat with Haper's Bazaar is any indication, their lust—and love—for each other is still very much alive. 
"Not only is he a great actor but he's one of the best comedy writers out there," she said of her fiancé, whom she also named as her "creative crush." "And he directs and paints murals. And I just think it's so attractive to be that good at so many things and to have no ego. He's one of the most humble, decent human beings. He's not an ass. He's not like some of our friends who are young and up-and-coming and they hit celebrity, and all of a sudden you're like, 'Oh! You're different. Now you don't say hi to people?'" 
Dimitrios Kambouris/Getty Images
Aniston also sings her partners praises when it comes to the way he's handled dating one of Hollywood's biggest stars. "He's just been doing it so graciously and gracefully, and it's a strange ballpark to walk into," she says of the incessant media attention. "He's in his body, for sure. He's a pretty realized person."
As for those endless breakup rumors and "Poor Aniston" headlines? The gorgeous stunner admits she doesn't "give a s--t" and would rather focus on the important people in her life. 
"There was a part of me that used to get very upset," she reveals. "I was guilty of getting too up in arms about stuff that wasn't real, phantom boxing with something that's not even there. Now I'd rather just focus on people and things that are here, happening, and what's yet to come. My friends, my family, wonderful people I work with. We know what the real is."