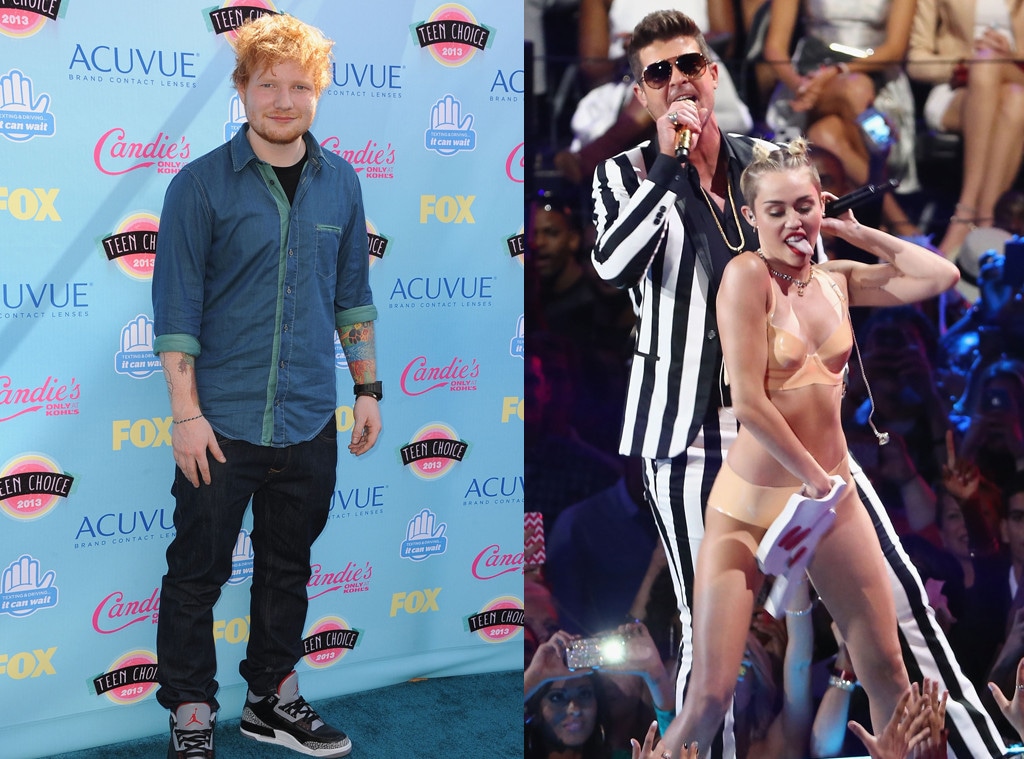 Getty Images
Ed Sheeran is saying sorry for some not-so-nice comments he made about Miley Cyrus after her big VMA twerking performance last year.
Back in September 2013, after Miley's controversial performance with Robin Thicke, Sheeran said in an interview, "I think she's got an amazing voice. I just think she's packaged the wrong way...When I first heard 'Wrecking Ball,' I thought it was a brilliant song, but the video distracts too much from it."
"I think encouraging young people to twerk might be a bad thing," the 23-year-old Brit singer added. "It's a stripper's move. If I had a daughter of nine, I wouldn't want her twerking."
Fact forward to today. The "Don't" crooner says he didn't mean to offend anyone.
"I was a bit of a c--t. I do feel bad about it as I'd be f--king livid if someone said that about me," Sheeran told The Sun recently. "My general point was I wanted her to sing the songs so people could see what an amazing artist she is. I just worded it wrong."
Sheeran also reflected on his mini-rant during a recent radio interview, saying, "I said [something] along the lines of, 'You're voice is amazing, your songs are amazing, just stop twerking.' I didn't say it in the nicest way and I do genuinely love her music and think her voice is great. I don't really know what to do. I'll find a way to [apologize]."
Meanwhile, Miley recently finished her global Bangerz tour Down Under. She was even spotted at the Sydney airport leaving Australia in a blue and white unicorn onesie! She was also carrying a rainbow seahorse stuffed animal.