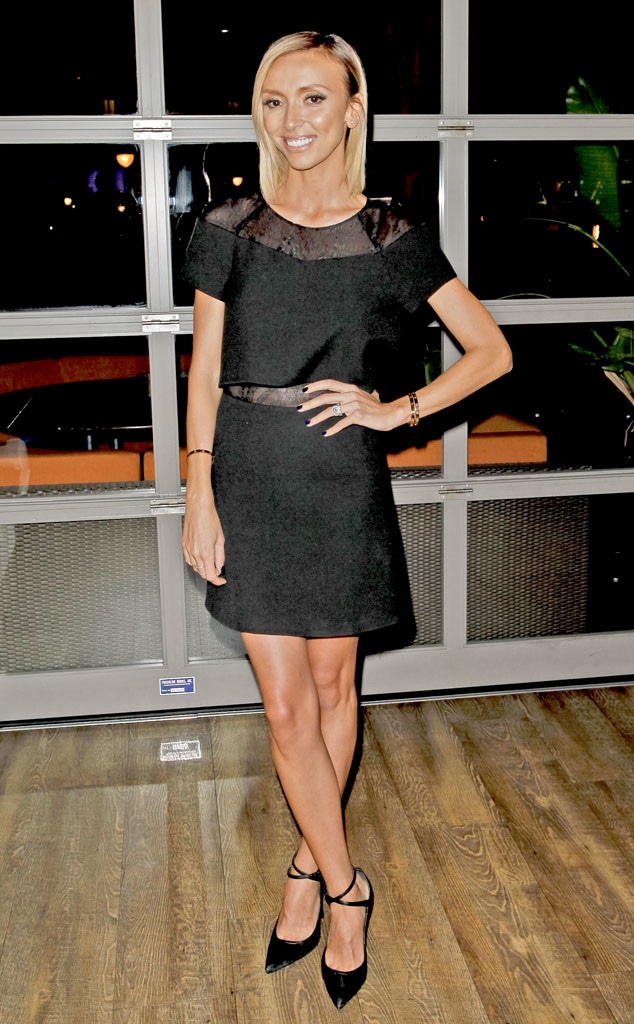 Tibrina Hobson/Getty Images
Giuliana Rancic is getting candid like you've never seen before. 
Tonight, the E! News anchor sits down with fellow breast cancer survivors, Good Morning America's Amy Robach and television host Samantha Harris for a special edition of Beyond Candid With Giuliana: Hope, Strength & Courage. 
And in anticipation of the tear-jerking episode (seriously, we've seen it, and in addition to being a must-see, we suggest you grab some tissues), E! News caught up with the inspirational beauty, who founded the Fab-U-Wish charity to help women feel their best as they cope with battling cancer. 
"We've done some great Beyond Candids…but it's really nice to be able to use the show to not just report on celebrities and fashion and beauty, but also to be able to report on something that has a lot of takeaway in terms of your health," she told E! News, adding that she hopes young viewers are inspired to look after their well-being after watching the special. "'If Giuliana can get breast cancer, if Samantha Harris can get it, if Amy [Robach] can get it, I can get it, too. What can I do to make sure that I'm staying on top of my health?' These are some of the things that the special will answer."
Rancic, who credits her son Duke with saving her life as she was undergoing IVF treatments when she was diagnosed, showed her utmost appreciation to Harris and Robach, thanking the fellow breast cancer survivors "from the bottom of my heart for participating in this special because it's really, really hard." 
"One of the things we have in common is that we realize how lucky we are to have this incredible platform to be able to reach so many people to share our story and help other women," she said. "We don't take that lightly and I thank them for being on this journey." 
Giuliana, who has credited her glam squad for helping her get back to her old self, also shared advice for women who are struggling with their physical appearance while fighting cancer. 
"It's hard," she admitted. "For me, when I went back to work, it wasn't about being pretty again…it was about looking in the mirror and recognizing myself again. The hair, the makeup, the outfit helped me do that. I was able to remember and see the girl I was before cancer. I think that's what really important." 
In addition to her Beyond Candid special, real-life genie Giuliana has been busy granting wishes for women who are going through breast cancer treatments, and the mother of one said that "seeing the videos of the girls who are getting the wishes and are just so happy" has been the most rewarding part of her charity work. 
"One of the best moments was the very first wish that Fab-U-Wish granted…[it] was a girl who had been in the military and she was serving our country when she found out she had breast cancer, 36," Rancic shared. "They flew her home, got the surgery, and she had an aggressive form of breast cancer and we were able to bring her to Los Angeles, she'd never been here, with her sister.  
"We did a shopping spree and a makeover—she'd never had a mani/pedi," Giuliana continued. "She said to us in the letter, 'My whole life I'd been around men, and I've never felt feminine, but now having lost my hair I feel even less of woman than I've ever felt in my life and all I want to do is feel like a princess for a day.' It was really such a touching, beautiful story. So we brought her out and showed her a great time…and we always kept in touch, and then sadly, a few weeks ago, she did lose her battle to cancer…It just goes to show how serious this disease is and how aggressive it can be." 
Stephanie Kauffman, the chief communications and engagement officer for the Breast Cancer Research Foundation, was also in attendance at the Beyond Candid screening and emphasized why it's crucial to stay on top of your health. "I cannot stress enough the notion of self-exams," she told E! News. "As a young woman, you know your body. Do the self-exams, if you think about it in the case if Giuliana's story, she was diagnosed at 36. The recommended mammogram age is 40." 
"With all the research we've done, there still isn't a cure and there's so much more we need to do," Rancic said before emphatically stating, "We will find a cure. I'm confident we will." 
Tune-in to Beyond Candid With Giuliana: Hope, Strength & Courage tonight at 8/7c only on E!