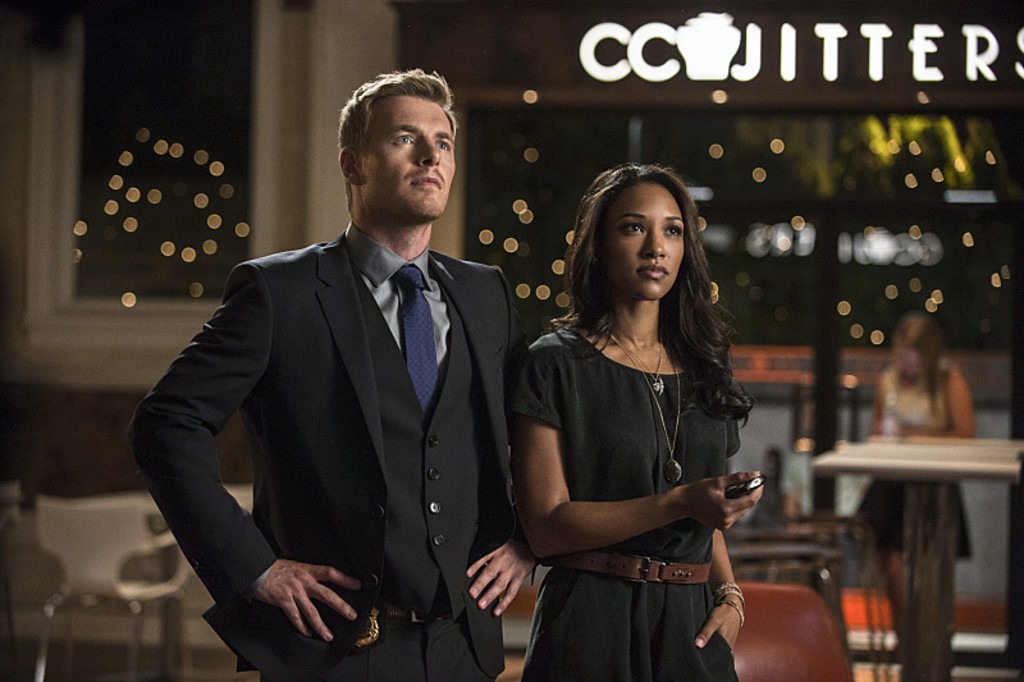 Cate Cameron/The CW
Who's ready to see one of the most cringe-worthy dates in the history of all dates?
The Flash and Arrow's first crossover episode is going to take the title for the most awkward date ever, because we're getting two for the price of the one...that's right, we're talking a double-date.
And get this: it's between Barry (Grant Gustin) and Felicity (Emily Bett Rickards), and Iris (Candice Patton) and Detective Prettyboy Eddie (Rick Cosnett)!
Yeah, as if we weren't already excited to see Arrow's Felicity hope over to The Flash for episode 4 of the CW's new hit show, now we have this date to look forward to? Can we just fast-forward three weeks, please?!
And one of the date-goers, Cosnett, was the one to drop the huge date bomb on us.
"I can tease that there's going to be a double-date happening with Felicity when she comes over to Central City [in episode 4 of The Flash]," Cosnett told us. "That interaction is quite hilarious. That's the great thing about The Flash, that it does have very comedic elements to it. We keep it light while still keeping it epic and real and dark. So that's going to be a great episode to see Felicity and how we all interact with her."
Yeah, no kidding! Check out what other scoop Cosnett revealed about what's coming up on The Flash, including Eddie's "sexy" hidden relationship with Iris, his "hilarious" friendship with Barry and whether or not we should really be trusting Eddie.
E! News: Now that Eddie is dating his partner Joe's (Jesse L. Martin) daughter Iris, how is he going to handle having to hide their relationship?
Rick Cosnett: There's a lot of anxiety and tension around it. There's a lot at stake since Joe is his partner—his job is at stake, his relationship with Joe, everything. While it is kind of sexy having to hide it, it's also scary. He feels very torn. Over the next few episodes, it all starts to unravel.
The only person that knows about the relationship is Barry, right?
Yes, and he's really grateful to Barry that Barry's keeping it a secret and he thinks Barry is really lovely and endearing. He knows how close Barry and Iris are, like brother and sister, but he blissfully unaware that Barry has a crush on Iris. That's really fun but really irritating for poor Barry.
I can imagine! How is that crush going to affect Barry and Eddie's friendship?
Over the next few episodes it's going to be really delightful and awkward to see how they're going to keep it a secret and how Barry and Eddie interact. It's absolute gold. Poor Barry is so conflicted and Eddie has no idea. Our characters are so opposite. I'm so secure in myself and I know that I'm good at everything but Barry is so unsure and he's so much the underdog, which is why we all love him so much. To see the two interact is just so amazing. The writers have been so great at throwing Barry and Eddie together and evolving their story in a clever way.
Are Iris and Eddie serious or is their relationship just for fun right now?
No, it's getting serious. They unexpectedly fell in love during Barry's coma. They have that wonderful, Much Ado About Nothing love-hate relationship and it makes it all the more real. It gives them this amazing sexual spark and wonderful tension.
How is Eddie's relationship with Iris going to affect his working relationship with Joe, since they're police partners?
There's going to be a lot of awkward hiding from Joe and trying to navigate through both work and personal relationships for Eddie. On one hand, he's really trying to establish himself as a great detective on the force since he was promoted very quickly during the pilot. He's still very much a rookie. He's trying to prove himself with Joe while also dating his daughter and lying to Joe but still being a good man [laughs]. He has a lot of inner conflict about that and we'll see how that pans out.
I know Iris is going to become more and more "intrigued" by the "red streak," which we know is Barry saving people all through Central City. How is Eddie going to handle that? Is he going to get jealous at all?
That's going to be really interesting to see. Iris starts to become very intrigued and distracted from Eddie, so he reacts in a way you'll have to wait and see. I actually can't say anything about that because it might just give away too much! I wish I could, but there's been much speculation about who's bad and who's good, so you'll see.
I don't know if I'm biased after watching you play such a nasty villain on Vampire Diaries, but even though it's been kind of clear from the beginning that Eddie's a good guy, I'm still having a hard time fully trusting him.
[Laughs.] I have this voice that drops way below anyone's hearing decibels and I think that means I'll make a great villain when I'm older!
What was it like switching from playing someone so truly evil to someone that is supposedly one of the good guys?
It was fantastic. The main difference between Dr. Wes [on TVD] and Eddie is that Wes was very damaged and had a lot of vendettas, and that was very clear from the beginning. But Eddie, you're a little more uneasy about him because he's just so nice and you don't know where he's going to go, which can be quite unnerving. Plus, Eddie's more physical, hands-on, blue-collar, and actually sane whereas Wes was always plotting. Eddie's just the perfect guy and a real man. He's everything I've always wanted to be. [Laughs.]
The Flash airs Tuesdays at 8 p.m. on the CW.