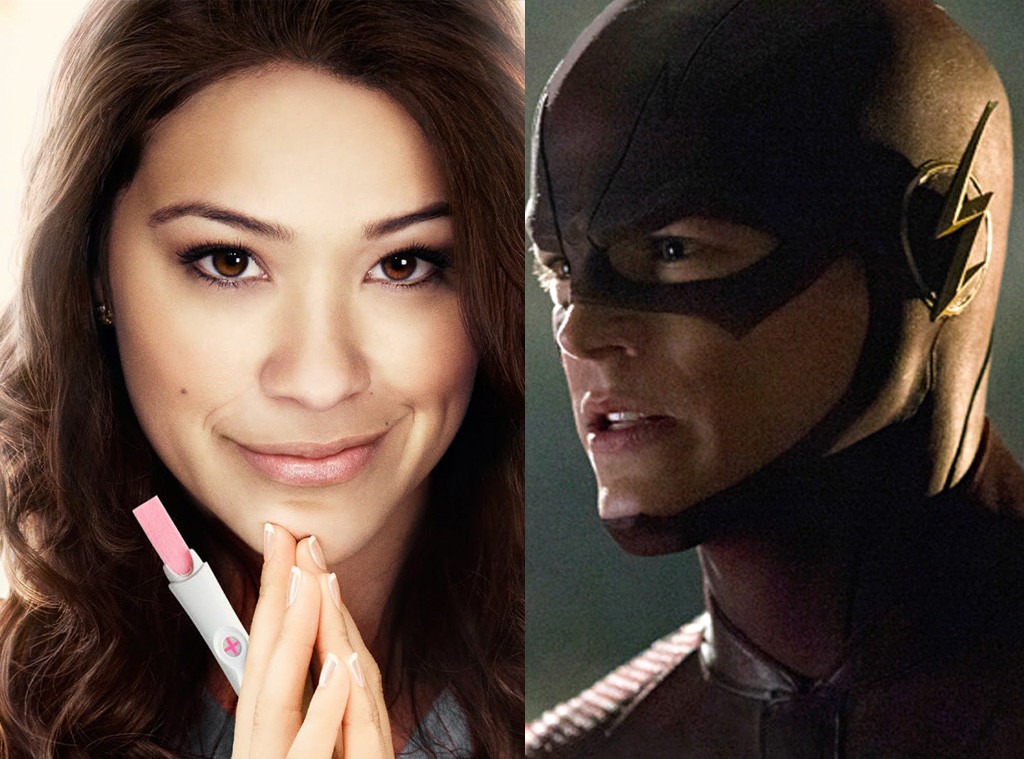 The CW
There are so many new shows premiering this Fall that it can be a daunting task deciding on which ones to take a risk on and commit to versus the ones to not waste any time on. Thankfully for you, the TV Scoop team here at E! News has all the time in the world when it comes to TV, so we're going to make your Fall premiere season as easy and stress-free as possible.
Since we've already watched the first episode of every single new show that's premiering this fall, we're sharing our quick, in-a-nutshell first impressions with Rapid-Fire Reviews every day this week, lumped together by network.
To kick off the week, take a break from your time out by the pool barbecuing and celebrating Labor Day Weekend to find out how we feel about The CW's small-but-mighty Fall roster: The Flash and Jane the Virgin!
The Flash
Premiere Date: Tuesday, Oct. 7 at 8 p.m.
Time-Slot Competition:  Selfie (ABC), NCIS (CBS), Utopia (Fox), The Voice (NBC)
Stars: Grant Gustin, Candice Patton, Rick Cosnett, Danielle Panabaker, Jesse L. Martin, John Wesley Shipp
Kristin Dos Santos: What. Is. Happening?!!! I'm suddenly believing that the guy I wanted to sucker-punch through my screen on Glee (Gustin) is a badass superhero, and it makes no sense but I'm definitely along for the ride. The pilot is slick and fresh and as long as he keeps his dirty stinking paws off Klaine from here on out, I'm good.
Tierney Bricker: Holy budget well spent! There's no denying that The Flash was the most visually stunning pilot of the year, and they've definitely struck gold again in the leading man department with Grant Gustin, who is the Peter Parker to Stephen Amell's Bruce Wayne-ish Oliver Queen. (He's basically the superhero version of Charlie Bucket, except a speedy superpower is his Wonka bar.) While I was a little underwhelmed by Barry's first solo outing (as an Arrow fan, my expectations were crazy high), the final scene, which is so delightfully comic book-esque, totally caught me off guard and had me fangirling out. So godspeed, Barry Allen. I'm in. 
Chris Harnick: As a comic book fan, I've been watching the sudden explosion of superheroes across TV and movies with a lot of bated breath, just waiting for the next big mishap. Thankfully, it's not The Flash. While some of the acting was stiff, The Flash sets up what is sure to be an exciting new adventure for the Scarlet Speedster.
Sydney Bucksbaum: With so many comic book shows on TV this Fall, if you only pick one, this is the one to watch. Finally we have a superhero with no doubts about being a superhero. It's such a breath of fresh air watching Barry Allen take delight in his new powers and his new responsibilities instead of navel-gazing and brooding. (Not that I don't love a brooding superhero, because, oh, how I love me some brooding heroes, but it's nice to finally see one that isn't tied down with so many dark secrets!)
Jane the Virgin
Premiere Date: Monday, Oct. 13 at 9 p.m.
Time-Slot Competition: Scorpion (CBS), The Voice (NBC), Dancing With the Stars (ABC), Sleepy Hollow (Fox)
Stars: Gina Rodriguez, Justin Baldoni, Brett Dier, Andrea Navedo, Yael Grobglas, Ivonne Coll, Jaime Camil
Kristin Dos Santos: The biggest surprise of the Fall TV season! I expected to haaaaaaate this series, just based on the insanely ludicrous premise. (Don't you just hate it when your doctor accidentally inseminates you? Dumb. Dumb. Dumb!) But Jane has so much charm, and the girl who plays her, Gina Rodriguez, is so darn loveable (and badass), I can't help but root for this show. (And it's going to need a lot of help, since it has the worst timeslot ever, up against The Voice and Dancing With the Stars…Ugh…)
Tierney Bricker: I went into this show expecting to hate it. I came out of my first viewing experience not hating it, but not totally loving it, either. So a coveted spot on my DVR cannot be given to a show I'm totally fine getting up to switch my laundry from the washing machine to the dryer during. Also, I literally could not get over (and can still not get over) the fact that the notion of suing the crap out of the doctor (and her practice) after being accidentally impregnated never came up once. LOGIC, PEOPLE. However, I will say that star Gina Rodriguez is going to be the CW's next big thing. She's got it...and then some. 
Chris Harnick: I know the audience for this show and I am not it at all. I just couldn't get into it.
Sydney Bucksbaum: Not going to lie, this one caught me by complete surprise. I didn't think I'd be able to relate to the telenovela-ness of it all or that I would be able to get into the premise (Seriously, accidentally artificially inseminating someone? Seriously?!), but I just can't deny the charm of leading lady Rodriguez. Get ready to fall in love with this strong, confident and sweetly-optimistic-yet-realistic woman, both onscreen as Jane and offscreen as Gina.