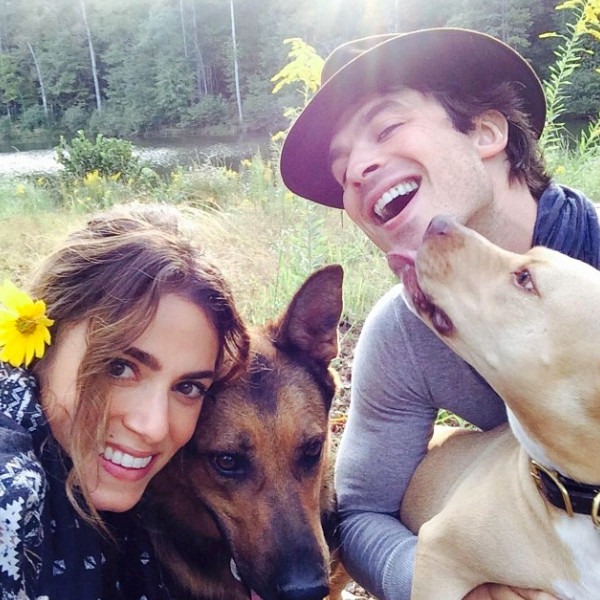 Instagram
In case you didn't know, Ian Somerhalder is head over heels for his ladylove Nikki Reed.
In honor of their pups' birthday, the Vampire Diaries actor posted a sweet snapshot of himself, Reed and their dogs flashing their pearly whites for the camera while enjoying nature's beauty in the great outdoors, but Somerhalder accompanied the photo with a lengthy caption that not only discussed how "amazed" he is by his wonderful girlfriend, but also promoted pet adoption.
"A day with 3 of the most beautiful ladies in the universe... Wow smiling is such a beautiful part of the human experience-I highly recommend it. Congrats to our little Neitczhe here-1 year ago today, to the minute, you brought 5 beautiful puppies into this world-thank you for your amazing contribution to all of our lives," he began.
"However, welcome to the wonderful world of being spayed-The world does not need any more puppies, we kill millions and millions per year. These two beautiful creatures right here in this photo or highly intelligent, highly emotional and capable of more love than you can you can ever imagine.
"The ones that are in shelters are the same-let's adopt them. @iamnikkireed your recent work with Gilt benefiting the @aspca is truly...extraordinary. Thank you for giving so much of your life and for being a strong voice for those whom can speak. My hat is off to you. You amaze me. Love, Ian"
All together now—awww!
Ian and Nikki's relationship continues to heat up since first revealing their romance in late July when they were spotted getting cozy at an L.A. farmers market. And now, after a little more than two months of dating, a source tells E! News that the pair, "are having a great time with one another. They are still crazy for each other."