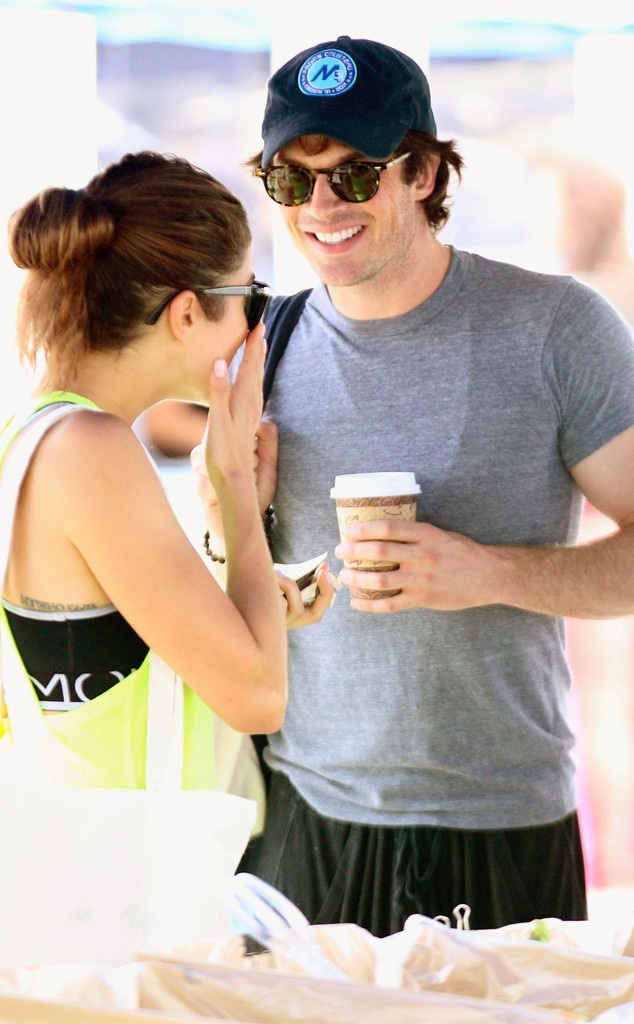 FameFlynet
Is a new romance brewing between Ian Somerhalder and Nikki Reed?
The Vampire Diaries star and the Twilight actress became the subject of tabloid speculation over the weekend after the pair was photographed at an L.A. Farmers' Market on Sunday, where they were spotted looking cozy. 
Somerhalder and Reed grabbed coffee together and couldn't contain their smiles, appearing relaxed and comfortable in each other's company as they shopped in Sherman Oaks. At one point, the erstwhile Lost star touched the back of Nikki's neck and appeared to affectionately whisper in her ear as the 26-year-old beauty flashed a giant grin.
Both Ian and Nikki were dressed casual for the outing, with the 26-year-old beauty sporting cropped workout pants and a neon top while the 35-year-old hunk rocked comfy black pants and a gray tee.
While the duo has been close for years, it is possible that their friendship has evolved into something more now that the two are both single.
Reed filed for divorce in May after two years of marriage to singer-songwriter Paul McDonald, citing irreconcilable differences as the reason for the split. Just two months earlier, the former couple announced that they had separated and had been living apart for six months, though they continued to work on an album together, which they recently released.
Meanwhile, Somerhalder broke up with his Vampire Diaries costar Nina Dobrev in May 2013 after nearly three years of dating. The two have remained incredibly amicable and Dobrev recently spoke about her friendly attitude towards her exes.
"I don't like any kind of negativity," Nylon's August cover girl told the magazine. "I try to be good to everyone, whether it's a love, a friend, an ex. I'll always try to treat people the way I want to be treated."
Added Somerhalder: "She always lets me have the last fry."
Do you think Nikki and Ian make a cute couple? Tell us in the comments!