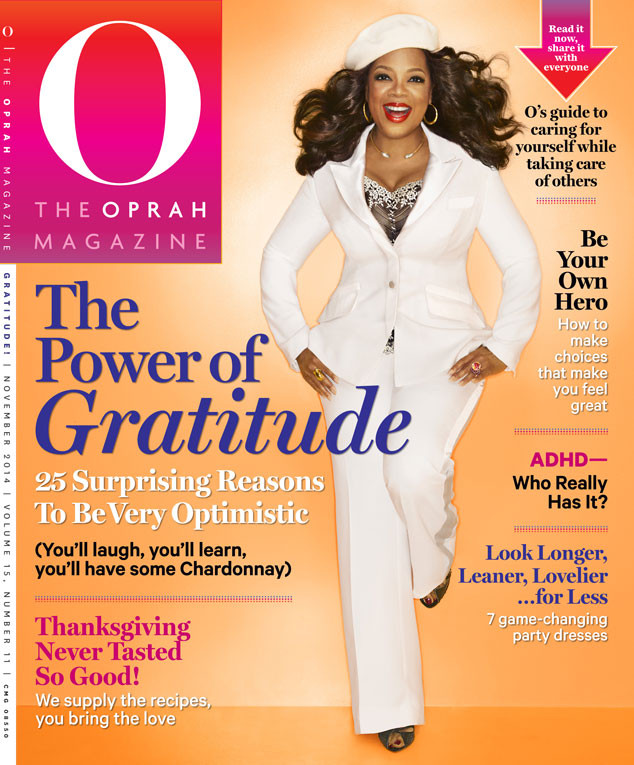 Ruven Afanador/O Magazine
In order for Oprah Winfrey to live her best life, she must remain grateful.
So, in the spirit of Thanksgiving, the November issue of O, The Oprah Magazine is dedicated to "The Power of Gratitude." Winfrey reveals, "I wake up every morning and the first sentence that comes through my brain is, 'Thank you.'" In her experience, she says, "If you focus on what you have, you will begin to see that you have more. And if you focus on what you don't have, you will always live in a space of lack."
So, how does Winfrey keep things in perspective?
"I've been on the road now since September, going from city to city on weekends for The Life You Want tour," she writes in her "What I Know for Sure" column. "It's a dream that's lived in me forever: to travel the world speaking face-to-face with women (and some very cool men) about the thing that matters most—raising our individual and collective consciousness to a higher vibration so that we each may fulfill our innate calling."
"In every city, I've been overjoyed to see people sharing their openhearted yearning to reach for something more, their desire to do and be better," the TV mogul, 60, continues. "And in the process of sharing my stories, mistakes, and big lessons, my own commitment to living more fully has deepened...It makes me so happy—and is the greatest reward—to see others grasp the reins of their lives and take control."