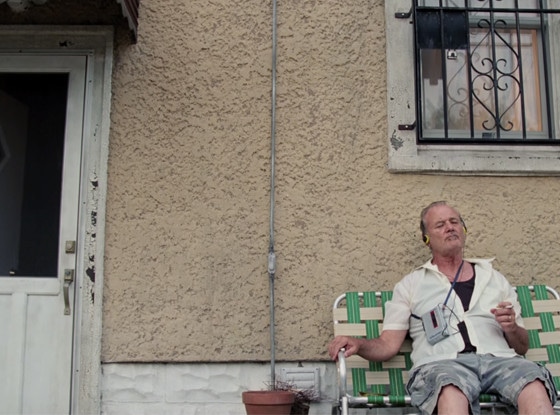 rollingstone.com
Just another reason to love Bill Murray.
In a recently released preview clip from his new movie St. Vincent, the 64-year-old actor sings Bob Dylan's classic hit song "Shelter From the Storm" from his 1975 album Blood on the Tracks.
The video begins with Murray stepping outside of his house to water a dying plant as Dylan's song plays in the background. Murray's character is listening to "Shelter From the Storm" on a Walkman strapped to his chest. He then sits down in a chair next to the plant and begins murmuring the lyrics to himself.
"Twas in another lifetime, one of toil and blood/ When blackness was a virtue and the road was full of mud/ I came in from the wilderness, a creature void of form 'Come in,' she said, 'I'll give you shelter from the storm,'" Murray sings. "And if I pass this way again, you can rest assured/ I'll always do my best for her, on that I give my word/ In a world of steel-eyed death, and men who are fighting to be warm/ 'Come in,' she said, 'I'll give you shelter from the storm.'"
St. Vincent recently premiered at the Toronto International Film Festival on Bill Murray Day (Sept. 5). The flick stars Murray as a bawdy war veteran who forms an unlikely friendship with a young boy whose parents just divorce. The film, which also stars Naomi Watts and Melissa McCarthy, hits select theaters this Friday.
Check out the awesome clip of Murray singing Bob Dylan now!