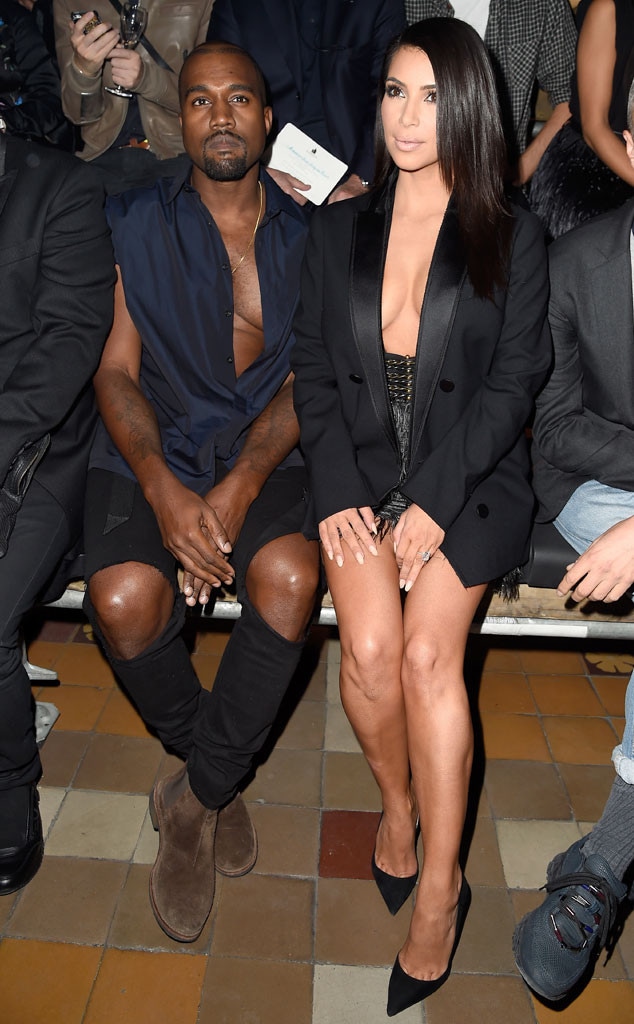 Pascal Le Segretain/Getty Images
It appears that not everyone is excited for Kim Kardashian and Kanye West to be at Fashion Week.
The famous duo were seen entering the Lanvin show in Paris several minutes late, and as they made their way to their front row seats, a few fellow fashion show-goers began booing from across the runway.
The outspoken rapper heard the reaction to their arrival and immediately walked over to confront the less-than-pleased guests.
"Alber [Elbaz] asked to see us, don't boo us," Kanye exclaimed, referring to the fashion house's head designer. "We're not late, we're not late."
And it's certainly been a bumpy fashion week for the newlyweds…
Just yesterday, the E! reality star was accosted outside of the Balmain show by infamous red carpet prankster, Vitalii Sediuk.
A video showed the brunette beauty exiting a chauffeured vehicle with her mom Kris Jenner and husband amidst a sea of photographers and excited fans.
Kim attempted to make her way out of the car with her security team before Vitalii rushed her and tried to grab her legs.
Understandably frightened, North West's mama grabbed onto her bodyguard while her hubby quickly came to her side.
Fortunately, everyone made it out safely and was able to catch Kendall Jenner strut her stuff during the fashion show.
"The prank with Kim was my protest that US banned me from entering the country," Sediuk said in a statement to E! News. "I hope Kim is ok and won't be mad at me as I didn't mean any harm. Kanye is one lucky man as Kim is a Goddess!"
He echoed similar sentiments when he posted a selfie with the famous trio's ride beside him and captioned the snapshot, "Kanye, you are one lucky man! Kim is Goddess!! #Balmain #PFW #KimKardashian #NoOffence #LOVE #KanyeWest #VitaliiSediuk #parisfashionweek #prankster #Paris@kimkardashian."
Tune in to the premiere of Kourtney & Khloé Take the Hamptons this November on E!