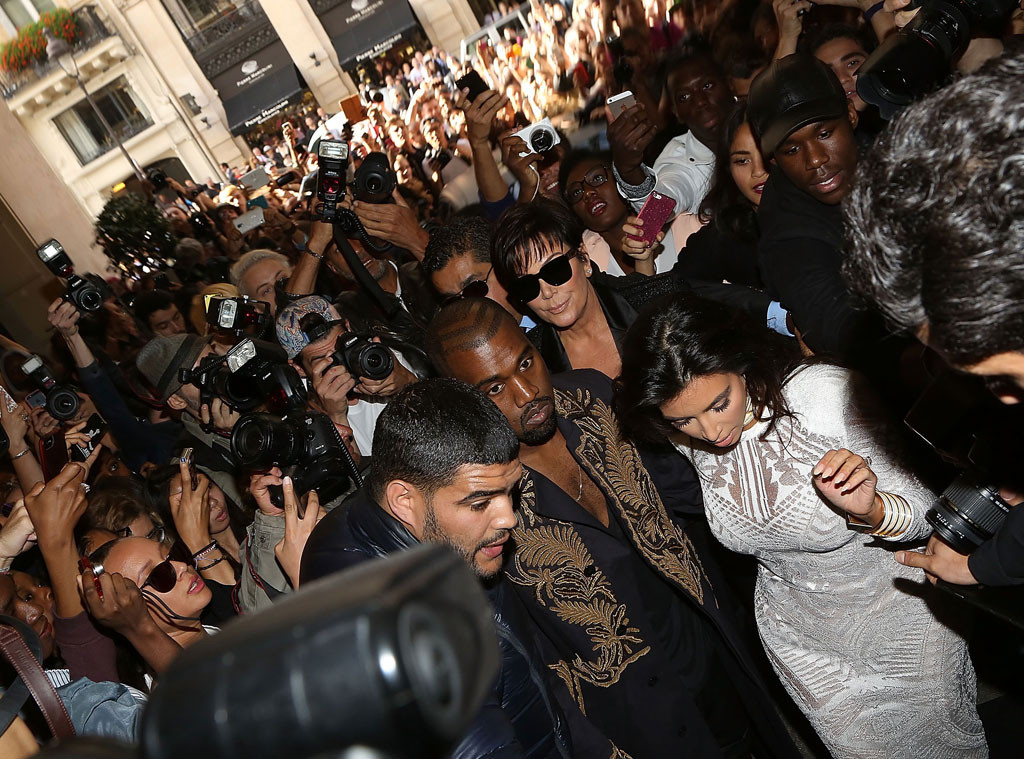 Marc Piasecki/GC Images
You may be asking for a little too much there, Vitalii Sediuk.
The infamous red carpet prankster is currently on damage control after pulling yet another one of his notorious stunts, this time against Kim Kardashian. The E! star was attacked while trying to make her way through the pandemonium outside of Balmain's Paris Fashion Week show when a man (who has been identified as Sediuk) dived for Kim's legs.
In a video that captured the encounter, Kris Jenner can be heard yelling, "Stop it," as she realized what was happening, while Kim seemingly yells, "Babe!" at Kanye West. Luckily, her security team was quick to subdue the individual and pull the Keeping Up With the Kardashians star to safety.
And now, Vitalii wants to make amends.
"The prank with Kim was my protest that US banned me from entering the country," Sediuk says in a statement to E! News. "I hope Kim is ok and won't be mad at me as I didn't mean any harm. Kanye is one lucky man as Kim is a Goddess!"
It was claimed that he had pulled Kim's hair, but a source close to him told The Daily Mail, "The information about Vitalii pulling Kim's hair is untrue. Vitalii hugged Kim which caused a big crowding with the security that pulled him down to the ground. Because of the mess, Kim may have lost her balance. But Vitalii didn't mean any harm."
Vitalii echoed similar sentiments when he posted a selfie with the famous trio's ride beside him and captioned the snapshot, "Kanye, you are one lucky man! Kim is Goddess!! #Balmain #PFW #KimKardashian #NoOffence #LOVE #KanyeWest #VitaliiSediuk #parisfashionweek #prankster #Paris@kimkardashian."
Tune in to the premiere of Kourtney & Khloé Take the Hamptons this November on E!