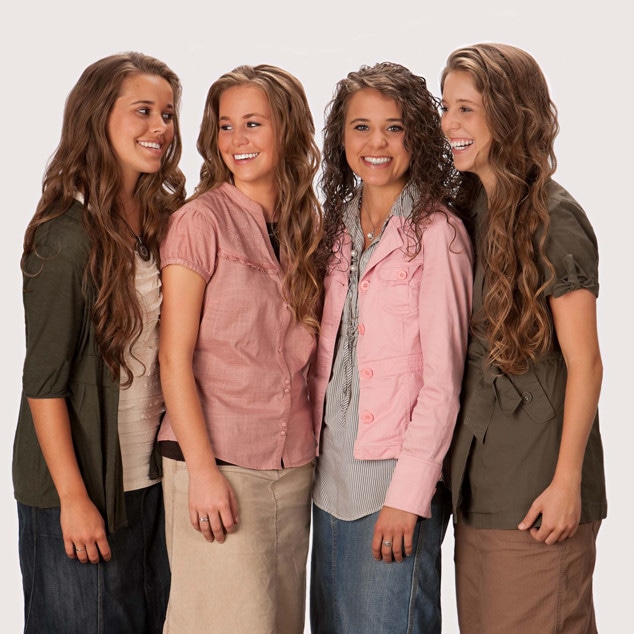 Howard Books
"In today's day and time, it's a little bit strange to be in our early twenties and have not had sex," newly engaged Jessa Duggar admits in the latest issue of Us Weekly. "But it's how our parents did it."
Father Jim Bob and mom Michelle have imposed a strict set of rules on their 19 children, who have all been raised with strong, conservative Christian values which may come as a surprise to many. 
But according to the fiercely religious reality family, who believes that a couple's first kiss should be shared at the altar, they wouldn't choose to live their lives in any other way. 
So what's it like to grow up Duggar in our modern day? Here are the rules according to Jessa and sister Jill, who is expecting her first child just two months after saying I-do (and no, she did not have premarital sex. We did the math. Whew!)
1. Parents Are CC'd on Texts: Yes, at 20 years old your mom and dad may be peeping your text messages. Once Ben Seewald jokingly wrote to fiancée Jessa, "Give me a ring." Jim Bob's reply? "No ring yet." Oh, and his response was complete with smiley face emoticon. On the bright side...at least they don't have to worry about naked selfies? 
Peter Kramer/NBC/NBCU Photo Bank via Getty Images
2. Dates Are Chaperoned: Parents accompany their children on dates in order to maintain their "accountability." It "keeps things from going in the wrong direction," explains Jim Bob. Likewise, the girls are comfortable with their parents' presence, noting that being alone with men puts them in grave "moral danger." 
3. No Chest-to-Chest Contact Until Wedding Day: Side hugs are the preferred method of PDA in order to prevent any further temptation. And boy, do the Duggars sure love their side hugs! 
4. After the I-dos, Have Sex...A Lot: "Anyone can fix him lunch, but only one person can meet that physical need of love," Michelle, who has 19 children explains. "You always need to be available when he calls." And you need to be prepared for the possible result of all that love-making. "My mom has a bunch of pregnancy test at her house," Jill tells Us Weekly. 
5. Romance Novels Are Forbidden: Forget about satisfying your sexual fantasies by picking up a copy of Fifty Shades of Grey! The Bible warns not to "think about gratifying the pleasure of the flesh," so instead the family studies Christian text. 
6. Don't Drink Alcohol: In the eyes of the Duggars, booze is a buzz kill. At a past event, Jill and Jessa accidentally sipped spiked punch. Jessa's reaction? "Disgusting!" 
7. Leave the Twerking to Miley Cyrus: Michelle explains that dancing encourages "sensual" feelings while Jessa warns that modern day music is "promoting sex, drugs, all that type of stuff." Instead, the family chooses to play gospel together. 
8. Forget About Halloween: According to the Duggars, magic and witches are "part of a demonic realm God wants us to stay away from." No hocus pocus here! 
9. The Beach Is Forbidden: While there is Duggar-approved swimwear available for purchase, other beachgoers prove to be problematic for the religious clan. ""It's just too hard for the guys to try and keep their eyes averted," Michelle explains. 
Ah, the difficulties of growing up Duggar! 
Thoughts on the family's strict set of rules?