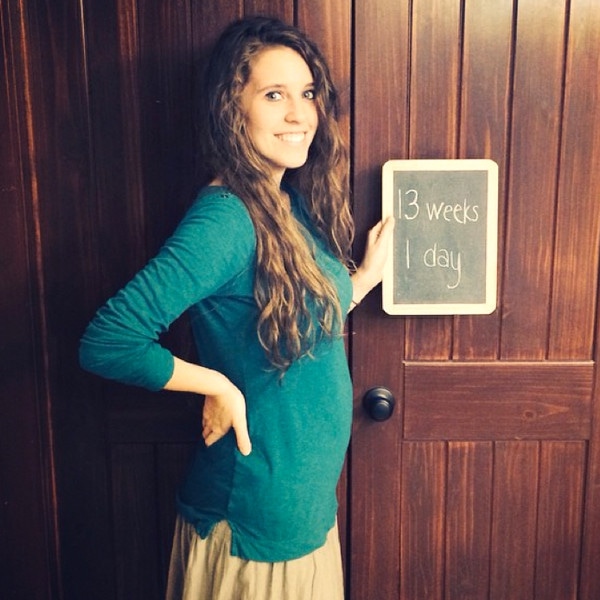 Instagram
Jill Duggar's pregnancy has been raising some questions—mainly whether or not the super-conservative and traditional 19 Kids and Counting star engaged in pre-marital sex.
The speculation began because Jill, 23, and her husband Derick Dillard, 25, tied the knot on June 21 in Springdale, Ark, and a little over two months later, the couple announced they are expecting their first child together, which was extremely soon.
So, we decided to indulge in some investigative journalism with the help of scratch paper, a pen, basic arithmetic skills (that haven't been used in a while) and the good ole Internet.
Dillard posted an Instagram photo yesterday of his pregnant wife with a chalkboard stating that she is 13 weeks and one day along (or 93 days). If we calculate the amount of days since the young couple got married, you would get—drum roll, please—90 days!
Therefore, the basic math would lead you to believe that, yes, Jill and Derick did engage in baby-making a few days before swapping vows. But, it's not that simple.
When it comes to calculating conception, "the counting begins with the first day of your last normal menstrual period before you got pregnant. In other words, the counting begins about two weeks before you have even conceived," JustMommies.com explains.
"Why does the counting begin that early? It starts at that point primarily it is because it is difficult to pinpoint the exact date a woman conceived, and the first date of her last menstrual period is a much easier marker to identify. Once you have that date down, you can establish your estimated due date by adding 40 weeks, or 280 days."
Does your brain hurt right now? It's OK, you didn't expect to learn so much about conception. Let us sum it up for you...
Basically, however many weeks someone is in their pregnancy, subtract two weeks from that and you'll get a ball park of when the no-pants dance went down.
So in Duggar's case, she is 13 weeks along, which means they probably actually conceived the baby about 11 weeks ago, concluding that she was already married (barely, but still) when they had sex. Mystery solved! Whew.
The couple, who didn't hold hands until they got engaged in April and kissed for the first time in front of more than 1,000 people, chose to announce their baby news before hitting the second trimester mark because, as Jill told Page Six, "every life is precious no matter how young, we decided to share our joyful news as soon as we could."