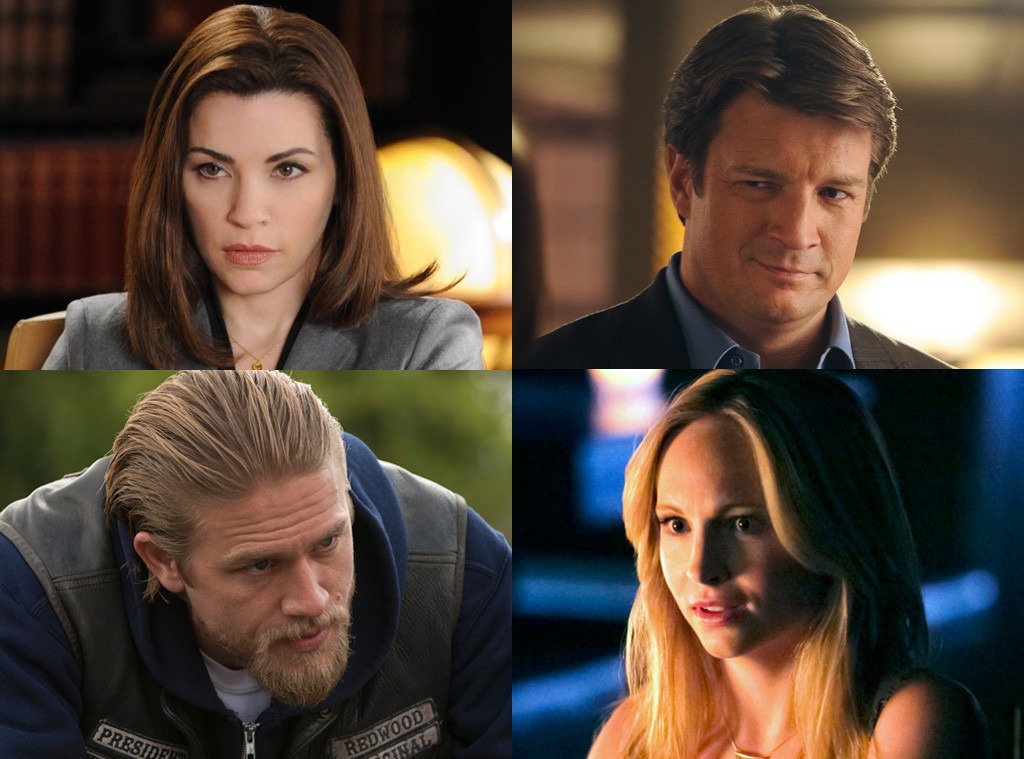 Summer is finally totally over and that stupid fresh air and sunshine and beach time (blech, blech and again, blech) is about to be replaced with the stale aroma of your gross old couch and the return of your favorite shows. Hooray! Humanity saved!
It's Tuesday morning and you know what that means: We have some exclusive scoop to share with you as we answer your burning TV questions. 
Enjoy and happy start of Fall TV!
Teddy1308: Any chance Stefan and Caroline might be a thing this season on The Vampire Diaries?
Do you want the bad news or the terrible news? The bad news is that there's no plan in sight for any kind of Stefan/Caroline romance. The worse news is that their frienship might be Kaputzville too! At least, that's what's up for the beginning of the season, according to the show's Big Boss Momma Bossy Pants (that's not her real titlem and she is anything but bossy), Julie Plec, who tells me: "Caroline isn't going to let Stefan off the hook very easily. In fact, his determination to move on and start a new life after the loss of his brother may ultimately ruin the friendship he's built with her over the years." So. Not Cool. Unless you are a Klaus and Caroline or Tyler and Caroline shipper, at which point you are probably chanting "nanny nanny boo boo" right now. 
MichelleGr: What's up for Alaric on TVD this season?
Some juicy storylines, with a sweet side of little angst, of course. Plec teases, "Alaric is having a hard time reconciling his former self with his new vampire identity. And when he meets a fascinating and smart new woman, it makes it even more difficult." Feast your eyes on the first pic of Alaric with his new woah-man. 
DrewHayes: Any word on who Portia de Rossi is playing on Scandal?
Yes, and the word is a very ugly one when it comes to the kind of White House we've been dealing with. Let's just say it starts with an "R" and she and Olivia and the president probably will not be friends.
Giselle: Castle, Castle, Castle!
You want Castle spoilers, is that what you're saying? This season will feature a trip to a dude ranch. Naturally, a murder is a-foot and there are plenty of Western characters who come into play…including a gay cowboy. Yee-haw!
Brynn: You guys already broke my heart with that story about Juice's fate on Sons of Anarchy! Please tell me Tig will make it to the end.
Tig lives…at least until the ninth episode!  But that doesn't mean there won't be plenty of deaths by series' end. "We're wiping everybody out," Kim Coates teases. "it's a very, very sad season. It's nuts. It's a gnarly season." Gulp. Isn't it usually? And if this is worse than that, who's paying our therapy bills? Is there a special SOA fan healthy insurance plan?
Lauren D. in Albany, N.Y.: Got any scoop on what kind of shenanigans the New Girl gang will be up to this season?
"This is the first season really when everyone's single," Hannah Simone says of the gang in season four. "Everybody is in a new kind of phase of their lives." While for some that means new jobs (Winston's becoming a cop! Cece isn't a model anymore!), for Coach it means a whole lot of dating. "I'm a bachelor," Damon Wayans Jr. spills. "I'm kind of living up to the meaning of that, getting a lot of tail."
Nicky: I'll take anything you've got on Grey's Anatomy.
Are you ready to cry all of the tears? We've got scoop on a family checking into Grey Sloan Memorial Hospital, and all signs point to tragedy (because, of course). The ABC long-running medical drama is currently casting the roles of Jeremy, Ellen and Erin Weaver. Jeremy is a sweet, super-likeable, middle-class, "busy" patient, while Ellen is described as the "sweet loving wife of Jeremy who gets emotional," and Erin, their 16-year-old daughter who loves her parents, is forced "to grow up quickly" because of whatever happens on the show. It's probably wise to stock up on Kleenex now! 
Shelly: Spoilers for The Good Wife premiere are SCARCE! Please tell me everything.
And ruin what is sure to be one of the show's biggest surprises yet? We're not cruel, you need to watch. However, you should know you'll be gasping within the first couple of minutes and the thrill ride lasts the whole episode. [Editor's note: Chris Harnick went to The Good Wife set in NYC, spent hours there, came back and wrote this chat item because he's under sworn secrecy not to spill anything too major, because it is all major, and we want to strangle him too.]
Nath: please the mindy project???
Mindy is getting minions!  Well, she's getting interns, but minions seem more appropriate, no? Mindy is set to get her Dr. Bailey on (how fitting as Grey's creator Shonda Rhimes will guest this season?) when she gets two interns at the hospital in episode eight. While one is super shy and mousy, the other is basically a young black Burt Reynolds who is very confident and clashes with Mindy.
Shawn: Revenge me woman!
Calm down or I will break out the red Sharpie and draw a mustache on you. You have been warned. Anyway, expect to learn a bit more about Amanda's (RIP!) past when we meet one of her old stripper friends who has the best name ever: Crystal Chandelier. (True story: I went to school with a girl named Chrystal Shanda Lear, whose brother was named King. And that tells you precisely nothing about Revenge, so shutting up now. But stand by for an exclusive sneak peek a bit later this morning!)
Sam: Anything romantic coming up for Peralta and Santiago on Brooklyn Nine-Nine?
Jake's time away from the precinct working undercover for the FBI really matured him, and fans will be surprised to see how honest he is about his feelings for Amy in the season two premiere. However, don't expect sparks to start flying between these two co-workers, since Amy is still with Teddy (even though Jake is clearly the much better choice for her!). But don't worry! There's still hope for something romantic down the road. We might just have to endure a friendship between them a little while longer. 
Tom: Thanks for your earlier spoiler chat scoop on The Following! Got any more details on the new season?
Do we ever! The Fox serial killer thriller is looking to add a big name star for season three. The show is currently casting the role of Andrew, a diverse male in his 50s. Described as an everyman, he has an incredible capacity for grief. But don't underestimate him, because he can emotionally turn on a dime. Start dream casting Andrew in the comments!
Stephen: Any scoop on Mary McDonnell's Major Crimes? #BSGForever
We'll be meeting Sharon Raydor's daughter, Emily. She's a professional ballerina and returns home for Christmas and attempts to keep the peace between her family. So say we all.
Anything on Outlander?
Starz, like the dirty dirty drug dealer they are, only gave us the first hit of the first six episodes for free. And I devoured them all in one sitting nearly two months ago. And I am jonesing for more. Full body shakes. And they won't give me more, and won't even let me buy any ore with the entire contents of my bank account. And I am a downright MESS over the whole situation. Might have to break down and read the books!
Off to start learning how to read...
Spoiler Chat is new every Tuesday on E! Online. BOOKMARK THIS PAGE so you can always find it!
Be sure to send in questions via Twitter or Facebook.
TWITTER: Follow @kristindsantos!

—Additional reporting by Tierney Bricker, Chris Harnick and Sydney Bucksbaum