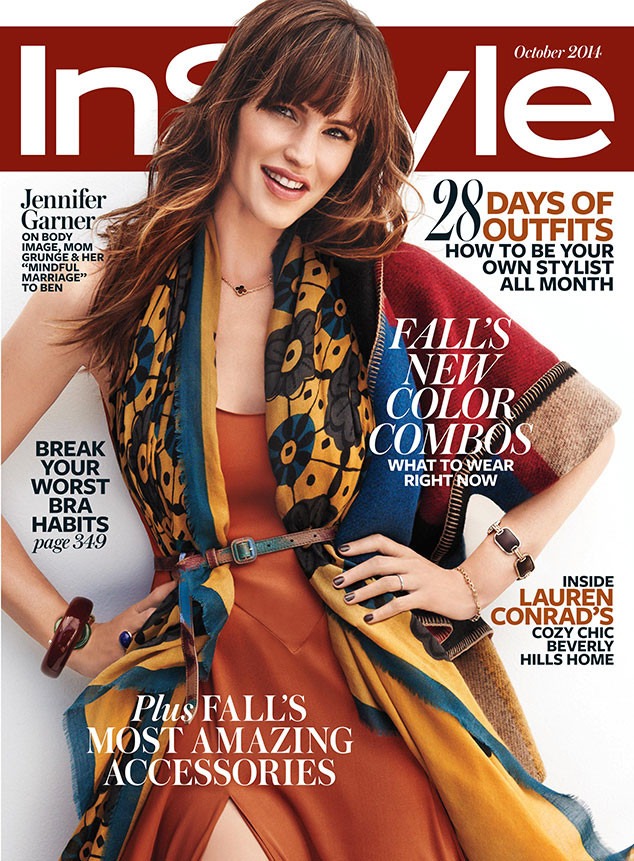 Giampaolo Stura
How does Jennifer Garner do it?
This year alone, the actress starred in the movies Draft Day, Alexander and the Terrible, Horrible, No Good, Very Bad Day and Men, Women & Children (the latter two are in theaters this fall). Her 42-year-old husband Ben Affleck, meanwhile, spent the better part of 2014 shooting Batman v Superman: Dawn of Justice in the Detroit area. The actor is also about to begin promotional duties for Gone Girl, adapted from Gillian Flynn's best-selling novel. How do the spouses of nine years find the time for each other, let alone their kids, Violet, 8, Seraphina, 5, and Samuel, 2?
"When we had our first, we had only been together a year. We were babies. It happened so fast, I hardly even remember what we were like before the kids got here," Garner, 42, recalls in InStyle's October 2014 issue. "Now we're just starting to go away for a night here and there."
"You go through phases," she continues. "You can't expect to be courted all the time, and I don't want to court him right now—I don't have the energy! But we're definitely in a very mindful place where we're making an effort to be together, do things at the same time, and be loving."
Garner filmed most of this year's movies in 2013, meaning she was able to spend more time at home with the kids while Affleck was on location as the Caped Crusader. "I keep things rolling and foster his connection to the kids. He'll always make time for them—he screwed up a week of production to take our daughter to her first day of kindergarten—but there's only so much, practically speaking, that he can do," she says of the downsides that come with being an actor. "I make sure that I am facilitating the most meaning for each kid out of whatever time he has."
To make life easier, the Daredevil co-stars play to their strengths.
So, who plays bad cop and who plays good cop in the Affleck-Garner household? "For better or worse, I tend to be the one who says, 'This is what needs to happen.' I know who wants what lunch, and I've done all the school paperwork and filled out the emergency cards. Ben doesn't even know that stuff exists. He is in charge of laughter. No matter how much I tickle them or toss them or chase them around, it's not the same. If I'm the slow, steady drumbeat, he's the jazz," she says. Still, she's got him beat when it comes movie roles. "My kids are always saying, 'Mom, you're our only hope. Dad does all these grown-up movies," Garner tells the magazine. "We can't see Argo or Gone Girl. Batman looks too scary. You have to do things we can see!'"
Garner may be a movie star, but she's a mom and wife first. "I'm still wiping a bottom, making three meals a day, dealing with sass—and also trying to work. I don't always do it all well. At bedtime last night my middle child said, 'I feel like you never have time to play with me.' I thought, 'My mom never played with me. I'm trying!'" she tells InStyle. "But you know what? She's right. So my goal is to play dolls with her all afternoon. I guess I would say for this stage of my life, I'm in the thick of it."