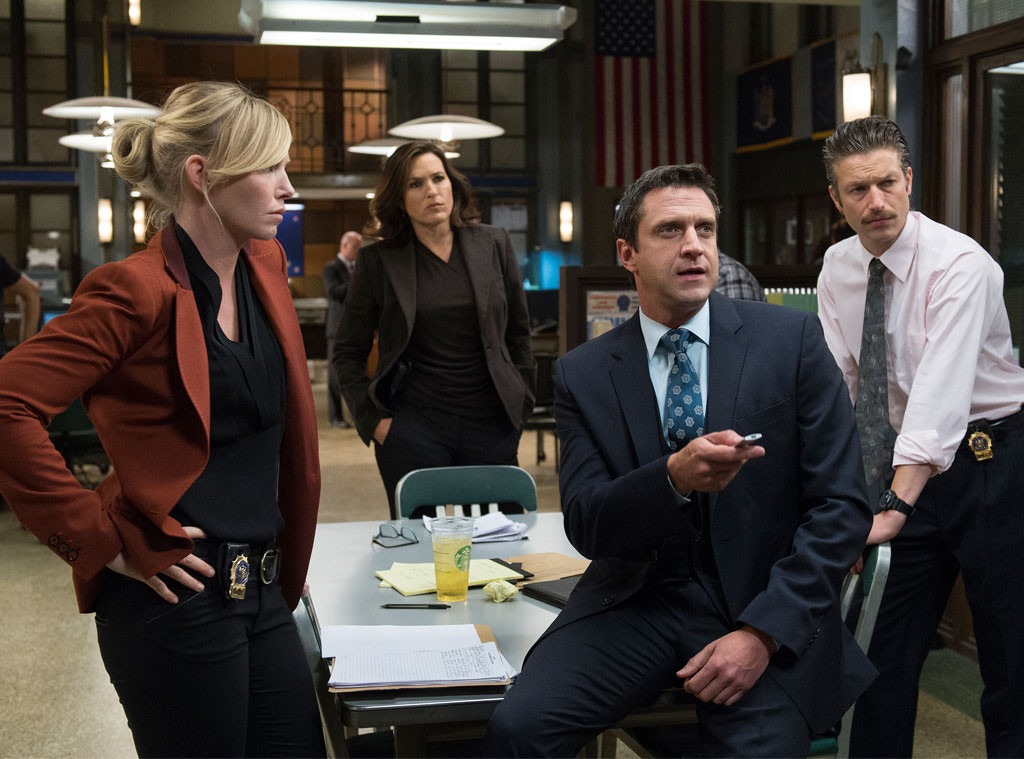 Michael Parmelee/NBC
Now in its sixteenth season, Law & Order: SVU is still relevant. Sadly.
"More relevant than ever in a way, and that's the thing," Mariska Hargitay told reporters on set of the hit NBC series. "It would've been nice to be put out of business 10 years ago, before I got here," executive producer and showrunner Warren Leight with a hint of a joking tone.
"It would've," Hargitay concurred.
In the second episode of season 16, there's an elevator incident reminiscent of Jay-Z and Solange, and more recently, NFL player Ray Rice. The episode was shot in June.
"What we learn is these issues keep coming up. If you watched the news last night, domestic violence—which is something SVU in real life can cover, it's up to their discretion—is a huge issue. You wouldn't think it's a confusing issue, but boy did people mishandle it every step of the way," Leight said of the Ray Rice incident.
That video and the subsequent fallout, coupled with news stories from college campuses are at the forefront of Leight's mind for season 16. "I think people look to our show to see how it should be handled," he said.
"And to organize it too, in their minds, because it's so complicated. The one thing I say—and it's such a tragic thing that's happened here—but what is exciting about it is we are trying to change. There's a new campaign out called 'No More' and it's really about engaging everybody and realizing this is all of our responsibility," Hargitay said. "I love that this issue of accountability is coming up in such a huge way now, in the world. I think that we're now really ready to look at that. Accountability. What is your responsibility when you witness something as a human being? As a human being."
Law & Order: SVU has never been shy about ripping stories from the headlines and putting a spin on them in an attempt to create a dialogue about the issues.
"That's the thing about the show—shedding light on darkness. It's never been more true than now. It's never been more relevant in this way. I think, as I said, society is in a different place," Hargitay said. "The way people are talking about it, the way rape is on the cover of Time magazine and all these things are happening on college campuses. It's a travesty, and yet people are finally taking note to go, 'Hey! Wake up.'"
In addition to the hot-button issues, SVU hasn't been shy about exploring the lives of its characters. Leight and Hargitay have explored the evolution of Olivia Benson, but she's not the only piece in the puzzle. How do you keep a show fresh 16 years later? That's the biggest challenge according to Danny Pino.
Last year saw Pino's Detective Nick Amaro go off the rails and beat up a perp. He's been demoted and sent to Queens as a uniformed officer.
"I think, for me, to see a detective who is comfortable being in a tie and suit to now have to swallow a sour pill, being on patrol. That is interesting. I think that's the challenge and that's the goal: to make it fresh," he said.
For star Kelli Giddish, keeping it fresh involves keeping her character, Detective Amanda Rollins a mess, frankly.
"Last year I had some really hairy storylines and I want more of that," she said. "I love that. I love maintaining that Rollins is kind of a mystery. We know she's from Georgia, but why'd she come here? What's her family like? We've gotten glimpses of that. It'd be a joy just to explore that again this year. We might see some of Amanda's family come back. We've got this weird relationship going on with her and Amaro. Where does that go?"
As SVU comes out of the shadow of the Beast—the character Pablo Schreiber played in seasons 14 and 15 who terrorized Hargitay's Benson—there's a chance to explore a new dynamic. Even comedy.
Giddish said she doing a scene with Hargitay and newbie Peter Scanavino and they got to do humor. The director told her, "This is literally the funniest scene I've directed on SVU."
"Me and Mariska haven't gotten to really be together on a lot of fronts, because Rollins, frankly, has been in trouble too much. We kind of perked up. We were like, 'This could be a lot of fun this year,'" she said. "We got to kind of play the female dynamic and what goes on between us. Are we feisty? Are we on united fronts? It always changes, just like it does in real life."
After 16 years Law & Order: SVU is a well-oiled machine, Giddish said. But executive producers Leight and Julie Martin have created an environment to allow the actors to explore and suggest storylines. "We do have the freedom to fail," she said. "There's still a freshness about this show that people respond to. I was just in Starbucks and I had to take like eight selfies…they love this show."
Part of that love is thanks to SVU's heart: Hargitay.
"One of the best things about this particular series…is that SVU never lets you off the hook. There's a warmth that was always inherent in Mariska's performance that forced you to deal with this, not being able to wrap it up neatly and put it away," Raúl Esparza said. "However [episodes] end, which is a satisfying hour of television, you're still left with the repercussions of what you faced and you know there's a central character who has been deeply affected by it, and you're not off the hook."
Law & Order: SVU premieres Wednesday, Sept. 24 at 9 p.m. on NBC.
(E! and NBC are both part of the NBCUniversal family.)