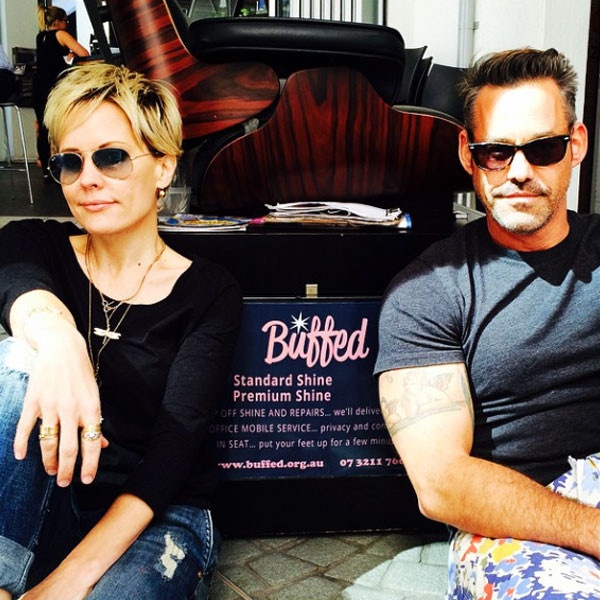 Instagram
Buffy the Vampire Slayer reunion selfies are the best selfies. First we had Giles and Buffy—Anthony Stewart Head and Sarah Michelle Gellar—reuniting and being all smiles, and now we have Anya and Xander and Faith and Cordelia.
Emma Caulfield and Nicholas Brendon reunited in Australia at a comic book convention—they were also profiled by the Brisbane Times about their time on Buffy the Vampire Slayer and attendance at Oz Comic-Con. Viewers will recall Anya was killed off in the Buffy series finale, but now in the comic book continuation series—which Brendon has a hand in writing—she's returned as a ghost only Xander can see.
Meanwhile, in Salt Lake City, Charisma Carpenter and Eliza Dushku took a selfie. Faith and Cordelia were never buddies on the hit series, but they look adorable together.
Buffy the Vampire Slayer ran from 1997-2003 on The WB and UPN. Creator Joss Whedon, who went on to direct and write one of the biggest blockbuster movies ever with The Avengers, still has his hand in the Buffyverse with the Dark Horse comic series. The adventures of Angel and vampire slayer Faith also continue in comic book form. Whedon was recently asked for more Buffy adventures and complied on Twitter, drawing a napkin version of his famous vampire slayer.
Now that Buffy, Giles, Xander, Anya, Faith and Cordelia have all gotten together, it's your move Tara (Amber Benson) and Willow (Alyson Hannigan). We'll be waiting.