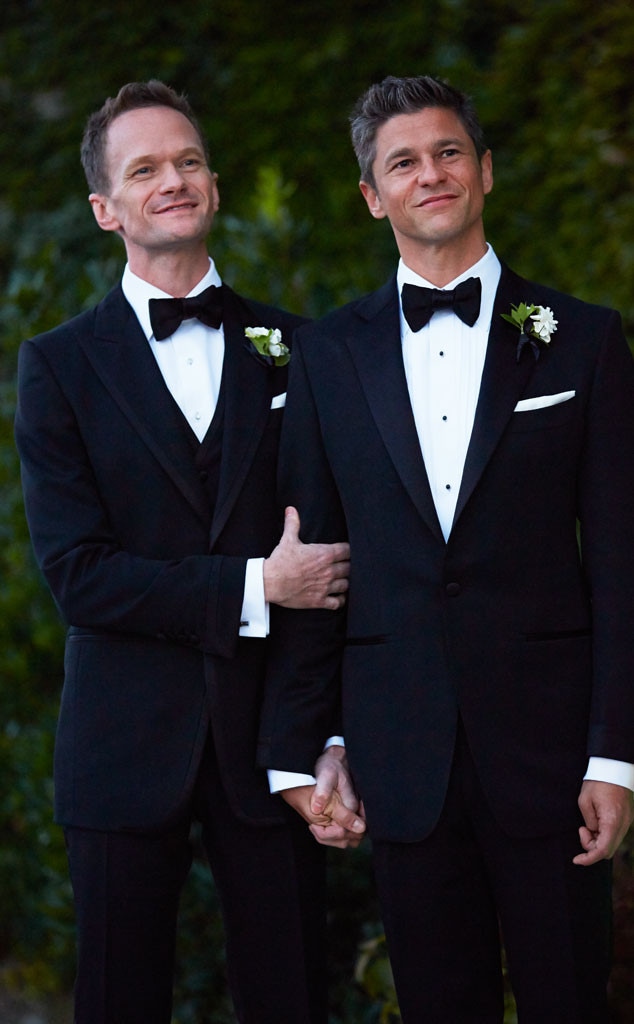 Danielle Levitt
Neil Patrick Harris is a married man!
The Tony winner, 41, and David Burtka, 39, tied the knot on Saturday in Italy. The couple, parents to twins Gideon and Harper, began dating more than 10 years ago.
Both grooms wore custom Tom Ford tuxedos. Their friend and mentor, How I Met Your Mother producer and director Pam Fryman, officiated the ceremony.
And talk about a wedding singer—Elton John performed at the reception!
"We happily confirm that Neil Patrick Harris and David Burtka were married in Italy in an intimate ceremony surrounded by their close friends and family," a rep for NPH said.
"Guess what? @DavidBurtka and I got married over the weekend. In Italy. Yup, we put the 'n' and 'd' in 'husband'," the newlywed tweeted Monday.
The couple announced their engagement via Twitter in June 2011 after passage of the Marriage Equality Act in New York. Harris then revealed that they actually got engaged five years earlier, but decided to keep the news a secret.
Harris exclusively told E! News in June 2013 that he and Burtka, who is a chef and actor, would eventually get hitched—they just didn't know when.
"Certainly, we have children and marriage is an appropriate thing to do [as] a part of their well being, so I'm sure it will be inevitable—and awesome!" he said.
The couple's twin son and daughter will turn 4 on Oct. 15.
A certain tabloid should take note of their parents' big wedding news, because it certainly squashes their recent story claiming that Harris and Burtka had called it quits.
Harris shot down the gossip by posting a photo on Instagram of Burtka and their kids.
"I couldn't be more in love with my family," Harris wrote. "Any reports to the contrary are woefully mistaken. #grateful."
The very happy family currently lives in New York City in a townhouse in Harlem.