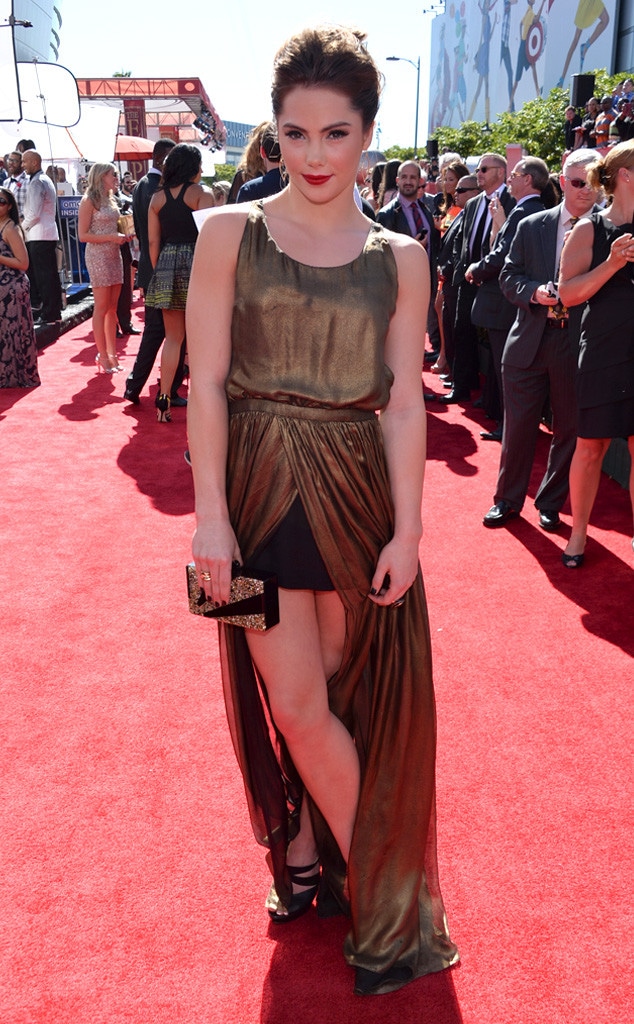 Alberto E. Rodriguez/Getty Images for ESPY
The nude photo leak plot thickens. And gets even creepier, if that were possible.
McKayla Maroney was apparently also a victim of what Apple deemed a "targeted attack" on a number of celebrities whose private photographs ended up splashed online for the world to see.
An attorney for Maroney has successfully gotten Porn.com to remove leaked pics of the athlete from the site, informing them that the now 18-year-old athlete was a minor (i.e. under 18) when the photos were taken, according to TMZ.
But the pics were also making the rounds elsewhere and had reportedly ended up on a subreddit called The Fappening, where a number of the leaked celeb photos also ended up after they were initially posted to 4chan.
Reddit moderators posted this warning, first spotted by Buzzfeed, after the pictures of Maroney popped up:
"The reddit.com site admins have let us know that McKayla Maroney was underage in the photos as well and that we need to remove them. If we don't remove them, then this subreddit will most likely be banned (very quickly)."
According to Buzzfeed, there were also nude photos (not involved in the massive alleged hacking) of MTV star Liz Lee said to be taken when she was 16 on the subreddit as well.
"Liz Lee was not part of the leaks, but people have been posting her images anyways," the Reddit statement continued. "Liz's pictures were taken in 2007 when she was 16 years old by an ex of hers...Due to this, we will be removing any and all things that contain their images. It is considered CP (Child Pornography), and breaks reddit's site-wide rules (in addition to international law, age of consent is completely different than child pornography), and will get this subreddit banned if we were to allow them to be posted."
At first, Maroney tweeted that the pics in question of her were fake, though it's possible that at least parts of the leaked photos were manipulated while parts were genuine. Per TMZ, her attorney's letter to Porn.com did not specify which was the case.
"the fake photos of me are crazy!! was trying to rise above it all, and not give 'the creator' the time of day.. BUT.." she wrote yesterday, along with a pic of a meme in which a Jesus figure is giving a thumbs-up and the caption reads, "You sir, need Jesus."
"shout out to my fans for defending me all day long.. even when things got weird u stood by me. and that meant the world," she added.
Aly Raisman, a fellow member of the gold-medal-winning U.S. women's gymnastics team at the 2012 London Olympics, tweeted in support of her teammate and other fellow celebs as well.
"This scandal is not a joke and it is upsetting that an invasion of privacy results in entertainment for some," Raisman tweeted yesterday. "Please respect the fact that the photos were private and not for the whole world to see. My heart is broken for the women who were violated. Every person is entitled to their own privacy. I am saddened that something like this has happened and I hope it never happens again."
Ariana Grande and Victoria Justice have stated that photos involved in the leak purporting to be of them were fake, while reps and attorneys for Jennifer Lawrence and Kate Upton have slammed the invasion of privacy and vowed legal action against those who dared to post the photos.
The FBI is investigating and, while some were quick to point fingers at Apple's iCloud for the seeming ease with which even deleted pics of celebs ended up online, Apple insisted earlier today that the leaks did not have anything to do with a breach of any Apple systems, including the iCloud or the Find My Phone app.