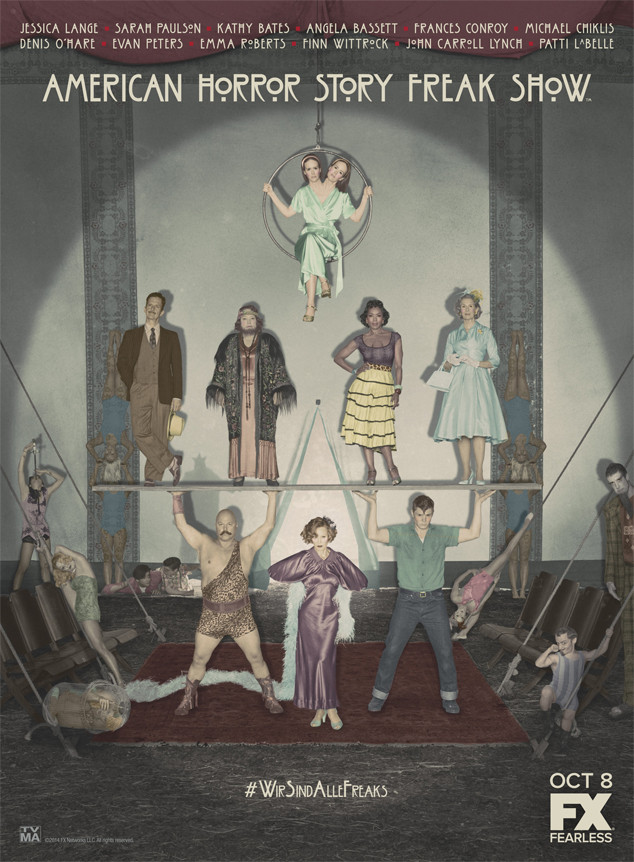 FX
American Horror Story: Freak Show may be the scariest season yet. Why? Because CLOWNS. FX has been releasing their annual onslaught of teasers for the new season filled with circus and sideshow favorites and you can see all of them (so far) below.
But first, here's what we know about the new season. Jessica Lange will play Elsa Mars (no relation to Veronica Mars), a German ex-pat living with her freak show in Jupiter, Fla. The show is set in 1952 and all your favorites from various seasons will be back. The cast includes: Sarah Paulson as conjoined twins Bette and Dot, Kathy Bates as the bearded lady, Angela Bassett as a woman with three breasts (or so it appears), Frances Conroy, Michael Chiklis as a strongman, Evan Peters as the son of Chiklis and Bates, Emma Roberts, Denis O'Hare and Gabourey Sidibe. Newcomers to the AHS troupe include John Carroll Lynch as the main villain, Patti LaBelle, Finn Wittrock and Matt Bomer (swoon!).
The first cast art is above. It's not the key art, but it sure is something. Now, on with the promos!