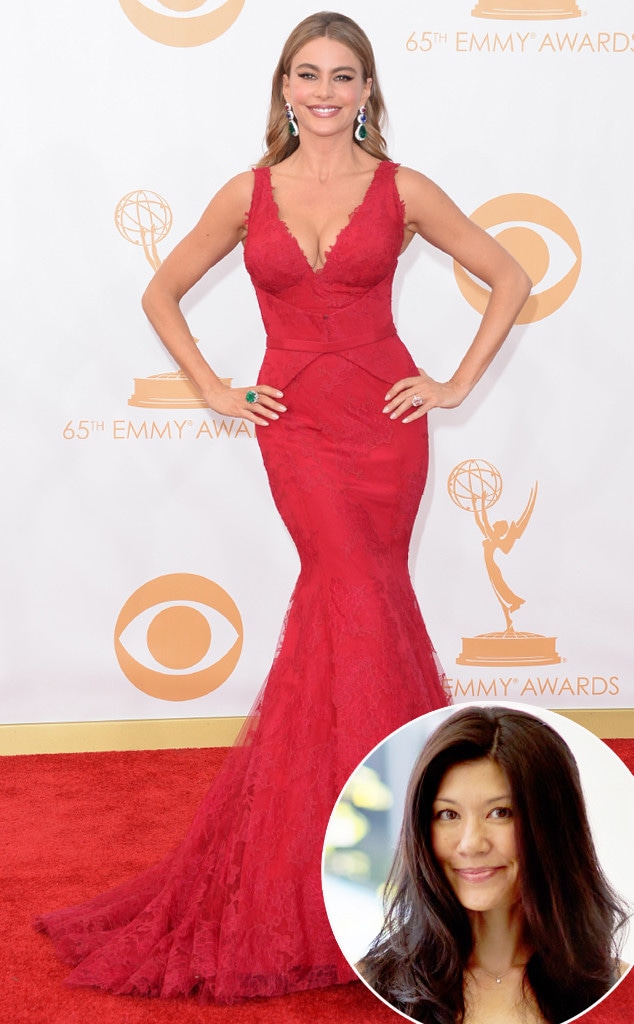 Courtesy of Trami Ngo/Jason Merritt/Getty Images
When it comes to looking fit on the red carpet, nobody pulls it off quite like Sofía Vergara.
The Modern Family star manages to look incredible every single time she steps out, and now with the Emmys just around the corner she's hitting the gym even harder—and we have a feeling it's going to pay off on the big night.
So we caught up with Sofía's trainer, Jennifer Yates, who is the founder of Pasadena-based Pilates and Cycle Studio Metamorphosis. Jennifer gave us the dish on how she helps get Sofía looking so fit and toned for the Emmys.
"Ramping up for Emmy season, we have changed up Sofía's workout routine to stimulate her muscles further and push her to the next level," said Jennifer. "Here's a few new exercises we have been working on to get Sofía primed for the Emmys." 
SEXY ARMS:
Lat rows:  "During award show season we tend to focus on the upper body a bit more often," said Jennifer. "Using the Megaformer machine we use spring tension to hit the upper side of the back: the lat muscles. On the Megaformer the spring tension calls for controlled, slow movements." Jennifer also explained that after working out on the Megaformer machine, Sofía will then pick up heavier weights and do this same exercise at a faster pace to stimulate her upper muscles even deeper.
LENGTHY LEGS:
Dead lifts: Jennifer revealed that Sofía is dedicated to working out her lower body year round. The result? Super toned legs and perfect booty. "On the Megaformer we continue to use the spring tension to do lunges, which tone the back of the legs, glutes and hamstrings," said Jennifer. "After working an epic lunge series, I will have Sofía pick up a heavy kettle bell for a round of dead lifts. These are amazing for strengthening the hamstrings."
ROCK SOLID CORE:
Crunches: Jennifer dished that Sofía has an exceptionally strong core. "Using the Megaformer, Sofía does many types of crunches to tone her upper and lower abdominals," said Jennifer. To give these exercises extra oomph, Sofía will use a weighted ball along with the Megaformer machine's spring tension. "This way she is using weight and tension to keep her tight in her midsection," said Jennifer. 
Jennifer explained that a good ab series with Sofía always ends with a solid plank to pike exercise. "We use the platform and moving part of the machine (the carriage) to do plank to pike on the Megaformer, but it is so simple to do it as an at-home exercise, too!"
Follow Jennifer's easy step-by-step instructions below to get Sofia-level abs:
1. Start by holding plank on your forearms on a smooth, hard surface. Place a towel underneath your feet and lift your heels.
2. Slide your toes to your nose by lifting your hips up towards the sky at a slow four count pace.
3. Once you are in a tight pike, come back to the plank position with another slow four count.
Jennifer's Pro Tip: For maximum results, perform the plank to pike exercise for one full minute.