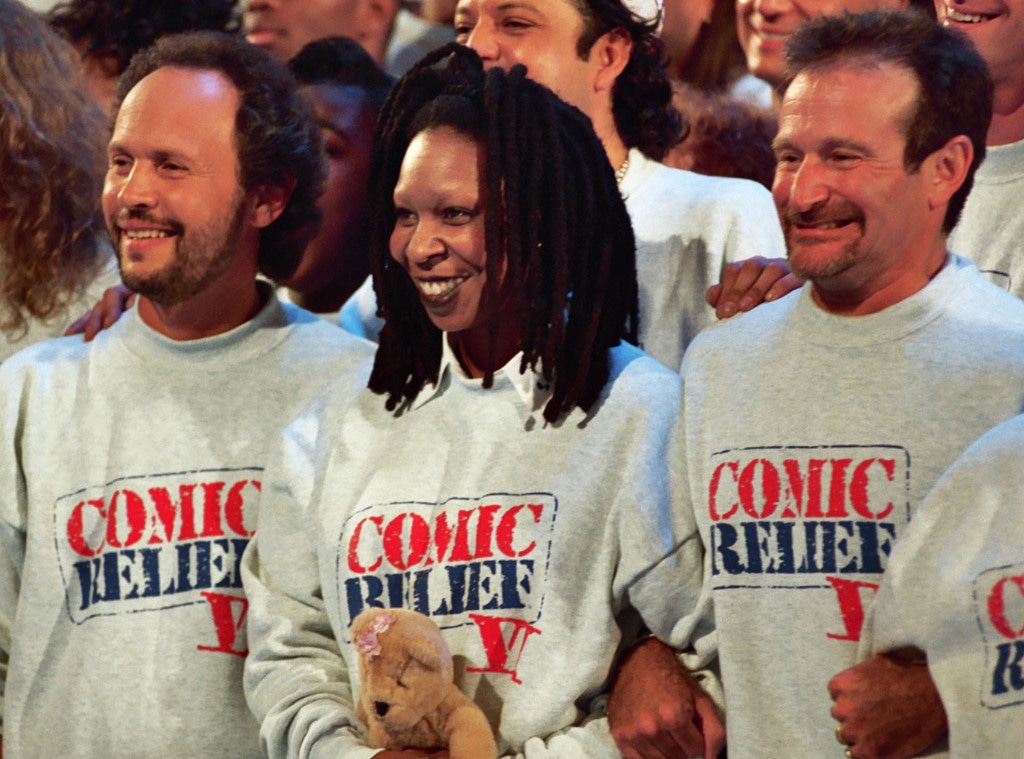 Jeff Kravitz/FilmMagic, Inc
Each a comedy icon in his or her own right, Billy Crystal, Whoopi Goldberg and Robin Williams also proved a formidable team time and time again, raising an estimated $80 million for people in need over two decades with their Comic Relief standup specials. 
But sometimes comedy doesn't provide any relief.
"No words" is what Crystal tweeted late last night in response to the 63-year-old Williams' suicide on Monday. Goldberg also posted, "Billy Crystal is right...There are no words."
Volumes of words have been written and spoken in the past 24 hours, each person who worked with Williams, called him a friend or just admired/worshipped him from afar striving to find the right way to describe and pay tribute to the epically talented comedian and Oscar-winning actor.
"When we started, we had to figure out what would be a suitable cause. Nobody was more adamant than Robin that it should help the homeless," Bob Zmuda, creator of Comic Relief, told the Los Angeles Times after learning of Williams' death, which sent as close to a literal and visible shockwave through Hollywood as physics would allow.
"Robin came from a family with money—he was brought up with a silver spoon in his mouth, and I think he felt so blessed that he wanted to do something for people who weren't brought up like that."
But while Williams was a live wire onstage and whenever the camera was on, he seemed like almost an introvert in "real life."
"He was a true performer," Zmuda also told CNN today. "Robin had no social skills whatsoever. I knew Robin for over 35 years and yet he could not handle being one on one with a person. He would freeze...It was like being with a total stranger in an elevator. That's why he was so good, and why his psychological imperative in life had to be to perform. This is why he was so good at it."
Beyond good, of course. Legendary, obviously.
"I first met him about 17 years ago," Chris Mazzilli, owner of the Gotham Comedy Club, recalled to E! News Tuesday. "When he arrived, no one recognized him. Someone buzzed me in my office and said there's a guy named Robin here to see you. I went up and started talking to him, we chatted for a while.
"It was a new talent night but he decided to go up on stage and do a 45 minute set. He destroyed the room. He was amazing."
Michael Tullberg/Getty Images
"One night stands out to me in particular," Mazzilli continued. "He would always come by when he was in town from time to time. But he showed up several years ago and started asking me about how the club was doing, how I was doing. I asked him, 'When do you want to go up on stage?' And he said no, he wasn't there to perform, he just wanted to see how I was doing. He was that nice of a guy."
Of Williams' passing, "I was shocked when I heard," he added I" had read things, of course, and heard from different circles that he wasn't happy. But a guy that young, who had so much more to give the comedy world and the world in general...it's just a sad day."
"He would pop in a lot over the years, he loved to surprise audiences," Caroline Hirsch, owner of the famed NYC comedy club Caroline's, also told E! News. "The last time he was here was two years ago and Jeff Garlin was headlining. Robin came in with Cheryl Hines and during the show, someone started heckling Jeff. So then Robin puts on an Irish brogue so no one would recognize his voice and started heckling the heckler.
Mike Coppola/Getty Images
"Once Jeff saw Robin, he turns to the heckler and says, 'Forget it, buddy. You'll never win. This guy is the best. Don't even try to compete.' Robin then jumped onstage with Jeff and did a half hour set. The audience couldn't believe their luck."
"Off-stage, he was a doll," Hirsch said. "Between the work he did with Comic Relief, vets. When we started Stand Up for Heroes, he was one of the first acts to say, 'I'll do the benefit.' After he did the show, he'd go shower, change and then come back to mingle with the vets."
The cause was one of many close to his heart: Williams was a regular on the USO circuit over the years, entertaining troops around the world.
"I was floored when I heard [that he had died]," Hirsch added. "I thought he had started a new life with a new woman [Williams married third wife Susan Schneider in 2011]. He was coming off that TV series, but he was still doing movies...
"That's the puzzle. Why someone like this? There are lots of miserable comedians out there, but not this man. He was up all the time. He never showed any signs of this. That's what I can't understand."
—Reporting by Beth Sobol
For extensive coverage, tune in to E! News tonight at 7 and 11:30 p.m., followed by Live From E!
If you or someone you know needs help, please call the National Suicide Prevention Lifeline at 1-800-273-TALK (8255).