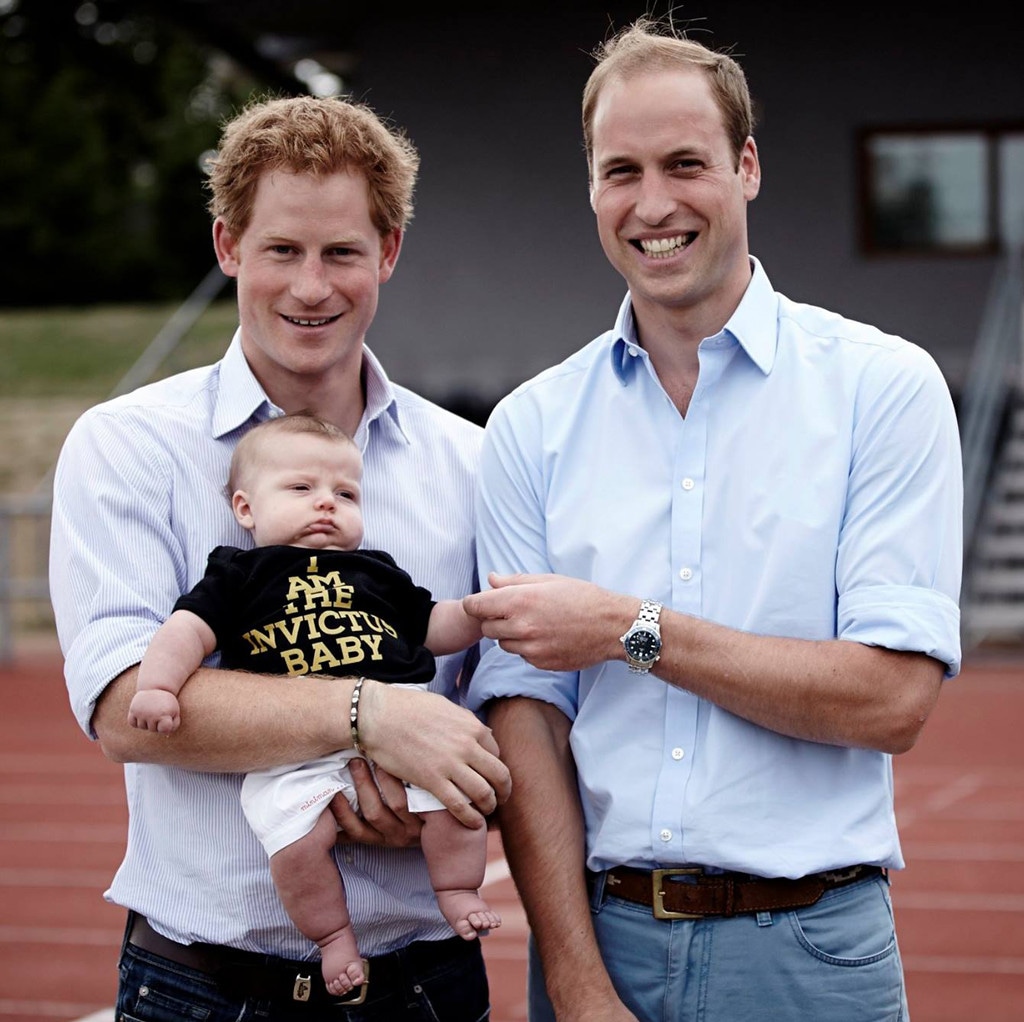 Courtesy: Roger Keller/Help for Heroes/Invictus Games/Facebook
Forget Prince Harry's priceless face! This pic of the royal takes the cake.
The 29-year-old Brit and brother Prince William surprised athletes who are gearing up for the forthcoming Invictus Games—a multi-sporting event designed for wounded soldiers—when they arrived at the training facility in London on Tuesday.
But since the siblings will not be participating in the competition, it seems that Harry was left to tend to baby duty, as he was photographed holding an adorable wee one, who is reportedly the son of one of the members of the Invictus Management team.
Flashing a wide-eyed grin from ear-to-ear, the handsome prince appeared relaxed and comfortable as he held the little one in his arms, clearly having picked up some parenting tips during his time with nephew Prince George.
Courtesy: Roger Keller/Help for Heroes/Invictus Games/Facebook
Naturally, his 32-year-old brother beamed with pride as he held on to the baby's fingertips and admired his younger sibling's ability to flex his parenting muscles.
Oh, and can we take a moment to marvel over the tiny tot's Invictus Games tee? Seriously, this photo is killing us with cuteness.
During the event, Will and Harry also took time to chat with athletes in addition to posing for pics with the talented competitors.
Due to take place on September 10-14 in London, the Invictus Games will feature sports such as swimming, wheelchair basketball, archery and sitting volleyball as wounded military veterans compete in the Paralympic-style competition.
Courtesy: Roger Keller/Help for Heroes/Invictus Games/Facebook
The red-headed royal has been a champion of the sporting event since announcing its creation in March, saying that he hopes the games will "inspire recovery, support rehabilitation and demonstrate life beyond disability."
Harry most recently spoke about the upcoming competition in an interview with BBC, admitting that the creation has come with its fair share of challenges.
"This is basically my full-time job at the moment," Prince George's uncle dished. "Making sure that we pull this off. It's been a real struggle, actually."
He added: "It's been great and it means I get to spend more time with these guys, which is fantastic."