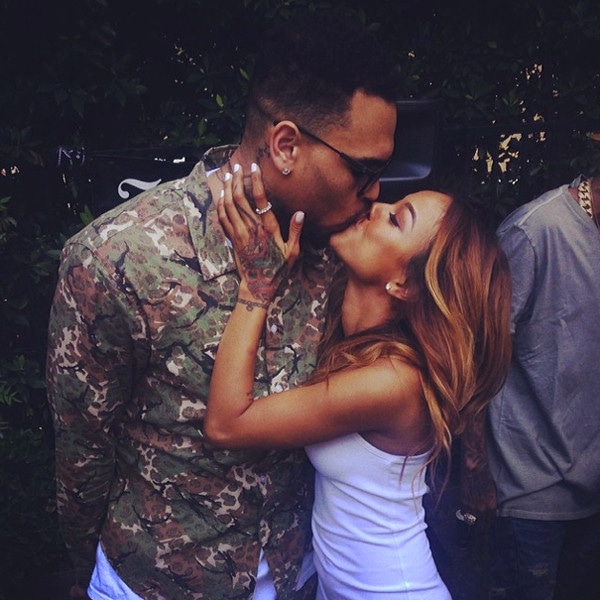 Instagram
OK, what is going on between these two?!
Either Chris Brown and Karrueche Tran have reconciled (again) or Breezy is trying to win his lady back. Shortly after news of the couple's breakup broke, Brown, 25, went to Instagram to post a number of photos that hinted at his desire to work things out with his longtime on and off girlfriend.
But his latest post wasn't cryptic at all. Instead, he shared a photo of Karrueche, 26, modeling in a bikini top and denim cutoff shorts with the caption "WCW" (Woman Crush Wednesday, for those who don't know). It doesn't look like Tran has responded to his flattering gesture, which makes us think that maybe Brown is trying to smooth things over with his ex.
Additionally, a source tells E! News they haven't heard if Chris and Karrueche are back together, but the source also believes "it's going to go back and forth," saying, "Ultimately, they're just kids."
Prior to that photo post, Chris Instagrammed a number of quotes that could have been addressing their split.
Yesterday, Brown posted, "Never give up on something that you really want," and followed with a Tupac quote that read, "The most expensive thing in the world is trust. It can take years to earn and just a matter of seconds to lose."
Then today, before posting Karrueche's photo, Chris shared another quote about what a soul mate is. "It's like a best friend but more. It's the one person in the world who knows you better than anyone else. That someone who makes you a better person. No, actually they don't make you a better person. You do that by yourself because they inspire you. A soul mate is someone you carry with you forever. It's one person who knew you, accepted you and believed in you before anyone else did or when no one else would. And no matter what happens, you'll always love them and nothing could ever change that."
A source tells E! News that "Chris ended it with her" after the two got into an argument earlier last month. "She hasn't spoken to him in two weeks. She just needed a break to focus on herself. It's not that they don't care for one another," our insider told us.
"She's taking time to spend with her family and focus on her career. She's just been pursuing that part of her life."
A second source tells us that a third party is not to blame for the on-and-off couple's latest split, saying, "There's never been a case of infidelity."
—Reporting by Marc Malkin