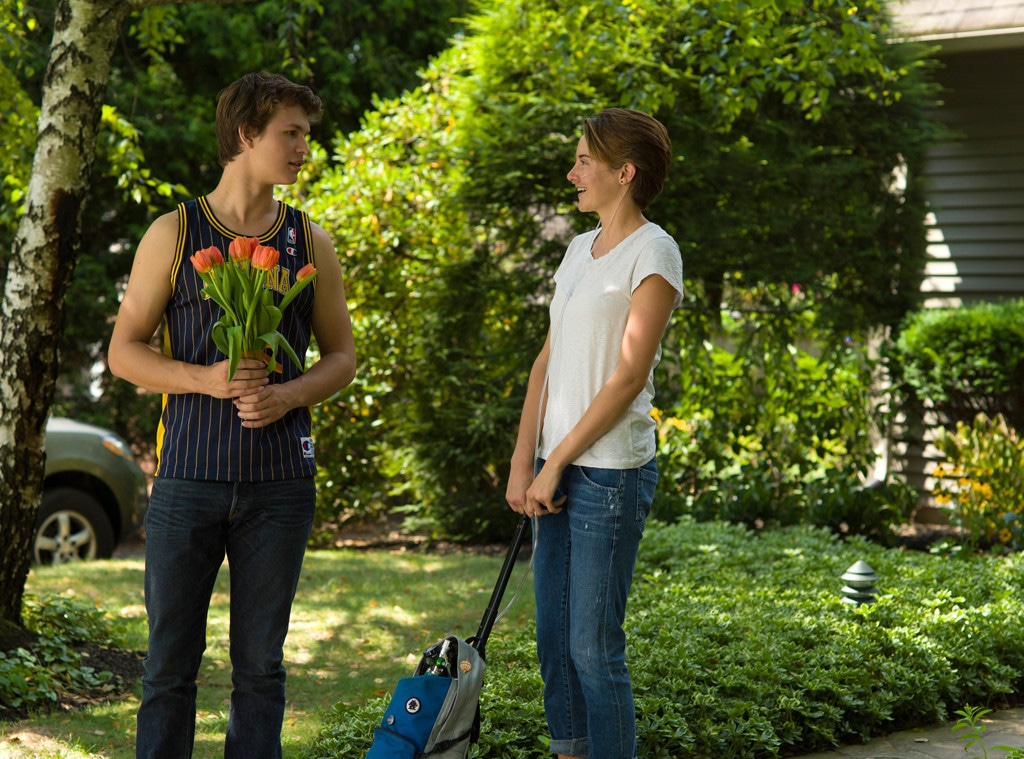 20th Century Fox
Get the tissues ready—this one's a tearjerker! Millions of readers fell in love with 16-year-old cancer patient Hazel Lancaster and 17-year-old amputee Augustus Waters when The Fault in Our Stars was published in 2012. This Friday, co-stars Shailene Woodley and Ansel Elgort bring novelist John Green's beloved characters to life when the Fox 2000 Pictures drama premieres in theaters nationwide.
Woodley, 22, and Elgort, 20, earned raves for their roles as the Prior siblings in Divergent, but does their onscreen chemistry work when the actors are paired as love interests? The critics weigh in:
• "Ms. Woodley plays nearly every scene with a plastic oxygen tube anchored to her nostrils and splayed across her face (Hazel's cancer affects her lungs), but her un-self-conscious performance is the perfect mirror of her character's pragmatic temperament," A.O. Scott of The New York Times writes. "Because she never asks for our approval, we are entirely in her thrall. Gus, meanwhile, is such a handsome bundle of chivalry, positive energy and impish self-deprecation that we may swoon over him even before Hazel does." The Fault in Our Stars, Scott writes, "is a tragic love story," but "it is also a perfect and irresistible fantasy. Hazel and Gus possess an absolute moral authority, an ability to assert the truth of their experience that few can share and many might covet... The loudest weeping you hear—including your own—may arise not from grief or admiration, but from envy."
TEMPLE HILL ENTERTAINMEMT / Album
• The Hollywood Reporter's Justin Lowe commended director Josh Boone for honoring the book, writing, "The greatest strengths of the film clearly come from Green's novel, which resolutely refuses to become a clichéd cancer drama, creating instead two vibrant, believable young characters filled with humor and intelligence, both facing complex questions and issues unimaginable even to people twice their age."
• Vanity Fair's Richard Lawson praised the film, but was slightly bothered by Woodley playing the protagonist. He writes that the actress "glows like a California sunset" and glows like an "otherworldly immortal" on the big screen. "She's not badly cast, in fact she's often very good in the film, but her innate shine is an important reminder that TFIOS isn't really interested in showing us the true ugliness of death and dying," he adds. Still, Lawson writes, "What the film lacks in grave seriousness it makes up for with its sappy, but rarely treacly, charms...Maybe not since Titanic has a movie threatened to so thoroughly burrow itself into young hearts only to beautifully break them by the end credits."
• Andrew Barker of Variety also gave the movie a glowing review. In his summation, he writes, "Though it's correctly categorized as a teen romance, The Fault in Our Stars is above all a movie about cancer. Cancer provides the butt of the film's most caustic jokes, provides the magnetic pull that first draws its star-crossed couple together, and provides the power with which the story eventually starts to squeeze its viewers' tear ducts like water balloons in a pressure cooker. As such, it walks a knife's edge between heart-on-sleeve sensitivity and crass exploitation for its entire running time, and the fact that it largely stays on the right side of that divide has to mark it as a success. Soulfully acted, especially by a never-better Shailene Woodley, and several degrees smarter than most films aimed at teenagers, this Fox melodrama ought to strike a resonant chord with young audiences."
• Entertainment Weekly gave the movie a B grade, with Chris Nashawaty arguing that Elgort's August seems "too good to be true" with his "manic wish-fulfillment adorableness." In fact, Nashawaty says, "He's as eager to please as a litter of cocker-spaniel puppies. It's as grating as it is hard to buy."
• Mara Reinstein of Us Weekly noted the romantic leads' "connection," saying it "lights up the screen." She also predicts that "doe-eyed" Elgort will become a heartthrob a la Twilight's Robert Pattinson. "He's, like, soooo dreamy," she writes. The movie is bound to make moviegoers cry, but isn't that the point? "Despite the tears," Reinstein writes, "audiences will leave with their hearts full of love."