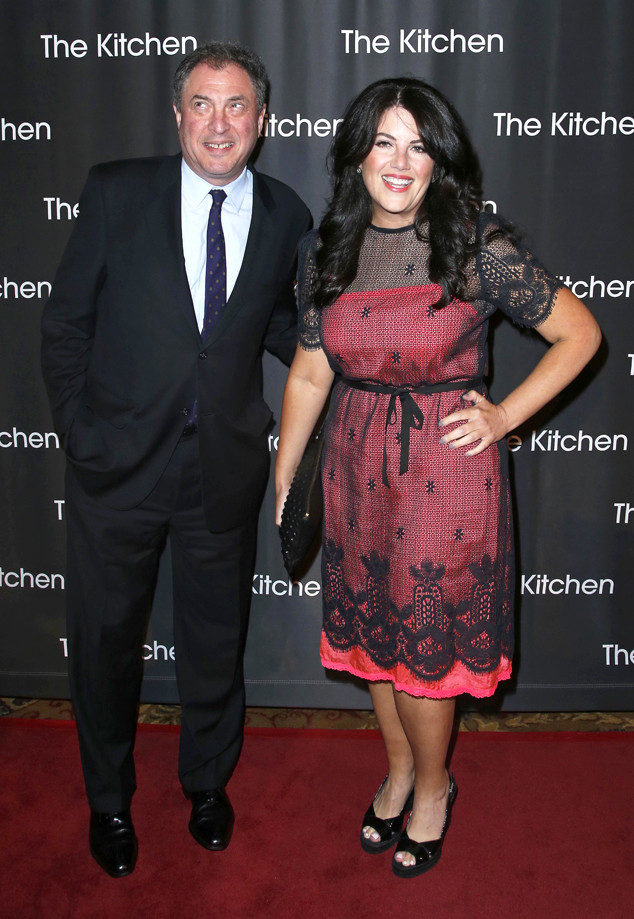 Jimi Celeste/Patrick McMullan/Sipa USA
Monica Lewinsky is hittin' the red carpet!
After keeping a low profile for a few weeks, the 40-year-old decided to step out for a surprise appearance at New York City hotspot Cipriani Wall Street for the Kitchen Spring Gala Benefit alongside Vanity Fair's Editor of Creative Development David Friend. Lewinsky wore a strapless coral dress with a dark navy sheer sleeve overlay and black peep-toe pumps.
The event honored New York artist Robert Longo, and according to the New York Times, "All of the art-world wattage in the room was eclipsed, however, by an appearance from Monica Lewinsky. She was huge fan of Longo and was honored to be invited."
The former White House intern's appearance marks Lewinsky's first outing since addressing her late '90s affair with former president Bill Clinton.
"It's time to burn the beret and bury the blue dress," Lewinsky writes in an essay published in Vanity Fair (on newsstands now). "I, myself, deeply regret what happened between me and President Clinton. Let me say it again: I. Myself. Deeply. Regret. What. Happened."
"I am determined to have a different ending to my story," she continues, adding that it's time to stop "tiptoeing around" the past. "I've decided, finally, to stick my head above the parapet so that I can take back my narrative and give a purpose to my past. (What this will cost me, I will soon find out.)"
The Clintons have yet to publicly comment on the Vanity Fair article.