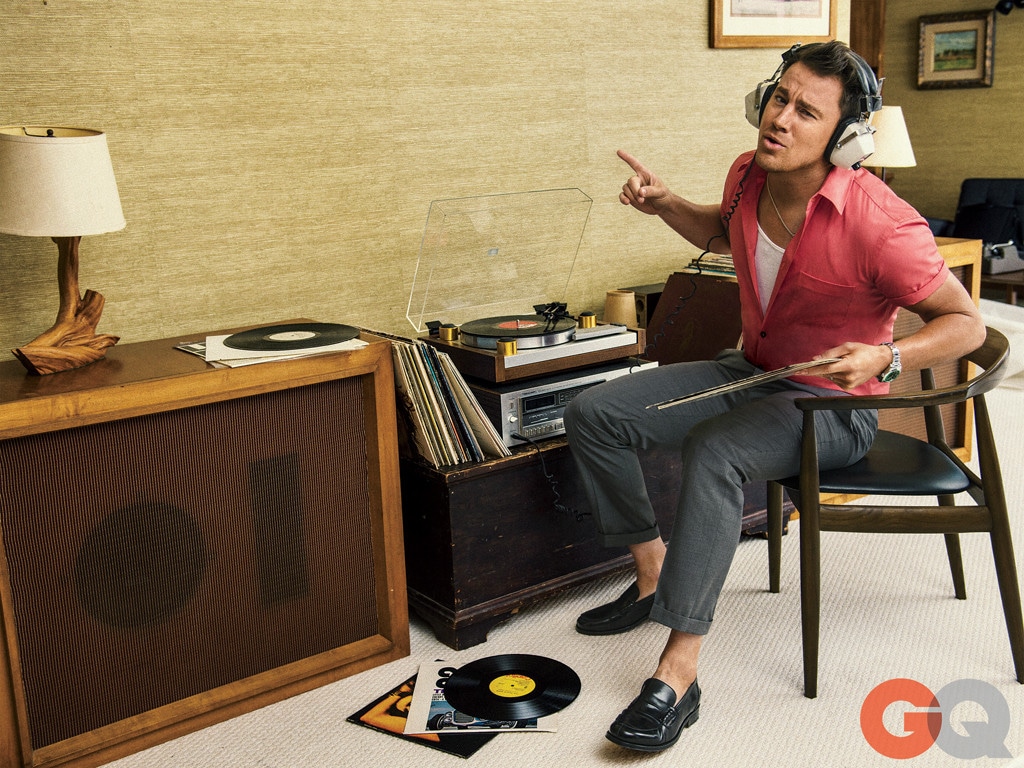 Sebastian Kim/GQ
Channing Tatum's GQ cover story leaves no stone unturned.
In the wide-ranging profile, he admits to being a "high-functioning" alcoholic, opens up about his Biggest Loser obsession, raves about Funfetti cake and details a perverse bet he made with Jonah Hill.
Believe it or not, Tatum is a big foodie. "I just love cake," he says. "Confetti cake, to be specific. It has little colored candies inside the cake, and then you get the confetti icing, which is really hard to find sometimes. It's really hard to explain to people, because it's not icing with sprinkles on top. It's icing that actually has candies inside of it. It's Funfetti icing." What makes it great? "The icing, coupled with the actual confetti cake," says the Hollywood hunk, who also tells the magazine that he is about "25 to 30 pounds" over his goal weight of 180 pounds. "It's a beautiful mix. It is an angel sent from heaven."
One of Tatum's favorite TV shows is The Biggest Loser. "I really do love it," he says. "It's terrible and it's bad, but I really do think it's because I have an inner fat kid in me. If I didn't enjoy sports so much."
"My dad was 370 pounds at one point," Tatum says. "I definitely have that. I can completely lose myself into just absolutely satisfying things—a really amazing cheeseburger, a pizza, good fries, a beer. I enjoy being comfortable and eating whatever the hell I like. It's a big thing for me, just having the freedom to be able to do that."
When he's not working—Tatum recently shot four movies back-to-back—he likes to stay up late and sculpt at night, usually with a bottle of wine or a glass of bourbon. "I probably drink too much, you know," he reveals. "My wife, that's what she bought into," he says, referring to Jenna Dewan-Tatum. "I'm probably a pretty high-functioning, I guess, you know, I would say, alcoholic, I guess."
Tatum likes how alcohol slows down his mind. "There's probably a tendency to escape," the Jupiter Ascending star explains. "I equate it to creativity, and I definitely equate it to having a good time."
Even so, Tatum says becoming a father made him drink less. Plus, he'll be sober for four months when he shoots the Magic Mike sequel. "Then, at the end of that movie," the actor says, "it's go time."
Before he films that follow-up, however, he has to promote 22 Jump Street. The original comedy, co-starring Jonah Hill, was a massive success at the box office in 2012. "I just knew," Hill recalls, "for what we cost, if our opening weekend was above $30 million, we were a massive success." The movie topped the box office and took in $36 million in its debut weekend. It also meant that Hill had lost his bet with Tatum.
Before the comedy hit theaters, an intoxicated Hill told Tatum, "I will kiss your tip! I will kiss the tip of your d--k through your underwear if we make $35 million." Co-director Phil Lord points out that "there were many witnesses to this conversation," joking that "verbal contracts are binding in a court of law."
"I will only say," Hill says now, "that Channing and I say a lot of stupid stuff when we drink together."
Has Tatum made Hill pay the piper, so to speak? "I haven't made him do it yet," he says. "For obvious reasons. That's a bad bet to lose—it's not too good to win, either. But definitely the shame of it would be enjoyable. It's my trump card, for sure. He tries not to bring it up at all costs. Unless he did something horrible to me, I don't know if I could ever cash it in. It would change our relationship forever." According to Hill, "It's a lose-lose for both parties, I feel." For one thing, the actor says, "I'd have to clear it with Jenna. There's all sorts of loopholes that have to be taken into consideration."
Tatum isn't letting Hill off the hook, however. "Maybe, on a drunk night when we're all being crazy and hopefully, knock on wood, Jump Street 2 works out and people love it, maybe out of the elation of that event in our lives I might call in the bet," the actor teases. "Or I might make him double or nothing."
It wouldn't be the wildest thing Tatum has done. "I get one shot at life, and I can say that I've lived a crazy one, and I've pushed the limit almost at every turn," he tells GQ, "and I'm super proud of that."