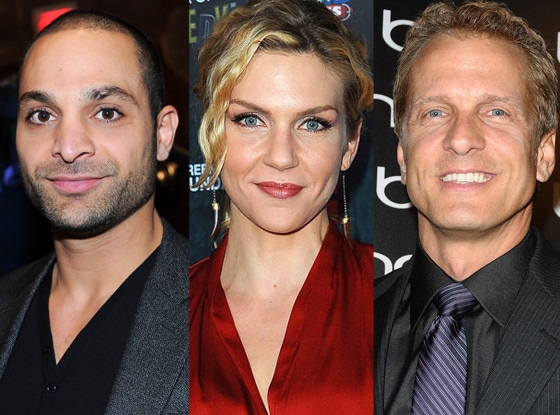 George Pimentel//Valerie Macon/Jason LaVeris/Getty Images
Better look out—there are some fresh faces stepping into the Breaking Bad universe.
AMC's highly anticipated spinoff series Better Call Saul has added three news names to their cast. Patrick Fabian, Rhea Seehorn and Michael Mando have all been tapped to star in the upcoming drama, E! News confirms.
Fabian, who thrilled fans in The Last Exorcism, will play Burt, a Kennedy-esque lawyer who's winning at life and is a name partner at a firm, while Franklin and Bash's Seehorn will also play a prestigious attorney named Beth who's hard life is complicated by her romantic entanglements with somebody else at the firm. Hmm….
TV fans with excellent taste may also recognize Mando from his previously devious work on BBC America's Orphan Black, and now he'll be playing Eddie, a smart and calculating criminal. (Fingers crossed Mando won't lose his fingers again in this series!)
Like Walter White (Bryan Cranston), there will be much more to these characters than initially meets the eye, a source close to the show exclusively tells us. Keeping with the Breaking Bad mentality, viewers should not assume that these characters are who they claim to be.
These actors will join recently cast actor Michael McKean, who will take on the role of Dr. Thurber, a brilliant attorney who is now restricted by an unusual affliction. Like McKean, Fabian, Seehorm and Mando are among the first non-Breaking Bad characters to have been added to Saul Goodman's (Bob Odendirk) prequel series.
Deadline was the first to report this casting news.
Better Call Saul will debut on AMC this November.