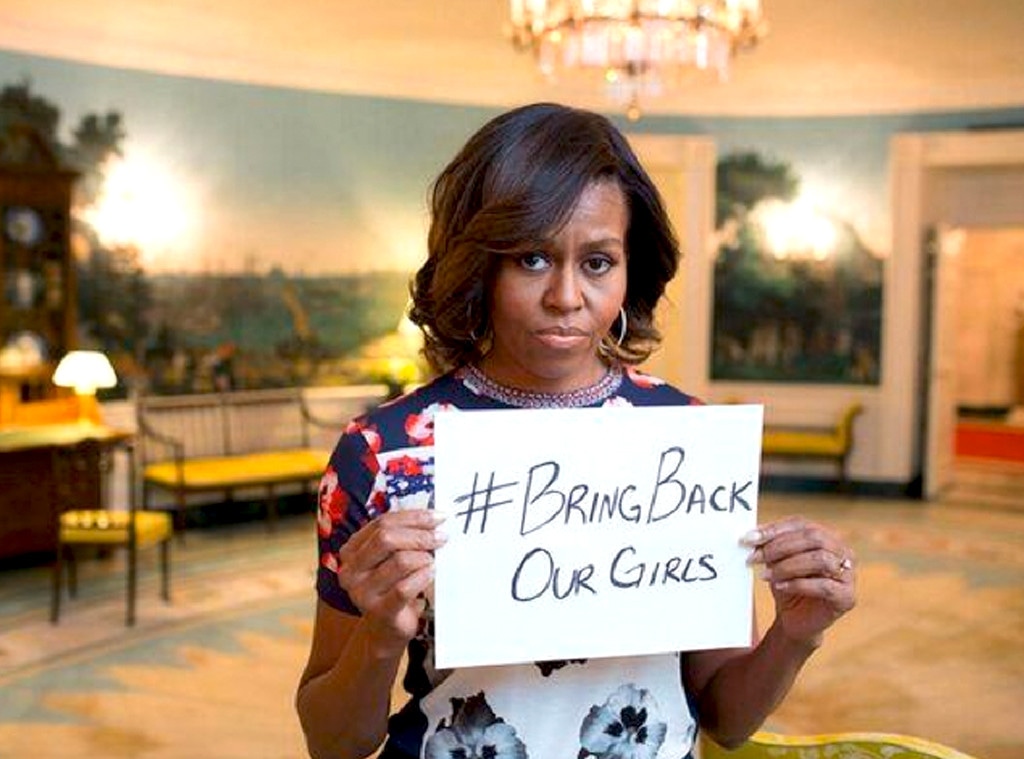 Twitter
More and more celebrities are jumping on board the #BringBackOurGirls campaign to raise awareness for the almost 300 missing Nigerian schoolgirls who were kidnapped weeks ago.
Last month, the schoolgirls were all taken from the town of Chibok and another eight were taken from another village earlier this week.
The Nigerian government has said that they are working to locate all of the missing children but have been unable to do so thus far.
The United States, China and France have all sent experts to help with the search.
Michelle Obama posted a photo of herself holding a sign that read the hashtag, which prompted stars to rally around the social media movement as quickly as possible.
"Our prayers are with the missing Nigerian girls and their families. It's time to #BringBackOurGirls," the first lady wrote on her Twitter account.
Tons of other famous faces in Hollywood have been voicing their outrage for the incident; let's take a look at who's speaking out:
Mia Farrow: "A serious search for Nigeria's stolen girls has taken WAY too long #BringBackOurGirls"
Whoopi Goldberg: "Fear of education 4 girls in any country condemns the future of that country. WHY HURT YOUR OWN FUTURE#BringBackOurGirls"
Jessica Biel: "This is barbaric. Human trafficking needs to end NOW"
Iman: "Let's not forget them! Pls repost #bringbackourgirls"
Teresa Palmer: "Take a stand with me! #BringBackOurGirls it's absolutely barbaric and inconceivable that over 200 woman have been kidnapped whilst at SCHOOL in Nigeria. Sadly this apart of a worsening problem."
Reese Witherspoon: "Sending prayers to Nigerian families who are missing their daughters. It's time to #bringbackourgirls"
Gina Carano: "Let's bring awareness to the #BringBackOurGirls campaign to get these girls back to their families."
Rashida Jones: "#BringBackOurGirls NOW."
Kim Kardashian: "Heartbreaking! Let's all raise awareness! #BringBackOurGirls"
Kourtney Kardashian: "Heartbreaking #bringbackourgirls"
Cara Delevingne: "Everyone help and raise awareness #regram #repost or make your own!"
Poppy Delevingne:  "I can't believe we live in a world where this happens... #bringbackourgirls"
Kendall Jenner: "This is heartbreaking. please help raise awareness! let's #BringBackOurGirls"
Rachael Ray: "Thank you FLOTUS for joining #BringBackOurGirls and may this be the beginning of end of terror in Nigeria."
Kerry Washington:  "Amen. "@ABCWorldNews: Michelle Obama joins #BringBackOurGirls movement on Twitter"
Naomi Campbell: "#BringBackOurGirls!!! President GoodLuck do something !!!"
Ian Somerhalder: "Empowering our youth through education is the TRUE key to hope-let's use our voices,innovation&collective power to #BringBackOurGirlsNOW!!!"
Paula Abdul: "200 girls still missing 2 weeks after being abducted. Keep this in the news #BringBackOurGirls"
Holly Robinson Peete: "These are the names of the kidnapped #NigerianSchoolgirls important to RT."
James Van Der Beek: "6 things you should know about the Nigerian schoolgirl kidnappings, and 6 ways you can help #BringBackOurGirls"
Queen Latifah: "Its time 2 #BringBackOurGirls & put a stop 2 violence!"
Mary J. Blige: "President Obama addresses kidnapping of Nigerian girls. See what he had to say: #BringBackOurGirls"
Daisy Fuentes: "This an outrage & a tragedy. The wold must demand immediate action."
Stacey Dash: "Why the hell does it takes 3 weeks and a trendy hashtag to get world's "leaders" to care about 300 kidnapped girls?! #BringBackOurGirls"
Chelsea Clinton: "Reports saying more girls have been kidnapped in Nigeria on top of 200+ schoolgirls already missing. They need our voice. #BringBackOurGirls"
Jenny McCarthy: "Help #BringBackOurGirls it's time we ALL start talking about this and bringing more attention to such horrific crime."
Meanwhile, a slew of other stars posted photos on Instagram regarding the kidnappings like Jessica Alba, Glee's Jenna Ushkowitz, Bryan Greenberg, Khloé Kardashian, Lily Aldridge, AnnaSophia Robb, Sophia Bush and Amy Poehler.
Ashton Kutcher, Justin Timberlake, Bradley Cooper and Sean Penn also rallied together for the cause.
All four posed with signs saying, "Real men don't buy girls."
And Anne Hathaway and her husband Adam Schulman were both seen holding signs at a Los Angeles rally on Thursday afternoon.
KVS/Pedro Andrade, © PacificCoastNews