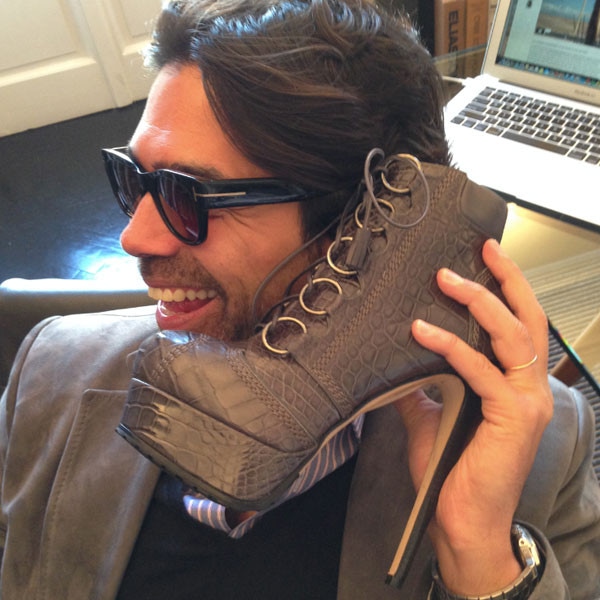 Courtesy: Brian Atwood
Shoe designer and CFDA Swarovski Perry Ellis award winner Brian Atwood is a household name, known by women worldwide. Celebrated for his exquisite craftsmanship and hyper-luxe design details, his heels are worn by some of the worlds most iconic stars.
Atwood is the go-to designer of choice for women that want to feel seductive and empowered. Sofia Vergara, Madonna, and Victoria Beckham are just a few of the A-listers who swear by his heels.
When he's not hard at work, the accomplished designer likes to divide his free time between the two romantic cities he calls home: Milan and New York. So, we caught up with Brian as he gave us the scoop on all his favorite places to shop, eat, hang out and more!
Is there a vintage store in Milan that really inspires you?
Spazio 900. The Mid Century vintage furniture and fabulous lighting always takes me back to a timeless era that I love. It's located right underneath my home, so it's entirely too convenient! 
What is your favorite bar for a nightcap after a really long day of designing?
I love the garden seating at the Bulgari in Milan. Just a very chill scene with great drinks and apertivo tastings. This is my go-to place for an Aperol Spritz! 
Vittorio Zunino Celotto/WireImage
Who is your go-to hair stylist? 
Jordan Blackmore at 3 Squares Salon in New York. He's the only person who can touch my hair in the States!
Is there a special place in the city where you escape for a stay-cation?
My Milan apartment is a great escape for me. It is always a pleasure to just be home in Milan and chill. 
Who is your muse for this season's collection? 
Loulou de la Falaise. She defined sophistication and glamour! 
Where do you go for the perfect meal? 
My new favorite restaurant in New York City is Sant Ambroeus in Soho. I love it so much I was asked to design a plate for them to auction off. The Bolognese is out of this world. It happens to be next door to my apartment, which is a problem. A very good problem! 
What's a fashion trend that you can't stand?
I am not a fan of flip flops in the city. I think flip flops should stay at the beach. People should wear chic sandals or loafers once the weather gets warmer, not flip flops. 
Define what you think is ultra sexy in the city. 
In Milan, I love summer night Vespa rides. That's sexy.