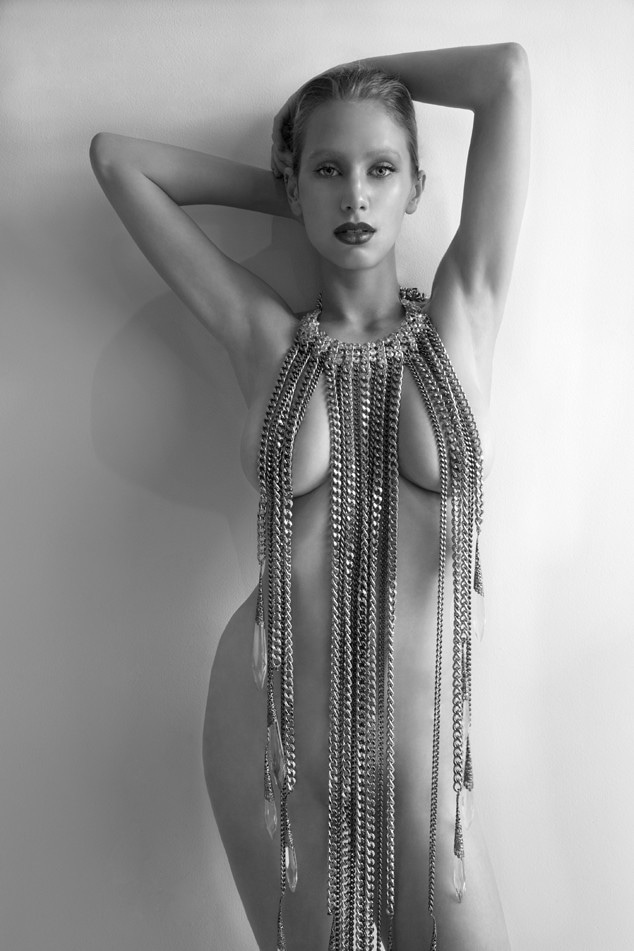 Tony Duran/Treats!
Dylan Penn may have turned down an offer to strip down for Playboy, but that doesn't mean she wasn't ready to get naked for another magazine.
Sean Penn and Robin Wright's model daughter is showing off her body on the cover of and inside Treats magazine. On the cover, she leans against a wall cupping her breasts while she holds a Fendi bag that falls in place to cover her nether regions.
In one inside shot, she's wearing nothing but a Kendall Jenner-esque mesh top from vintage store Decades. Another uses an elaborate oversized necklace hanging from her neck to cover her NSFW body parts.
"That was definitely an experience I will never forget," she tells the mag about working with photographer Tony Duran. "I never would have guessed getting naked--using a Fendi purse to cover my vagina--would be so challenging!"
Penn, who has been romantically linked to Robert Pattinson and The Vampire Diaries hottie Steven R. McQueen, also opened up about jumping into acting. It was recently announced that she will make her big feature film debut in Condemned, a horror flick costarring Lydia Hearst.
"I'm trying out this whole acting thing," she said. "It's hard to say for me because I've rejected it my whole life until now. I literally can't say it without laughing. My truest passion is writing so I continue to do that on my own while seeing what all the buzz is about being in front of the camera."
Penn agreed to take the part after reading the script and meeting with writer-director Eli Morgan Gesner. "It just seemed like it would be so much fun to make and I really wanted my first experience to be just that," she said. "Plus, three weeks in New York...in the spring...and getting paid for it?! F--k yes!"
Despite being the child of two celebrities, Penn was kept far away from Hollywood for most of her life. ""Let's just say thank God I didn't grow up in LA!" she said. "No, in all seriousness though, I was raised outside of San Francisco in Marin County in a small, suburban town called Ross, and I couldn't have chosen a better, more beautiful place to grow up. I don't deny that I had a very privileged upbringing but my parents and the that town maintained a sense of normalcy that I think many people find hard to achieve and I am so grateful for that."