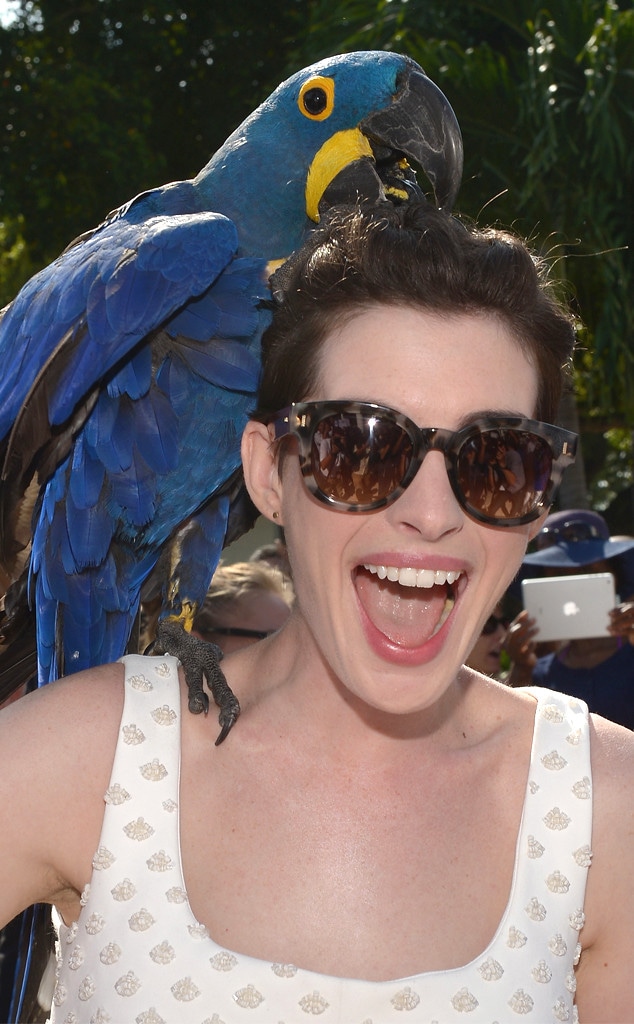 Gustavo Caballero/Getty Images
Party fowl on Anne Hathaway!
A blue parrot took a playful peck at the 31-year-old actress' head Friday at the inaugural Miami Walk of Fame event. Anne, who voices Jewel the parrot in Rio 2, was all smiles, clearly not ruffled by her feathered friend's affection!
The Oscar winner wasn't just buddying up with the birds, though—she also got up close and personal with a white anteater! She didn't look the slightest bit apprehensive, either, when the cuddly-looking creature lovingly licked the side of her face!
Gustavo Caballero/Getty Images
Fortunately, Anne was wearing neither feathers nor fur when Rio 2 was fêted Friday. The brunette beauty did, however, look supercute in an embroidered white crop top, long navy skirt and nude and white pumps.
Anne first lent her voice to Jewel, the rare blue macaw, in 2011's Rio. In an interview with About.com at the time, explained, "...as much as I love doing animated voices, I just kind of love working."
"I loved the people who have asked me to do it [Rio] and it's been an honor," she gushed. "I've worked on The Simpsons twice and now I've worked with Carlos [Saldanha, writer and director of the film]. I just keep getting these opportunities that I can't say no to. No one could."
Let's hope she gives us something to squawk about! Rio 2, which also features the voices of Kristin Chenoweth, Rodrigo Santoro, Jesse Eisenberg and Jamie Foxx, hits theaters Apr. 11.