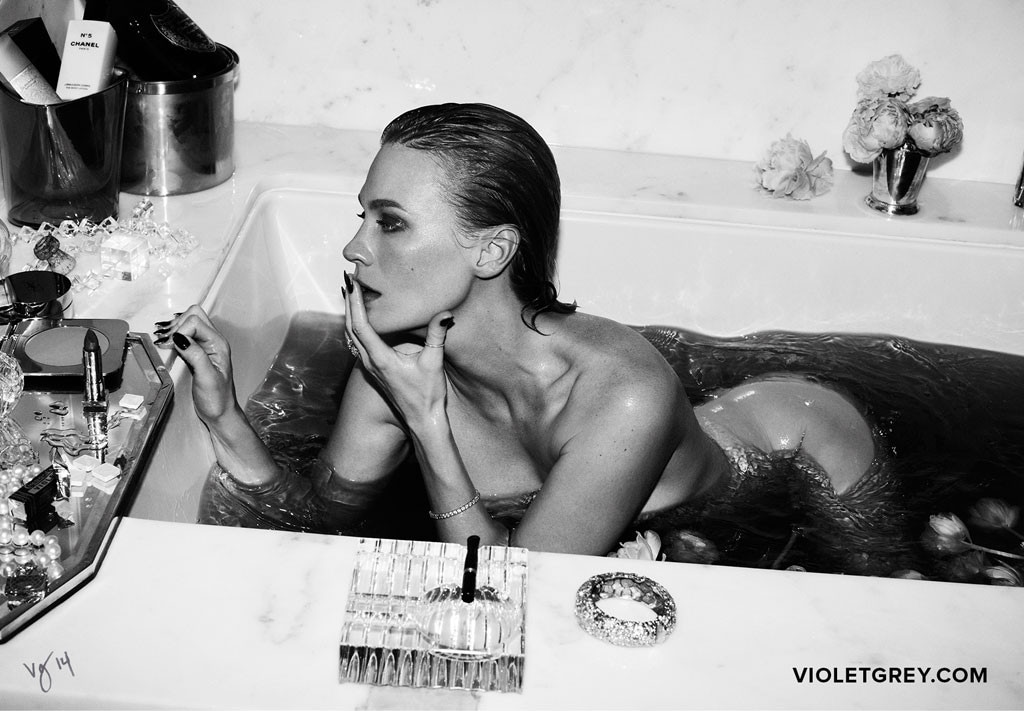 Ben Hassett/Violet Grey
Where do we even begin?!
It's nothing new that January Jones has the looks to turn heads all day, and she's not exactly one to shy away from flaunting some sex appeal, but her latest photo shoot for Violet Grey is beyond anyone's wildest dreams. Or maybe it's exactly what you dream. Either way, you're welcome.
The blond bombshell stripped to her birthday suit in a series of naked photos for the spread, ranging from a sexy black and white snapshot of her in the bathtub to a sultry picture of Jones covering her assets while lounging in a fur coat and nothing else.
"I prefer to remain mysterious and have people make their own judgment calls about me than to always have to explain who I am and what I'm about," the Mad Men star tells the digital publication, and adds, "I try to take risks and shock people a little bit, it's important to provoke some sort of emotion, negative or positive."
This would definitely be one of those moments and it's very much a positive one.
But what may raise eyebrows even more than her racy photos, is January's response to the question, "Who do you most want to go to bed with, dead or alive?"
"Paul Newman or Rihanna," she answered. Wait, J.J. is feelin' RiRi?! Okaaaaaaay. Guess we know who her #WCW is!
When she wasn't revealing her surprising girl crush, Jones was talking beauty tips, plastic surgery and her co-star Jon Hamm.
"She always told me that if I kept making so many weird and ugly faces my face would eventually freeze that way," she said recalling her mom's best beauty advice. "Luckily I found a job where funny and/or frozen faces are encouraged. Also, to not over pluck your eyebrows, a strong brow makes you look younger."
January also admitted that she's too scared to go under the knife but that could change. "Whatever helps a person feel beautiful and confident is fine with me. I personally am afraid of the procedures that involve anesthetic but ask me again in twenty years."
And when it came to her pal Hamm, Jones had nothing but kind words to say. "I think he's amazing. Very kind and generous, well read, very strong but easily vulnerable, very funny but also dark. My friend."
Yes, he's definitely been blessed with many great qualities.