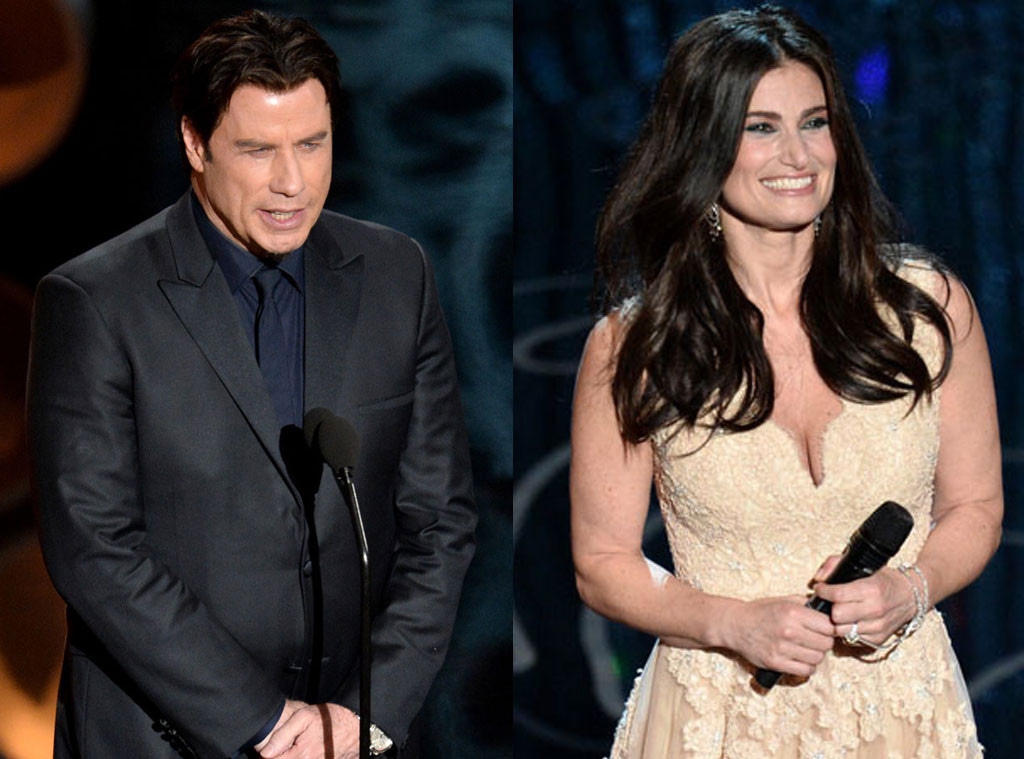 Kevin Winter/Getty Images
While John Travolta has already spoken out about his embarrassing Oscar flub which made waves on the Internet earlier this month (and even created a "Travoltifying" name trend), it turns out, his public acknowledgement was just the tip of the iceberg.
E! News has learned that the Be Cool star sent Idina Menzel a giant bouquet of flowers about a week and a half ago to formally apologize for the snafu, which occured onstage at the 86th Annual Academy Awards when Travolta was introducing the actress-singer before her performance of "Let It Go," during which time he seemingly called the Frozen beauty "Adele Dazeem."
"He sent  her a big, gorgeous bouquet of flowers to her dressing room. It was HUGE. It was his apology to her," a source exclusively tells E! News. 
Travolta sent the flowers to Menzel at the location of her new musical on Broadway, If/Then, at the Richard Rogers Theatre in New York.
"It was clear he felt very bad about it," the source continued. "And by the size of the arrangement it was an obvious 'forgive me please' gesture.'"
Understandably so, considering the 60-year-old thesp seriously butchered the 42-year-old singer's moniker causing a slew of observers, including celebs, to take to Twitter to express their distaste while watching the March 2 broadcast. (Reps for Travolta and Mendel have yet to comment on the gesture.)
And in the days following the flub, it seemed as if Travolta was never going to live it down, thanks to sites such as State, which created a widget that mocked the actor's mispronunciation so you too could "Travoltify" your name.
"I've been beating myself up all day," the Grease star said in a statement to E! News after the mishap. "Then I thought...What would Idina Menzel say? She'd say, 'Let it go, let it go!' Idina is incredibly talented and I am so happy Frozen took home two Oscars Sunday night!"
And it turns out, Menzel also took the snafu in stride as a source told E! News that the two even hugged backstage after her performance. 
"She laughed it off," the source said. "She thought it was so funny. She was like, 'What are you going to do?'"
We think Travolta can answer that: Let it go, let it go.
Happy to see this Oscar name debacle end on a sweet note? Tell us in the comments!
—Reporting by Senta Scarborough