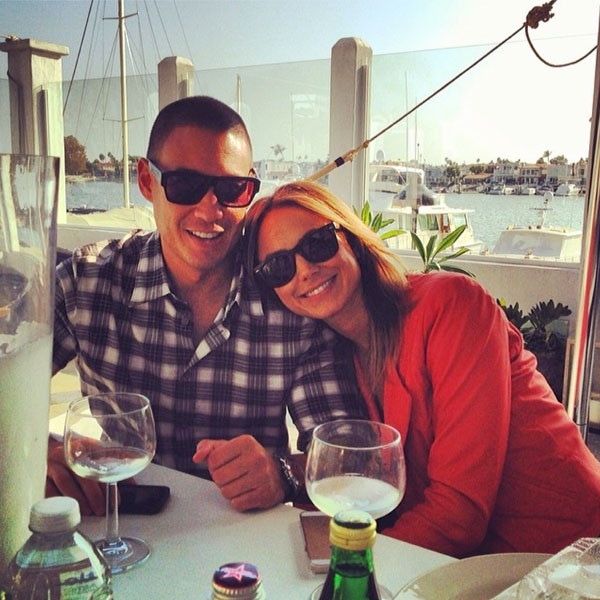 Instagram
In case you hadn't heard, Stacy Keibler is a married woman!
The 34-year-old blond beauty tied the knot with hubby Jared Pobre in a surprise beach wedding in Mexico over the weekend.
"My happiness is indescribable!" Keibler said post-ceremony. "Marriage is the ultimate bond of love and friendship. It means putting all your faith and trust into a person that you can't help but believe is your soul mate. Someone who has all of your best interests at heart; someone handpicked for you, to help you grow and be the best person that you can be. Jared is all of this for me."
So who is Keibler's new husband? Here are five things to know about Jared Pobre.
1. He's a Successful Businessman: The 39-year-old hunk is the founder and CEO of Future Ads, a company that works in online advertising, app distribution and gaming monetization.
2. He's a Pisces: This means he tends to be loving, sensitive, intuitive and spiritual. He recently celebrated his birthday with his lady by his side. Keibler shared an adorable pic of the twosome together on Feb. 22 with the caption, "Birthday to my favorite person in the whole world @jaredpobre !!!"
3. He Was a Friend Before a Flame: Before they got serious last year, Keibler and Pobre were longtime friends. When they first started dating, a source told E! News, "He's a really great guy and very good to her. They've been friends for years and just turned into something more."
4. He Knew She Was The One: Keibler and Pobre only began dating in the fall of 2013, meaning they first hooked up just over six months before tying the knot! Talk about a whirlwind romance.
5. He's a Family Guy: Keibler and Pobre spent Christmas in San Francisco surrounded by members from both of their families. Keibler shared an adorable, multi-generational photo of their families together for the holidays just before Christmas with the caption, "#MerryChristmas from the Keibler's, Pobre's and the Webb's! #SF #CableCars #ChristmasVacation first stop #SanFrancisco #FamilyTime @jaredpobre."