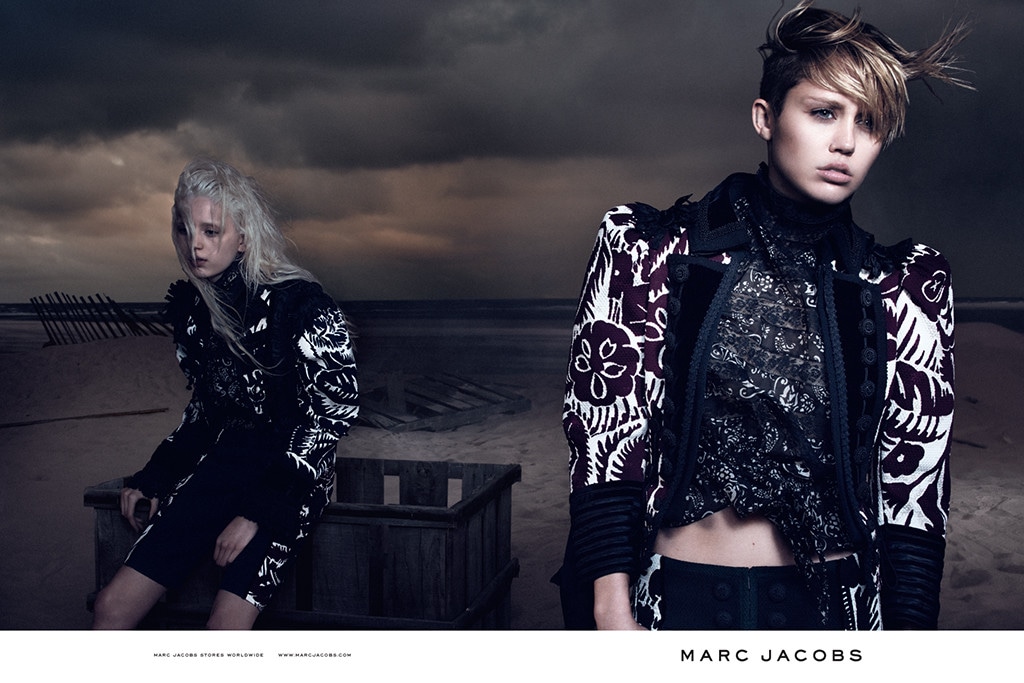 Marc Jacobs
Miley Cyrus is leaving the booty shorts and onesies at home…for now.
The 21-year-old "Wrecking Ball" crooner went high fashion for Marc Jacobs' spring 2014 campaign, looking stunning in sequin-embellished skirts, structured tops and glam gowns as she poses with a couple of other models on a desolate-looking beach.
In most of the pictures, Cyrus gives a fierce stare off into space, rocking square-rimmed glasses in one shot, and a blue structured gown in another, laying lifelessly in the sand along the shore.
Her smattering of tattoos are on full display in some of the shots, her nails are painted black and her lips are generally in a pout.
The full release of the photos comes after Cyrus was announced back in January as the new face of the campaign.
And the collaboration didn't come as much of a surprise, considering the singer, who is a big fan of the designer (and vice versa), rocked Jacobs' sheer mesh gown at the 2013 Met Gala in New York.
"We wanted this beach with the girls kind of sulky and broody, and we thought it would be cool if it was Miley with what could be two friends, feeling distant and quite dark," Jacobs said.
"We all just love her and her entire being, her talent, her intelligence, everything," he said. "There's nothing I don't like about her. She is just genuine and very natural."
The shoot didn't exactly go off with a hitch though.
Juergen Teller, the in-house photographer that typically shoots Jacobs' campaigns, refused to work with Cyrus and didn't shoot the 2014 ads.
"I have worked with Juergen for years and love him as an artist," Jacobs told Women's Wear Daily. "He just didn't want to shoot her" (Teller's rep told E! News of the shoot at the time, "Juergen does not want to comment").
Photographer David Sims shot the photos instead on the beach set styled by Stefan Beckman.