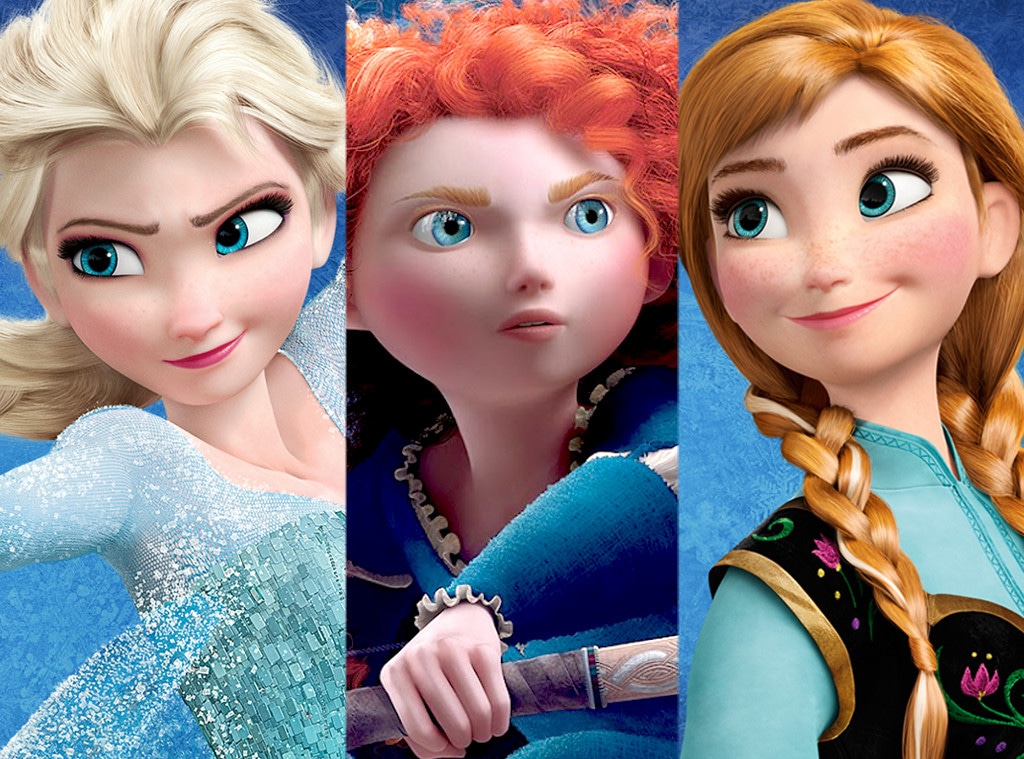 Walt Disney/Disney Pixar
It's a royal casting call!
We've met a plethora of princesses throughout the past three seasons on Once Upon a Time, and now television's most delightful drama is looking to add three more charming gals to their cast.
Creators Adam Horowitz and Eddy Kitsis recently told D23 that they would "love" to feature some of the most recent Disney princesses on the series. That's right, magic fans! Our spellbinding series could soon be featuring the stars of Disney's mega-hit animated movies, Brave and Frozen.
"Obviously we'd be dying to do Frozen," Kitsis gushed. "We would love to [incorporate] Merida." In a world that is filled with some of the most iconic fairy-tale characters of all time, we think that there's plenty of room in Stroybrooke for some fresh faces." Horowitz agreed, saying, "Whether we get to them or not, characters like Anna, Elsa and Merida feel like they could be slotted in."
Now that we know that these three princesses have a strong possibility of popping up in the ABC hit, we took the liberty of dream-casting the actresses who would be absolutely perfect for each part. (You're very welcome, Adam and Eddy!) We've picked nine actresses who are definitely worthy of the OUAT crown, but we need your help to vote for who would fit in best with the enchanted ensemble. 
Who Should Play Elsa From Frozen? Fans know and love Elsa as the snow-loving queen, whose icy first impression slowly melt away once you get to know her. Not only is she an independent lady, she fully endorses the notion that you shouldn't marry a guy you just met five minutes ago—a lesson that many of our Disney princesses could definitely learn. We think that Dakota Fanning, Dianna Agron and Megan Hilty have what it takes to rule their very own ice palace, but who do you think would lead Arendelle with the same poise and grace as Elsa? And let's just point each of these ladies has an incredible voice, so they would definitely be able to give us an amazing rendition of "Let It Go" as well!
Once Upon a Time: Who Should Play Elsa from Frozen?
Who Should Play Anna From Frozen? Anna quickly became one of the most popular princesses in Disney's history, thanks to her sweet and spunky personality and adventurous spirit. She's strong-willed, yet deeply romantic at heart, and has a knack for defending herself and those she loves when the situation take a turn for the worse. We all know that Anna is not the most graceful of princesses and, like her, actresses Elle Fanning, Britney Snow and Anna Kendrick, have each experienced some highly relatable awkward moments as well. So which bubbly actress do you think would build the best snowman?
Once Upon a Time: Who Should Play Anna from Frozen?
Who Should Play Merida From Brave? Just like the movie suggests, Merida is perhaps the bravest of all the Disney princesses and she's not afraid to challenge the fate that she was originally destined to have. Rather than being a clichéd damsel in distress, the Scottish teen openly defied her kingdom's customs and dared to forgo her royal title. To say that she is fiery would be a severe understatement. Like Merida, actresses Rose Leslie, Molly Quinn and Deborah Ann Woll have each portrayed stubborn, bold and brave young women. Plus, it doesn't hurt that each of these ladies rock their red hair with a confidence and strength that only Merida can pull off.
Once Upon a Time: Who Should Play Merida from Brave?
No matter which actresses land these coveted roles, we're thrilled that audiences will, once again, be exposed to these strong and confident characters that millions of young girls everywhere can aspire to be. Fingers crossed that we could be seeing Elsa, Anna and Merida walking through the streets of stroybrooke in Once Upon a Time's fourth season.
Once Upon a Time airs Sundays at 8 p.m. on ABC!