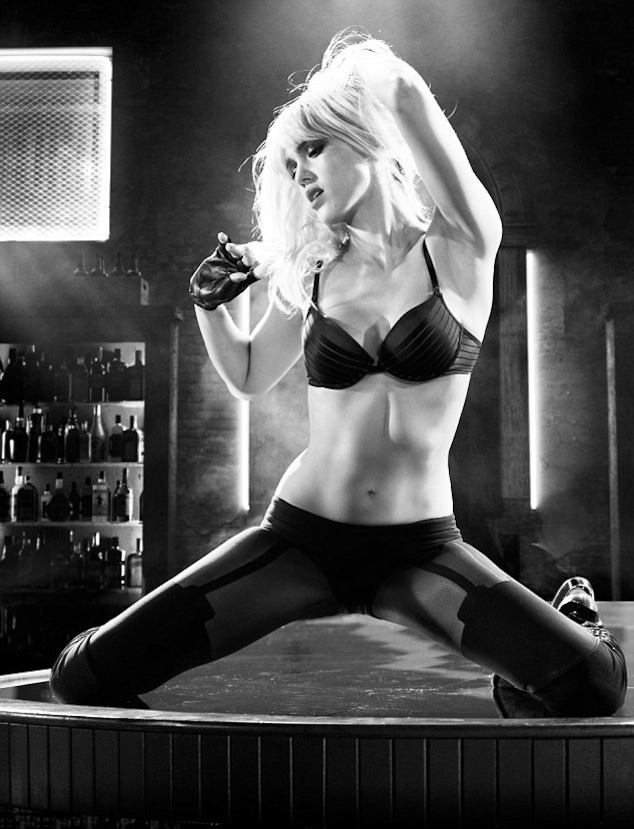 Dimension Films
As if we needed further proof that Jessica Alba is smoking hot.
The 32-year-old bombshell is reprising her breakout role as stripper Nancy Callahan in Sin City: A Dame to Kill For, a follow-up to the 2005 hit Sin City based on Frank Miller's famous comics.
And despite the fact that nine years have passed since the brunette bombshell has been in stripper mode, she looks like she hasn't aged a day in the super-hot promo shot.
Oh, and did we also mention she gave birth to two kids during that time? Yeah, and she still looks that good (not fair).
Sitting on her knees atop a stage with her legs spread open in a seductive pose, Alba tosses her hair and bares her bangin' bod as she steams up the entire room, which has endless bottles of booze on display in the background.
The Fantastic Four star flaunts her super-toned tummy while rocking a sexy black bra, leaving little to the imagination as she sports itty-bitty briefs in addition to what appear to be semi-sheer garter-inspired tights. Her typically brunette locks are dyed a platinum blonde hue, and she also wears a single fingerless leather glove in the black-and-white pic.
So how does Cash Warren's missus maintain her famous figure?!
Watch:
3 Fitness Tips From Jessica Alba
"More organic produce in your life is better than packaged, I think water is essential, and if you can be active in any way shape or form, it's always good to keep the blood flowing," she told E! News when asked to share three diet and fitness tips. "If you can just do it two or three times a week, a little bit of exercise whether it's yoga or going for a walk or cycling class or something...go for it" (she's also a big fan of the popular Flywheel workout).
Directed by Robert Rodriguez and Frank Miller, Sin City: A Dame to Kill For also stars original castmembers Bruce Willis, Rosario Dawson and Mickey Rourke.
Additionally, the forthcoming film will feature appearances by Joseph Gordon-Levitt, Josh Brolin, Alba's BFF Jaime King and even Lady Gaga.
Sin City: A Dame to Kill For is set for release on Aug. 22, 2014.