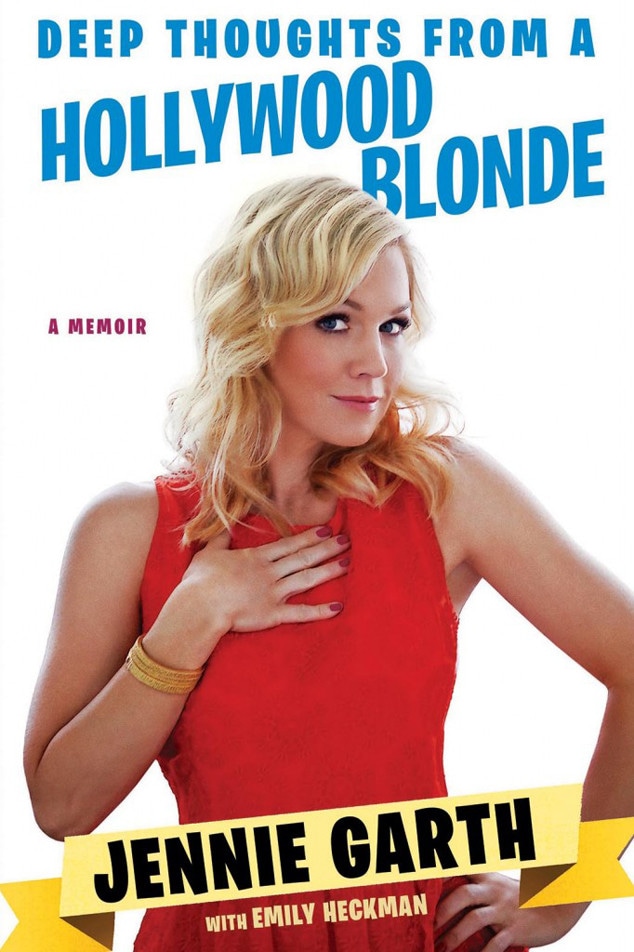 NAL Hardcover
Jennie Garth is spilling a number of secrets in her shocking new tell-all, Deep Thoughts From a Hollywood Blonde, which leaves no part of her life untouched.
Throughout the 240-page book, the 41-year-old TV star touches on a number of surprising subjects, from her struggles with anxiety after catapulting to fame on the hit series Beverly Hills, 90210 to her broken marriage with Peter Facinelli and even what it was like to work with Amanda Bynes on the set of What I Like About You.
Ready for a side of Garth you've never seen before? Here are the nine most shocking revelations from the blond bombshell's memoir:
1. Garth Was Passed Over During the Initial 90210 Casting: The then-aspiring actress describes how she desperately wanted a role in producer Aaron Spelling's new show—along with every other kid in Tinseltown. "When the casting call for 90210 went out, Mr. Showbiz did his thing and sent over head shots, and we heard pretty quickly that these had been thrown out, likely before they'd ever even reached the casting directors," she writes. "It was clear that only seasoned actors were going to be considered for this project, but Mr. Showbiz, who had a long and profitable relationship with Spelling's team…persisted, and somehow managed to finable a meeting for me with Mr. Spelling himself." And the rest is history as Garth landed the part of Kelly Taylor in the hit drama, a role which is still arguably her most famous.
2. "All Hell Broke Loose" After the "Bonus Summer Season" of Beverly Hills, 90210: Garth describes the network executives "brilliant decision" to air a special summer season while other networks were simply rolling out reruns of their most popular shows. The idea worked, but Garth says she and her castmates were not prepared for the sudden stardom. "In just a matter of weeks, we went from being just another generic ensemble cast of any old prime-time drama to being…superstars," she says. "I don't think any of us were prepared for the stardom that was thrust upon us in this way. Thank God we had one another, because we were able to protect each other from the harm this kind of sudden fame can bring with it by staying close and huddling up and focusing on getting the job done…And it bonded us for life." 
3. Garth Began Experiencing Severe Anxiety at the Age of 19:  "I felt comfortable—almost comforted—by all of the workers buzzing around me during the day, but after hours, I'd find myself getting anxious when strangers approached me," she reveals. "And so simple tasks, like going to the grocery store, or the mall, or to get gas, became overwhelming exercises in having to be 'on' when my natural inclination was to shut down and not interact with anyone. I…began to suffer a level of anxiety that as, at times, nearly paralyzing. When the panic attacks started to kick in, I became even more withdrawn." She continues, describing how she "stopped going to the movies or clothes shopping or doing any of the other things normal young people do," waiting until well after dark to step out of her home. "I wouldn't say that I ever stepped over the line into full-blown agoraphobia, but I would say I definitely came close."
Jason Merritt/Getty Images; Dimitrios Kambouris/Wendell Teodoro/WireImage
4. Anything Was Readily Available on the 90210 Set: The only mention of drugs in Garth's book occurs when she describes how the PAs would happily bring the actors whatever they wanted while working. "They wouldn't have batted an eye if I asked for a bagel and a bump of coke, come to think of it, but I usually just had coffee," she reveals.
5. Tori Spelling Was Always Caught in the Middle as She Fought With "Nemesis" Shannen Doherty: "I don't know why it is, but there is a universal truth that when you put three teenage girls together, some serious s--t is going to go down," Garth explains, noting how Shannen wasn't afraid to share her ideas for the show "even if it meant sounding like a complete and utter bitch…Poor Tori, the youngest of the three of us was, inevitably, often caught in the middle and she was always trying to smooth things over, trying to get Shan and me off each other's backs and get along, but her efforts usually failed."
ALBERT MICHAEL/Startraksphoto.com
6. Luke Perry Ran Over Her With a Jet Ski: "Just to be safe, they whisked me off to the hospital with Luke hovering nervously over me. Before I was even able to strip and get into one of those white gowns that showcases your bare ass, Luke blurted out, 'I ran over you with a Jet Ski. I'm sorry.'" But she later got her revenge…"We were all so hot and crabby, Luke was poking at me…just trying to get me to laugh, but what he was doing was really pissing me off. Just as they were setting up the shot, he mouth off and…Spritzzzz! I shot him with Binaca. And nailed him right in the eye." Garth and Perry still remain close friends to this day.
7. Ian Ziering Once Tricked Her Into Rehearsing a Kissing Scene: Garth gives an inside look at her former costars, including Jason Priestly, Ian Ziering, Luke Perry and Brian Austin Green. "There's Jason, he of the megawatt, crinkly-eyed smile…He sets people at ease right away. He's also pretty salty and I remember my mom telling me to keep an eye on the guy with the potty mouth. He also smoked cigarettes back then…And he was such a guy, such a dude: Just give him a cigarette and beer and he was good." As for Ian?  "He was wise and ambitious as hell. I remember that we had to kiss in one of the earlier episodes, like right after we had met, and he asked if we could go to the garage of this house we were shooting at 'to rehearse'…It was the most awkward situation yet…Of course, I know now that you don't have to 'rehearse' those kisses…I told you he was ambitious!" And Perry? "Luke was broody and elusive. He never said a lot. He wasn't friendly. He always seemed to have a toothpick in his mouth, a ball cap pulled down low. He totally had that James Dean thing going on, you know?" And last but not least, there was "sweet Brian," who she watched "transform from peach-fuzz-faced, wide-eyed, and innocent, to this strong, silent, tattooed gentleman with piercing eyes and the charms and manners of a saint."
Kevin Winter/Getty Images
8. Kevin Spacey and Jason Priestley Attended Her Wedding to Peter Facinelli: The former couple's daughter Luca was tasked with handing a rose petal to each of the pair's 150 guests. "This took great concentration on her part, and I watched, my heart breaking with the overwhelming adorableness of her, as she carefully chose each rose petal and then handed them off: "Here's one for you, Uncle Bob; one for you, the lady in the hat I don't know; one for you, Kevin Spacey, since you just worked with Daddy; one for you, Jason Priestley, because I've known you since before I was born.'" (Nice subtle name-dropping, Jennie).
9. She Has Nothing But Praise for Former Costar Amanda Bynes: Garth and Bynes starred on the hit sitcom What I Like About You, which ran from 2002 to 2006, and Jennie has nothing but kind words to say about the headline-making actress, who recently left rehab. "I grew to like being the older one, and felt really motherly, big-sisterly affection for sweet Amanda, who was so real and down-to-earth and so normal and bubbly and excited by life. It was refreshing to be around her energy…She wasn't at all vapid or shallow; she was alive and young and exactly the way she was supposed to be…Free. Uncomplicated. Easy. That's how I would describe Amanda."
Will you be picking up a copy of Garth's book? Hit the comments share your reactions to her shocking confessions!